Don't you just love decorating for the holidays? We most definitely do. It's so fun and something we always look forward to doing. Lately we've been browsing the aisles of the fall home decor at JOANN and we've found some great items to take home. Jodie has a brand new fireplace in her house and we were ready to put together a pretty fall mantel!!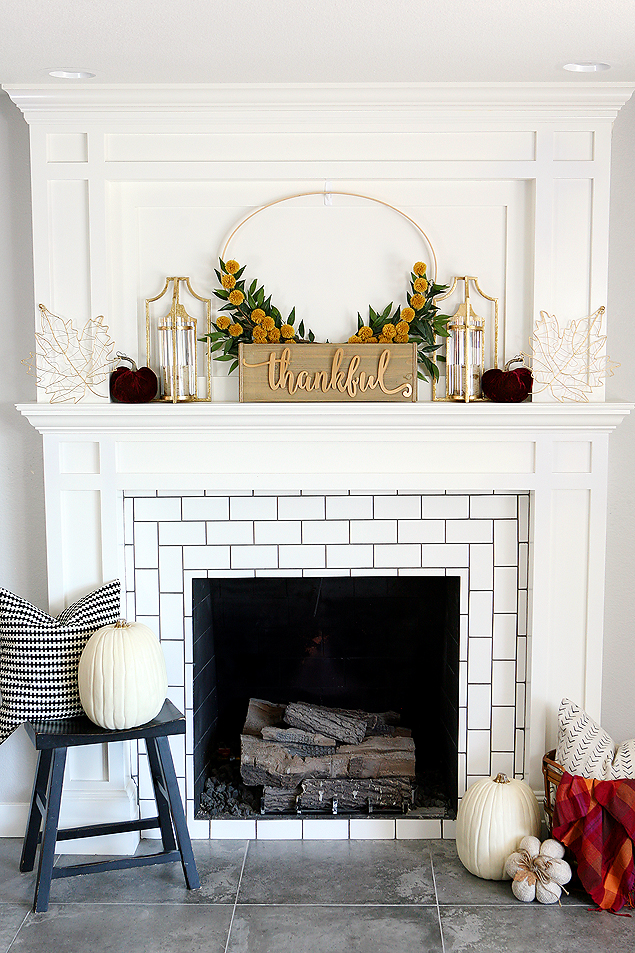 Doesn't it look great? We are so happy with how it turned out and it only took about 15 minutes to put together. The combination of gold, wood and greenery just work so great together. Then the pops of color with the two velvet wine colored pumpkins and those mustard pom pom flowers just finish it off.
Let us tell you how we put it all together. We started with the wreath, isn't it so pretty? And it's so easy to put together. We actually used the inside part of an embroidery hoop, some greenery and some awesome pom pom flowers.
Supplies:
2 – Blooming Autumn 28″ Yarn Pom Pom Spray – Mustard
2 – 27″ Smilax Spray
4-6 Zip Ties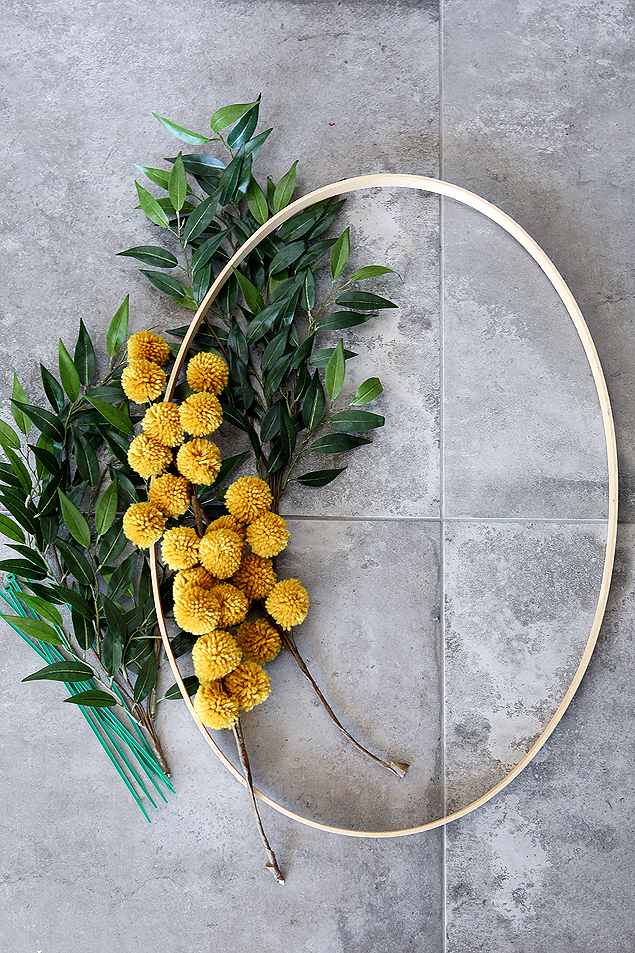 You can make this wreath two different ways. We chose to just use zip ties to hook it all together. That way we have the option of switching it up for another holiday. But you could most definitely pull out the glue gun and glue everything down. Or grab some floral wire and attach everything to the hoop.
We also knew we wanted to use the pretty Thankful sign in front of our wreath so we left the center of the wreath bare. If you don't plan on using a sign in front of yours just bring everything together at the bottom. So the two sprays of flowers meet and you aren't left with the bare spot. Or you could always add some other pretty flowers there or even a bow.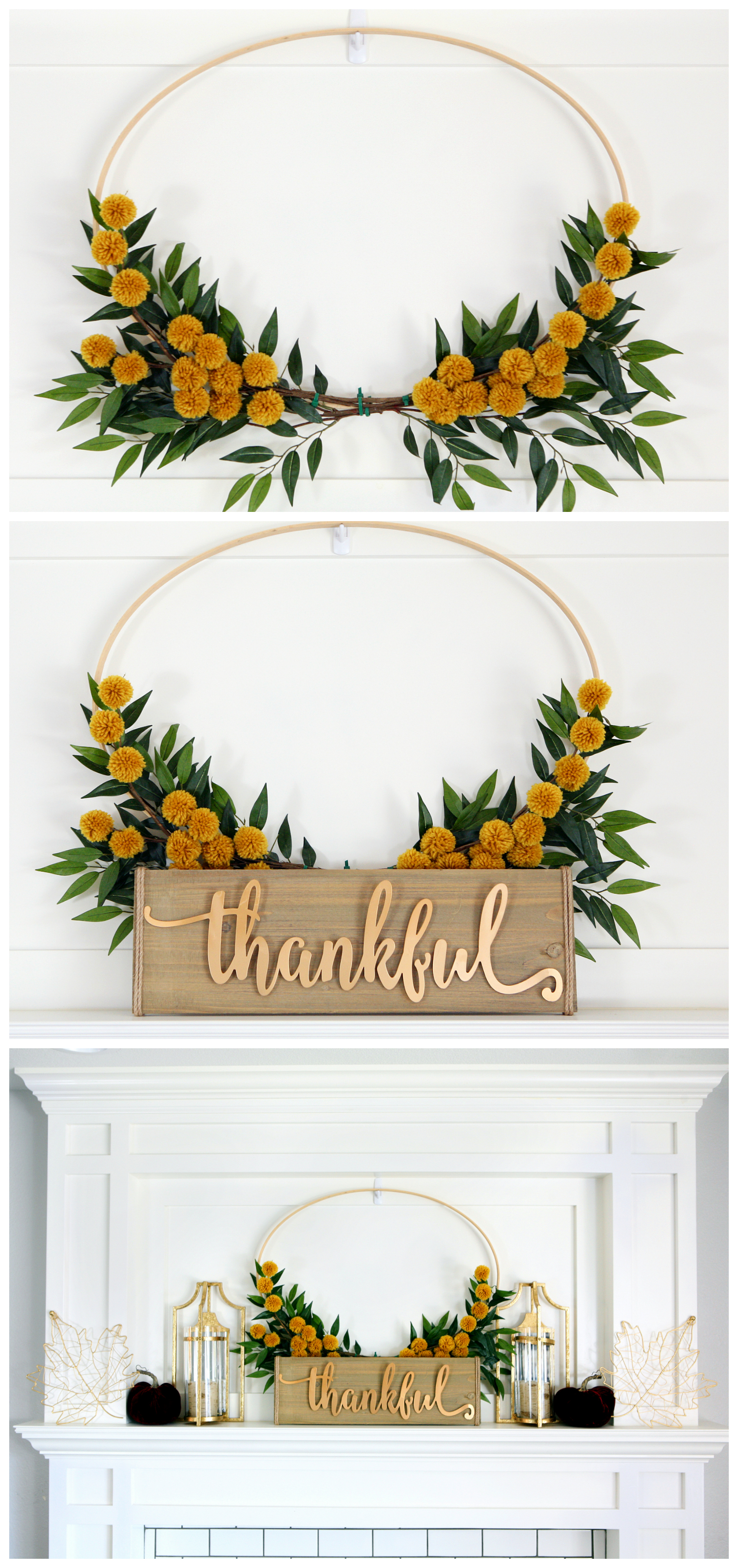 Once our wreath was made we hung it up using a white command hook. Then we were ready to dress up the rest of the mantel.
Here's what we used:
3D Thankful Sign
2 – Gold Sconces
2 – LED Birch Pillar Candles
2 – Velvet Pumpkins – Wine
2 – Metal Maple Leaves
Our brains like symmetry, so we used these gorgeous gold sconces on both sides of our wreath each with a birch candle in it. Next up are the velvet pumpkins in a gorgeous rich wine color. Lastly on each end of the mantle we added a metal maple leaf. We love that they are gold and the fun metal details, we just knew we needed them!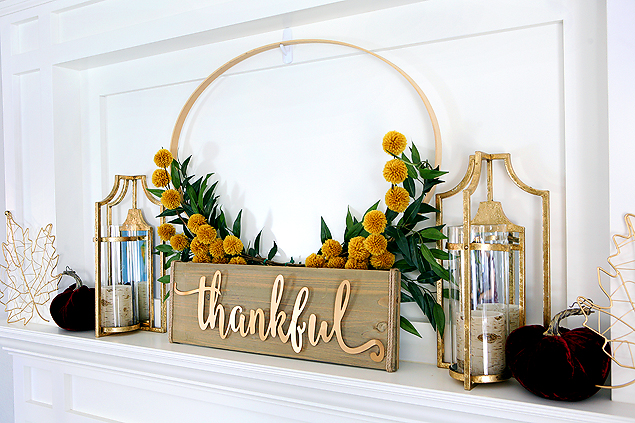 Down on the ground we set some stuff we had around the house plus a few fun things we found from JOANN:
Large Bamboo Basket
Burgandy Plaid Throw
Medium Cable Knit Pumpkin
Pillows, the beautiful throw (it's super soft too) and some pumpkins finishes it all off. It just makes me feel comfy and cozy looking at it.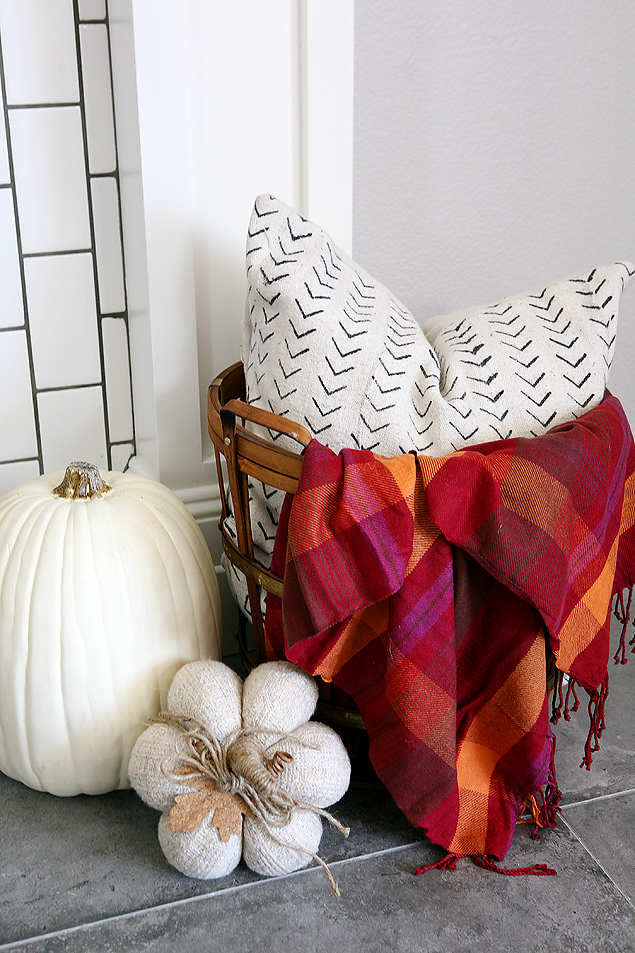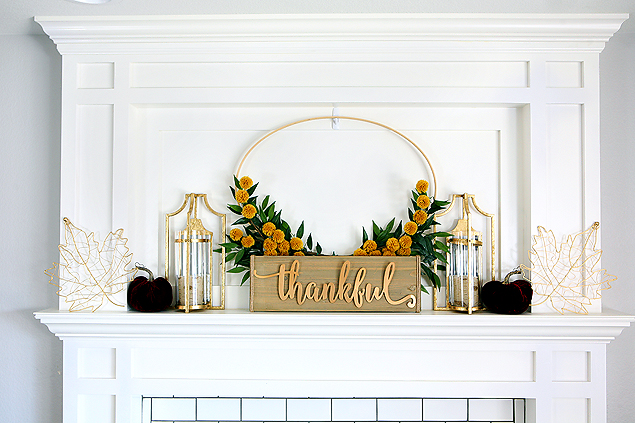 Getting this look was super simple and would be really easy to recreate. So, if you are in love like we are, head on over to JOANN and grab everything you need. Your house will be welcoming the cooler weather before you know it.
Three cheers for cooler weather and pretty mantels!