Hi, everyone! Michael here from
Inspired by Charm
. I can't tell you how excited I am to be writing this post. Year after year I look forward to Eighteen25's Spooktacular September. To my delight and surprise, I received an email from these lovely gals inviting me to contribute to this year's festivities! After regaining my composure, I replied yes, and here we are!
Today, I wanted to share a little Halloween decorating I did in my dining room. While I love pumpkins, spiders, and ghosts, I decided to take a slightly  less traditional approach this year.
For inspiration, I turned to one of my all-time favorite movies, The Wizard of Oz. You see, I've had a love for this movie for quite some time. I played the scarecrow in my grade-school musical, and don't even get me started on Wicked! Love it!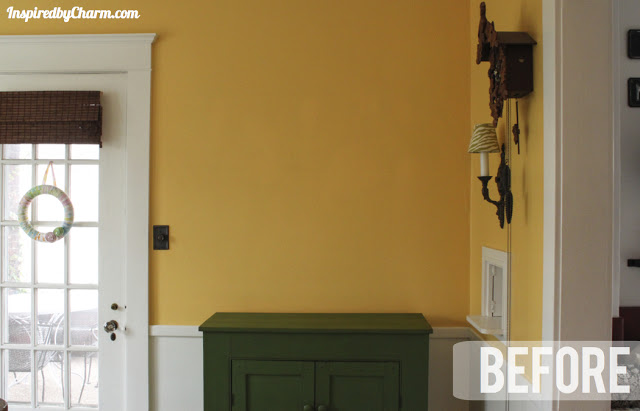 Anyway, a couple months ago I hung some
new shelves in my dining room
. I wanted a little area that I could decorate seasonally with the things I love. This summer I created a Lemonade Stand and a Coffee Bar.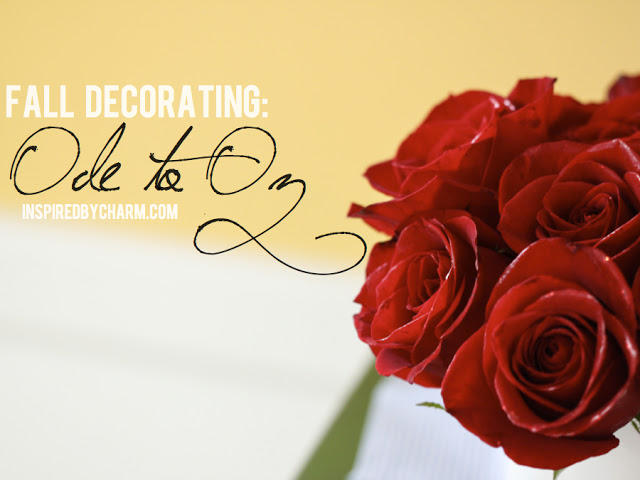 So, I cleared my shelves and got to work. Except for some green vases I picked up at Goodwill for a few dollars, I created my Ode to Oz with items I already had on hand. Let's follow the yellow brick road and see what I created.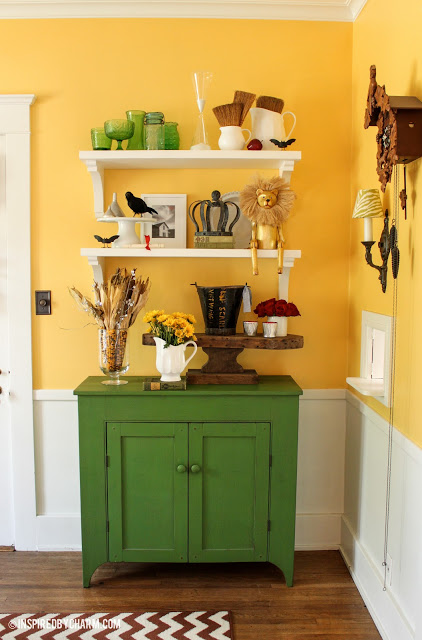 Pretty fabulous, right?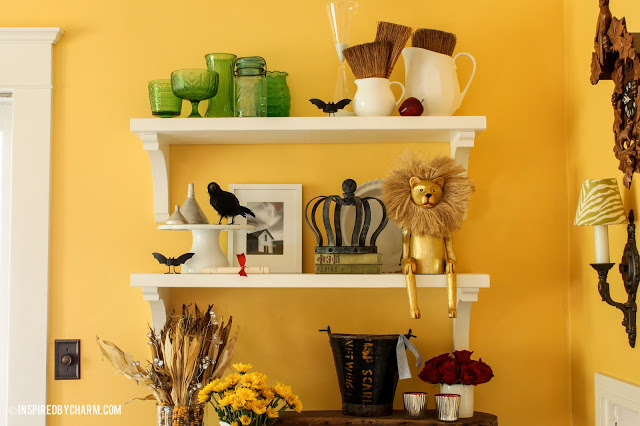 Are you seeing any Oz-inspired items? Let's take a closer look.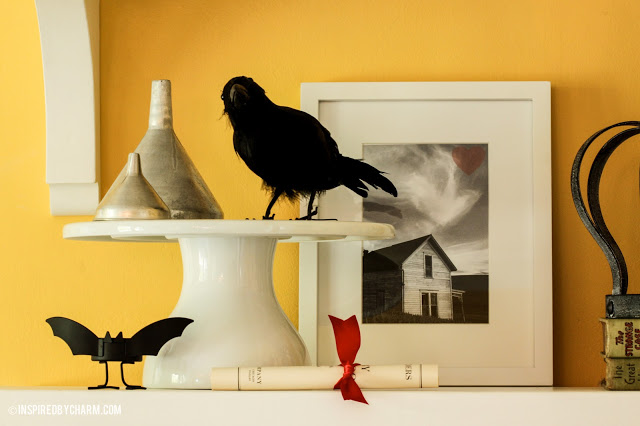 A diploma (an old book page wrapped with a ribbon) and a crow represent the Scarecrow, while funnels and a heart on the print in the background stand for the Tin Man.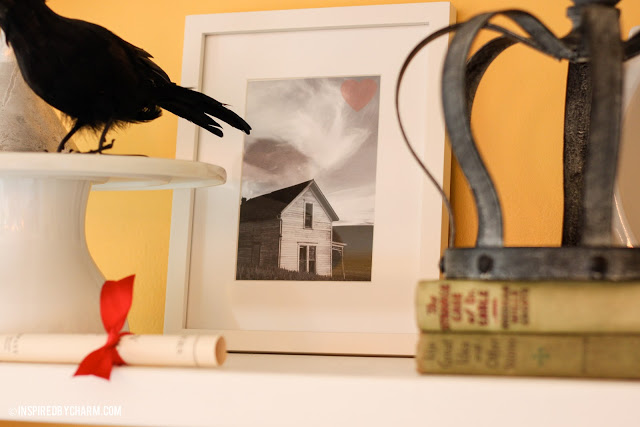 For the print, I found a black and white image of a farmhouse online and just printed it out on my printer.

The Lion makes his appearance in a crown and an actual gold lion I found at Pier1 a few months ago.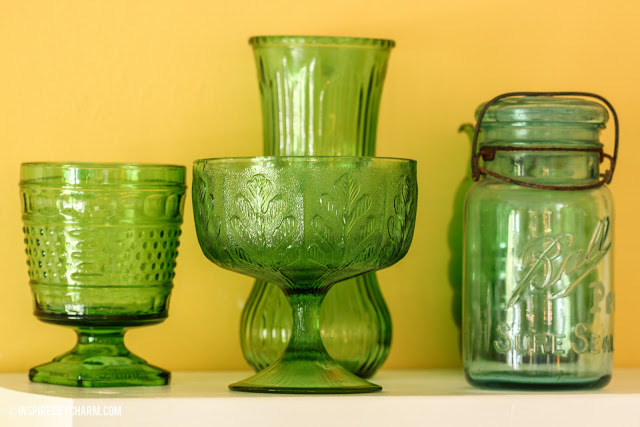 The green vases that I picked up at Goodwill along with a green Ball jar create the Emerald City.

While this display is lacking ruby slippers, some red roses and votive candle holders add color and sparkle. A piece of blue-and-white checked fabric tied onto a bucket (perfect for throwing water on witches) screams Dorothy.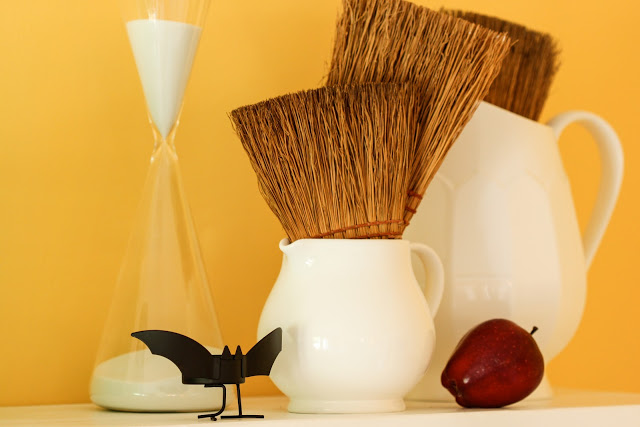 Speaking of witches, I included some brooms, a few winged monkeys (that look a little like bats), and an apple, perhaps from an enchanted talking tree.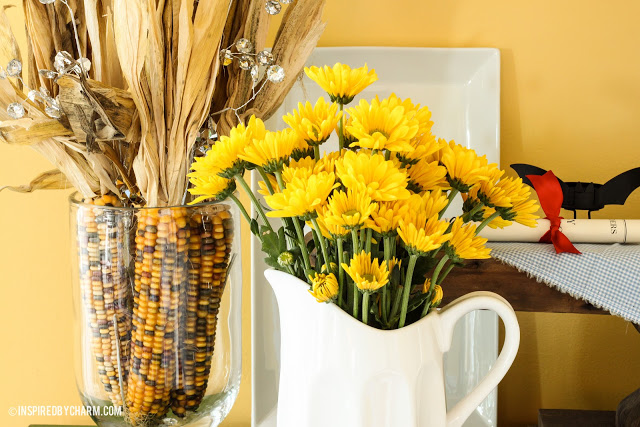 Even Glinda makes an appearance with some silver wand-like picks mixed with Indian corn.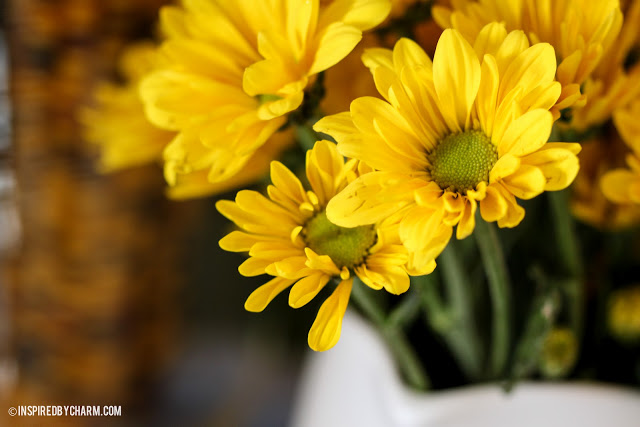 To finish everything off, I added a few more flowers – yellow daisies. Follow the yellow brick road!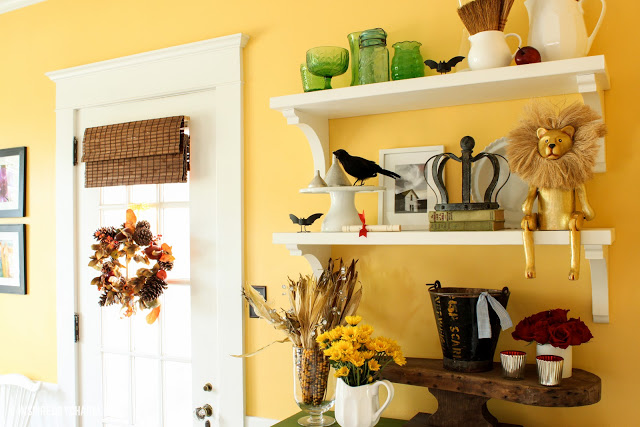 That's it! My fall/Halloween Ode to Oz display! What do you think? Regardless of your knowledge of The Wizard of Oz, I think this display is festive, colorful, happy, and a whole lot of fun!

Clearly, I had a hard time containing my own excitement as I'm photo bombing my own photo.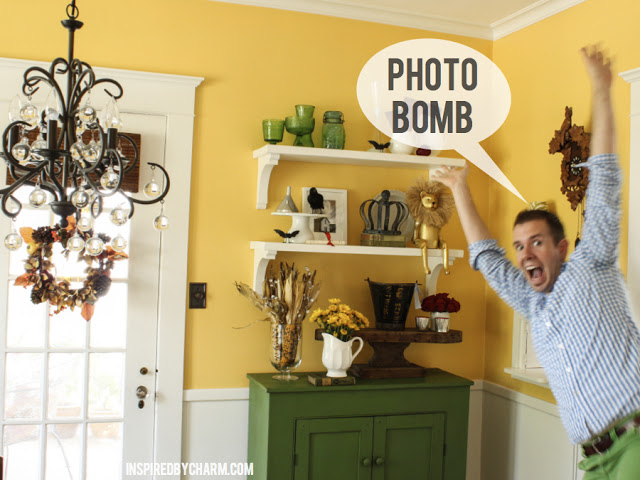 I hope all of you enjoyed my display and are feeling a little more inspired. If you are not a fan of The Wizard of Oz, feel free to use this idea for any of your favorite movies!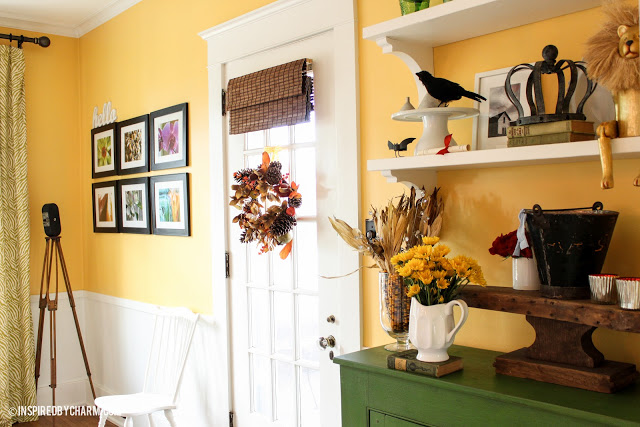 Thanks to Jamie, Jodie, and Jennifer of Eighteen25 for having me today.
I'm loving Spooktacular September 2012!
If you'd like to see how I decorated my dining room shelves this summer,
click here
.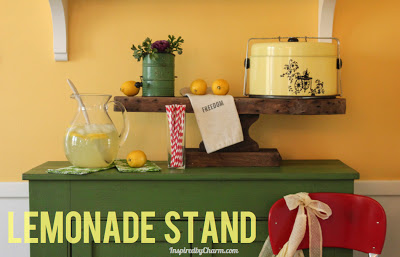 I also just created a Halloween chalkboard drawing in my Gift Shoppe. To check that out,
click here
.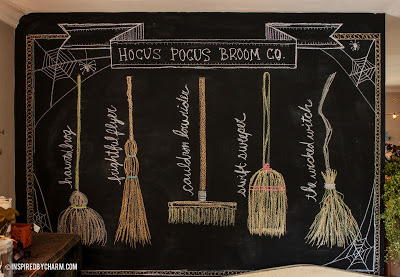 Thanks again!! Happy Fall Y'all!