I'm Alli from Cupcake Diaries and I'm beyond excited to be here today! I have been a fan of Eighteen25 since the beginning. It's a real pleasure to be participating in their Spooktacular September series.
When the first of September hits, I'm itching to get my Halloween stuff out. Halloween is my favorite! My twin sister and I have always loved it and probably look forward to it more than our kids do.
These monster cupcakes are so much fun for the kids to decorate themselves or to serve at a Halloween party. They're funny little guys!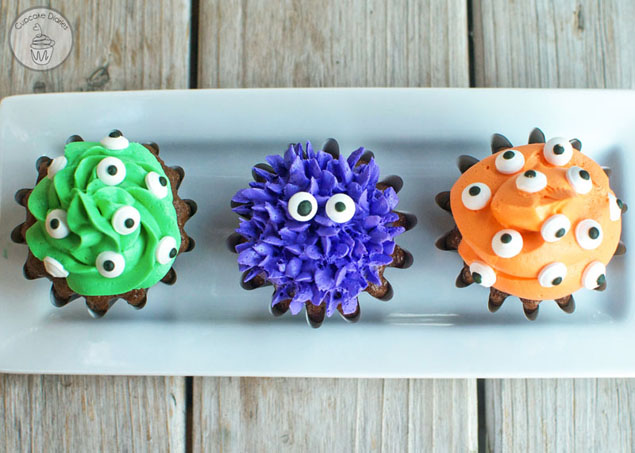 Monster Cupcakes
1 chocolate cake mix
1 c. buttermilk
1/3 c. vegetable oil
3 eggs
24 black cupcake liners
small candy eyeballs
For the Frosting
3 (1/2 c.) sticks butter, softened
1 (7oz) container marshmallow fluff
2 1/4 c. powdered sugar, separated
almond extract
green, purple, and orange food coloring
Extras
stand mixer fixed with whisk attachment
electric hand mixer
3 medium sized bowls
3 spatulas (rubber scrapers)
3 gallon size ziplock bags
Wilton 1M and 2D frosting tips
Place cake mix into the stand mixer bowl. Add buttermilk, vegetable oil, and eggs. Mix on medium speed until blended.
Set cupcake liners into muffin tins. Fill 2/3 full with cake batter and bake 10-12 minutes at 375°, or until toothpick inserted comes out clean. Remove from muffin tins and set on a wire rack to cool.
Prepare frosting by placing each stick (1/2 c.) of butter into a separate medium bowl. Make one bowl of a frosting at a time by mixing butter with the electric hand mixer until smooth. Add 1/4 tsp. almond extract and one food coloring color; mix well. Add 3/4 c. powdered sugar and 1/3 of the container of marshmallow fluff. Mix well and add more food coloring, if desired. Repeat with the other two bowls for the other two colors.
Cut a corner off each ziplock bag large enough to fit a frosting tip. Place the 1M tip into the cut hole of one of the bags followed by the green frosting, the 2D tip followed by the purple frosting, and the orange frosting in the last bag without a tip (I didn't use a frosting tip for the orange ones).
Pipe the green frosting on the cupcakes working from the outside of the cupcake and in. Use the same technique with the orange frosting. Pipe on the purple frosting starting in the middle and work your way out. Squeeze some frosting out onto the cupcake and pull back, making a fur look. Continue and cover the cupcake.
Once each cupcake is frosted, add candy eyes. Serve and enjoy!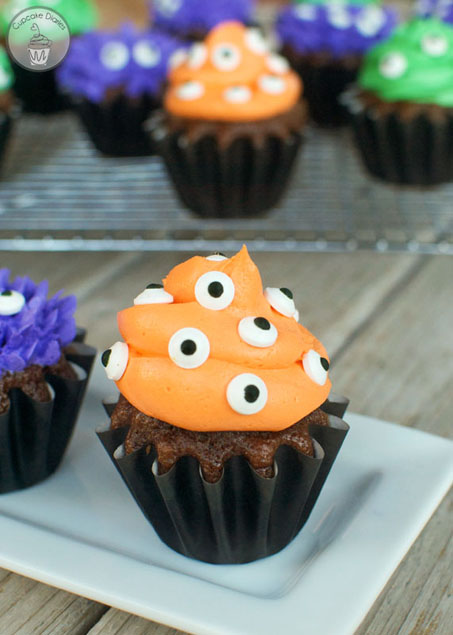 Aren't these cupcakes so fun? They're perfect for Halloween!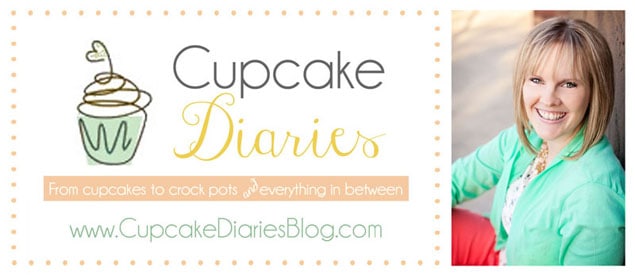 My blog is all about easy, family-friendly meals and desserts that don't take a lot of time. You can also get free printables and party ideas at Cupcake Diaries. Follow me on Pinterest, Facebook, Instagram, and Twitter for Halloween ideas and so much more!
Here are more Halloween treat ideas you can find on Cupcake Diaries…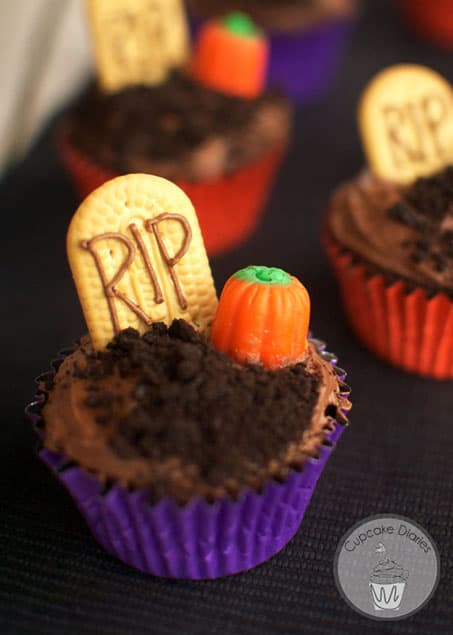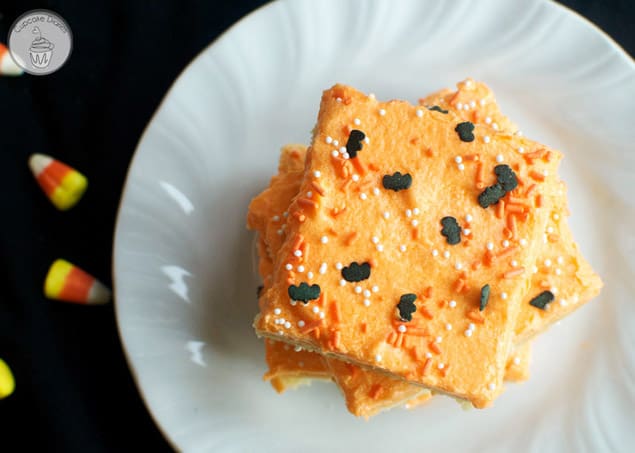 Peanut Butter Cup Spider Cookies