we have mentioned many times… we are a family of many traditions.
and now that we are at the beginning of a new year
i think it's the perfect time to decide and plan on new traditions to start!
for a few years now i've wanted to start one on one dates with my kids, but i just keep putting it off.
well this is the year and i'm so excited and i know my kids are going to be too. my husband and i will switch off each month and take one of our kids out on a date. whose ever turn it is to go out that month will plan what they want to do together. so i'm sure when dad's taking one of the boys out it'll be to some sort of sporting event and when i'm taking my daughter out pedicures are sure to be involved, but hopefully in the process we'll learn more about each other and grow closer together. (we'll see :))
i think some of the best traditions are those that don't have to do with any holiday.
like last year our uncle steve started enchilada day.
a couple different kinds of delicious enchiladas + family  =  the perfect day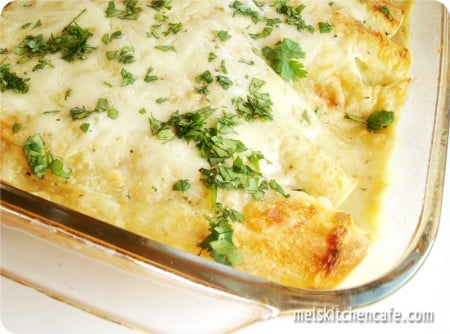 [mel's kitchen cafe – creamy green chile chicken enchiladas]
. . .
wouldn't it be fun to have kickball day?
trust me if you haven't played in awhile… it's not just for kids… it's a blast!! 🙂
. . .
one of my kids' favorite traditions is tuesday treat day. every tuesday when either i, or my friend steph that i carpool with, pick up the kids we either bring them a treat or run them to get a quick ice cream cone. let me tell you they do NOT forget when it is tuesday!! i don't know that they'll ever let me stop tuesday treat day either. it'll be interesting to see if i'll be taking a car load of high schoolers one day for tuesday treat day. (i hope so)
. . .
do you have any ideas for new traditions this year?
have any non-holiday traditions your family loves?
i really would love to hear about them!!
(please!!)