Hi there Eighteen25 readers! I'm Jen from Tatertots & Jello and I am so EXCITED to be here. Halloween is my favorite time of the year. So I look forward to this party each year!!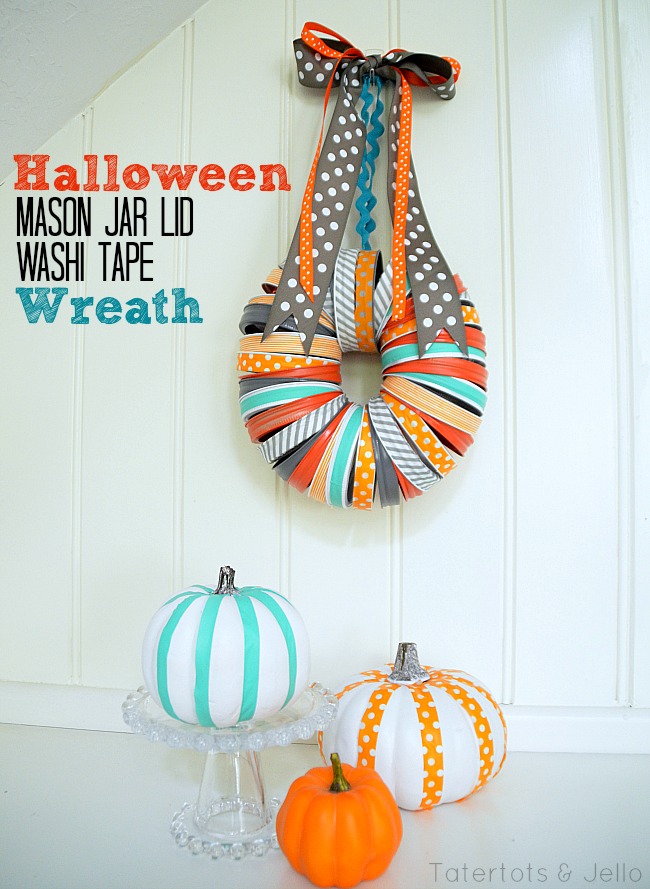 This year I'm sharing a bright and happy Halloween wreath. Have you ever seen mason jar lid wreaths? My friend Donna from Funky Junk shared a rusted one and I thought it might be fun to take the concept and create a Halloween canning jar lid wreath with paint and washi tape.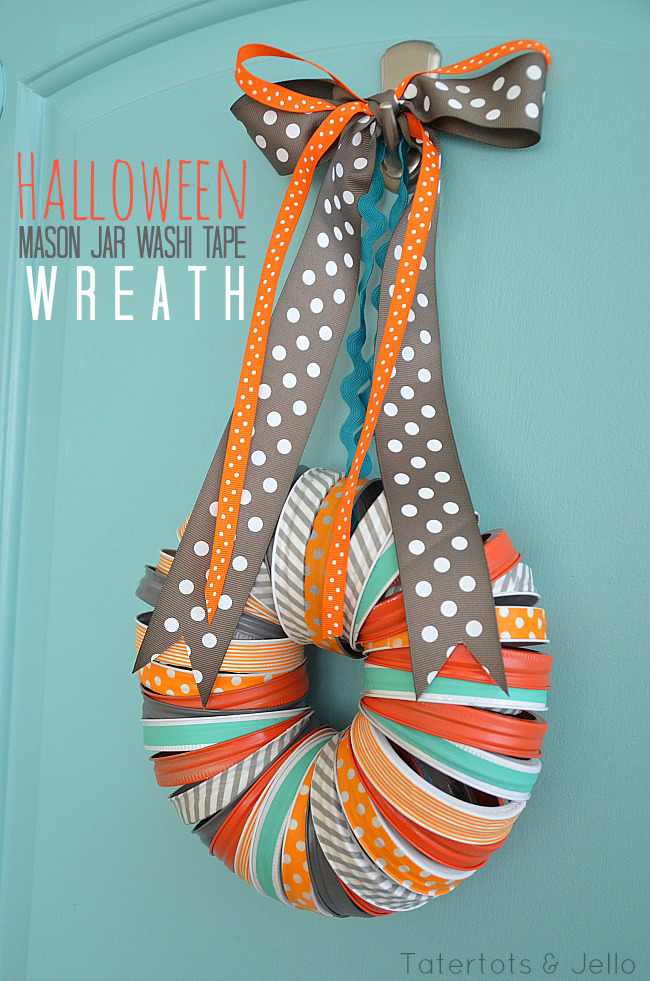 I just love the way it turned out!!
Here's how to make this colorful and easy wreath: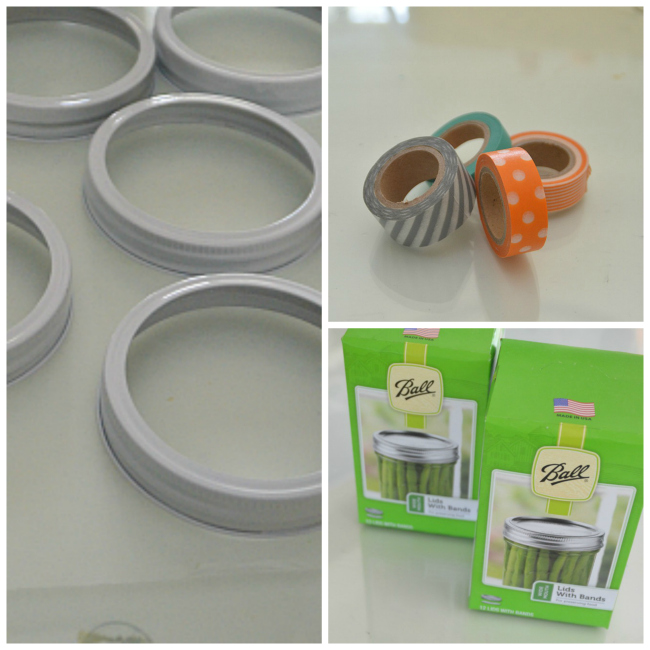 Supplies:
– 32 canning jar lids. You can collect the lids or you can buy the lids separately in packs from the grocery store. I found them the cheapest at Walmart.  I bought mine for less than $2 for 12.
(this has been edited with additional information :))
– Paint – I used three different colors — coral, white and grey.
– Washi Tape – I used 4 different colors and patterns.
– Ribbon – to tie the lids together and also for a bow.
Directions:
Divide up the canning jar lids into three different piles.
Paint each pile of lids a different color.
Wrap washi tape around some of the lids. I only added washi tape to the white lids.
String up the lids on a piece of ribbon.
Once the lids are on the ribbon, cinch it tight, creating a circle of lids.
Tie the ends of the ribbon at the top and attach a decorative ribbon to the top of the main ribbon. I used a glue gun to attach the ribbon at the top.
I also added some washi tape to some faux pumpkins. I just spray painted the pumpkins white and added lines of washi tape to the pumpkins. Super easy!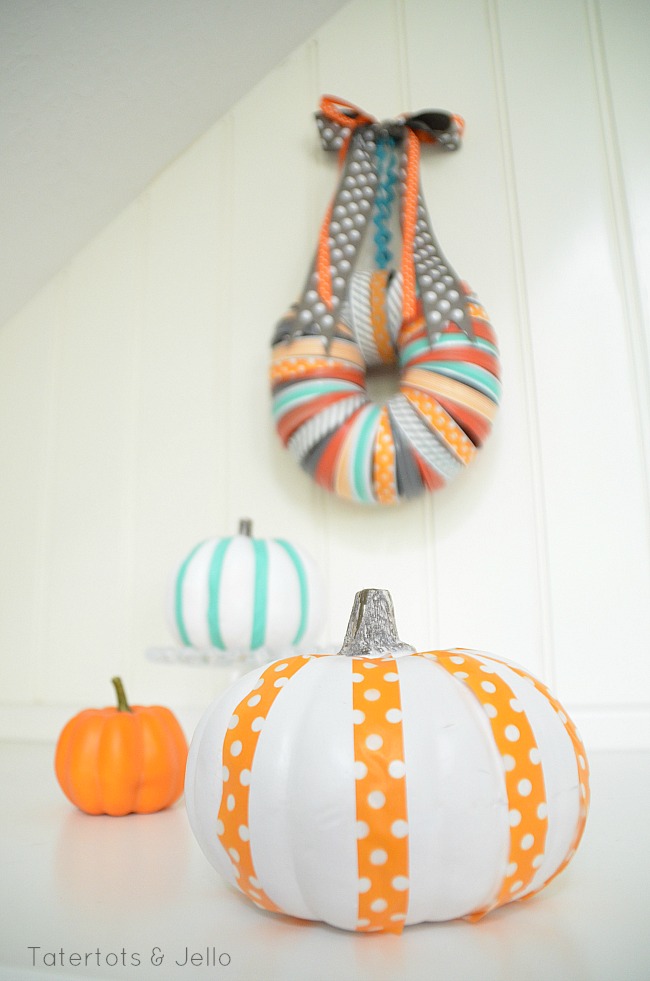 Thanks for letting me stop by and share this super easy and happy Halloween craft!!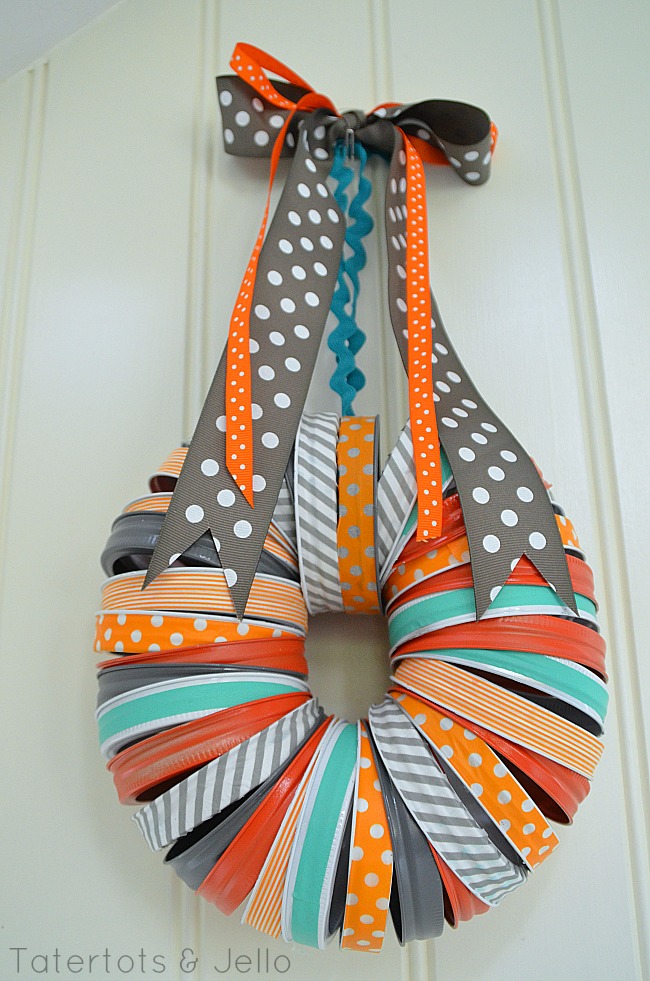 xoxo


________________________________
this post is sponsored by: