It's the perfect time of year to stop and take a minute to count your many blessings.
We gathered some friends together for a gratitude blog hop because we wanted to let our families know just how much we love and appreciate them.
Check out our Give Thanks Print and then visit our friends to see what they created with the "Gratitude" theme. There are recipes, printables and family traditions included in this blog hop.
Jamie designed this cute print and I think it's a great reminder to remember the things you have been blessed with….
and more importantly, the people!
Give Thanks Print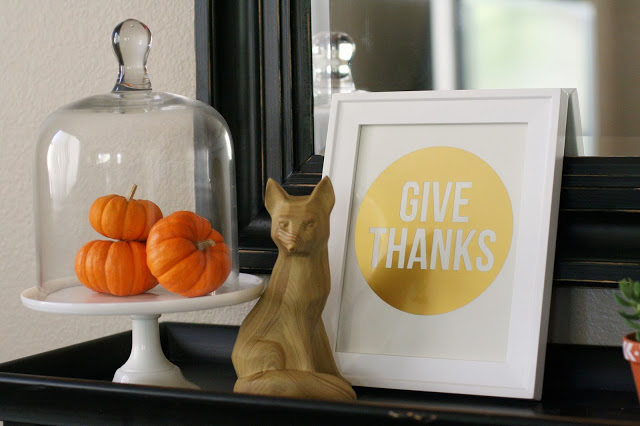 But, if you don't have access to a Silhouette… she made some prints for you too!!

Download the 8×10 prints:
Hop on over to these fun projects based around the Gratitude theme:
A big, huge thank you to our families for their support and love. They are our guinea pigs, models, help us when we have last minute deadlines, don't blink when we wear yoga pants for two days in a row and stick through the good, the bad and the ugly. We are so grateful for you.
Look at all these pretty faces! So much love in this collage: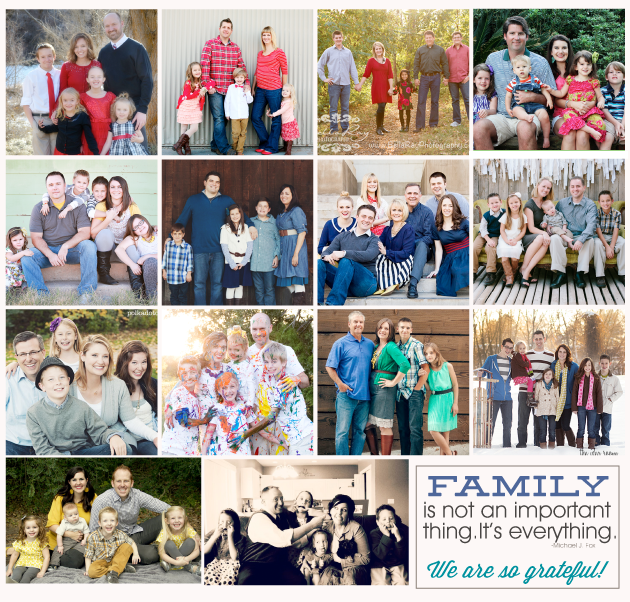 We thought you might have fun getting to know a little bit more about our families too. So we asked them some questions. Here's what they had to say:
For the husband (Jodie's husband, Matt):
How did you two meet? A group of us went to Disneyland after graduating from UNLV. Our eyes met, the stars aligned and I'm pretty sure there were fireworks.
And what do you love most about your wife? The way she's able to switch hats; Mother, Wife, Teacher, Nurse, Chef, Friend, Counselor, Blogger & Hot Lover 😉
How much time do you think your wife spends on her blog per week? What happens at the blog meetings, stay at the blog meetings.
What is your favorite project/recipe she's made? She makes this lovely roasted whole chicken dish that is never disappointing. It provides plenty of leftovers for the following day and its cheap to make.
What's her favorite thing about blogging? Being able to share what her and her sisters find/design and seeing it trend.
And least favorite thing about blogging? Having people steal their ideas and re-branding them as their own to sell.
What's his favorite thing about blogging? Not having to worry about it. j/k Being able to see peoples reactions when the find out that she's one of the sister from Eighteen25 and the questions that follow.
And least favorite thing about blogging? Seeing her stress under the expectation to continually come up with new and fresh ideas that will be awesome.
For the kids (Jodie's kids):
What are your favorite holiday traditions as a family? The Christmas Talent Show at Aunt Jen's house.
What is your favorite recipe or project that your mom has made? Our mom made Quincy a painting with a horse on it to use as decoration at her birthday party.
Do you have any family favorite- games, movies, activities, hobbies? We love to go help dad at his workshop. We get to ride our scooters and bikes all over the place. We also love sitting with our dad and watching YouTube videos.
Are you tired of taking pictures for Mom's blog? 🙂 Nope! We like it.
I am so thankful for my family.
I am thankful for each one of my children, their different personalities and the joy and excitement they bring to my life.
I am thankful to have such an amazing man by my side.
He works so hard for our family and comes home everyday with a smile on his face.
He is sweet, thoughtful and giving.
I am thankful for great parents and in-laws who are so loving and supportive.
And I am thankful for my sisters.
They are my best friends and I feel lucky to have them.
And I'm thankful for this blog and each one of you who come here each day.
I'm thankful for the friendships we have made through this venture,
for your support and for each of your comments.
Thank you, thank you!
____________________________________
This post is sponsored by: