Peanut Butter Blossoms
(valentine's day style)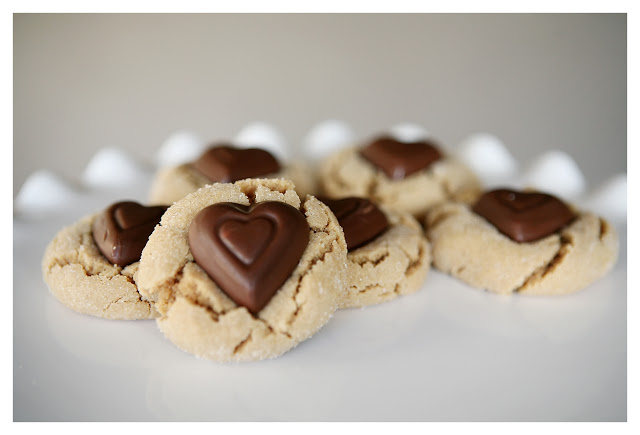 jamie just happens to be the pro at making peanut butter blossoms.
for whatever reason…
they just taste better when she makes them.
but she wasn't around the other day so jodie and i made them without her.
well honestly… jodie did 99% of the work.
(i had glitter stuck to my fingers)
and they turned out great!
and super cute!!
Peanut Butter Blossoms
(Valentine's Day Style)
* Heart shaped Chocolates (we used dove milk chocolates and reese's peanut butter hearts)
* 1/2 cup shortening
* 3/4 cup creamy peanut butter
* 1/3 cup granulated sugar
* 1/3 cup packed light brown sugar
* 1 egg
* 2 tablespoons milk
* 1 teaspoon vanilla extract
* 1-1/2 cups all-purpose flour
* 1 teaspoon baking soda
* 1/2 teaspoon salt
* granulated sugar
1. Heat oven to 375 degrees. Remove wrappers from chocolates.
2. Beat shortening and peanut butter in large bowl. Add 1/3 cup granulated and brown sugar; beat until fluffy. Add egg, milk and vanilla; beat well. Stir together flour, baking soda and salt; gradually beat into mixture.
3. Shape dough into 1-inch balls. Roll in sugar; place on ungreased cookie sheet.
4. Bake 8 to 10 minutes or until lightly browned. Immediately press a chocolate heart into center of each cookie. Remove from cookie sheet to wire rack. Cool completely. (we put them in the freezer because the chocolate hearts continue to melt)
Makes about 4 dozen cookies.
{of course when valentine's day is long over you can go back to using Hershey's kisses!}