Who is ready for cooler weather and all the fun Fall brings? We are, and we can't wait to share our Fall Farmhouse Tablescape with you today!
We are so excited to be working with JOANN again this holiday season. We'll be sharing a Halloween post, a Christmas project, and a Christmas Tree in the next few months, but today we are focusing on Fall!
We recently hit up JOANN for all of our favorite fall decorations. They have a ton of fun stuff this year and we fell in love with a grey and white color combo with natural wood and greenery. We even made a table runner out of wrapping paper for only a couple dollars. The finished look turned out perfect. I love the fresh farmhouse feel it gives off and it makes me happy every time I see it.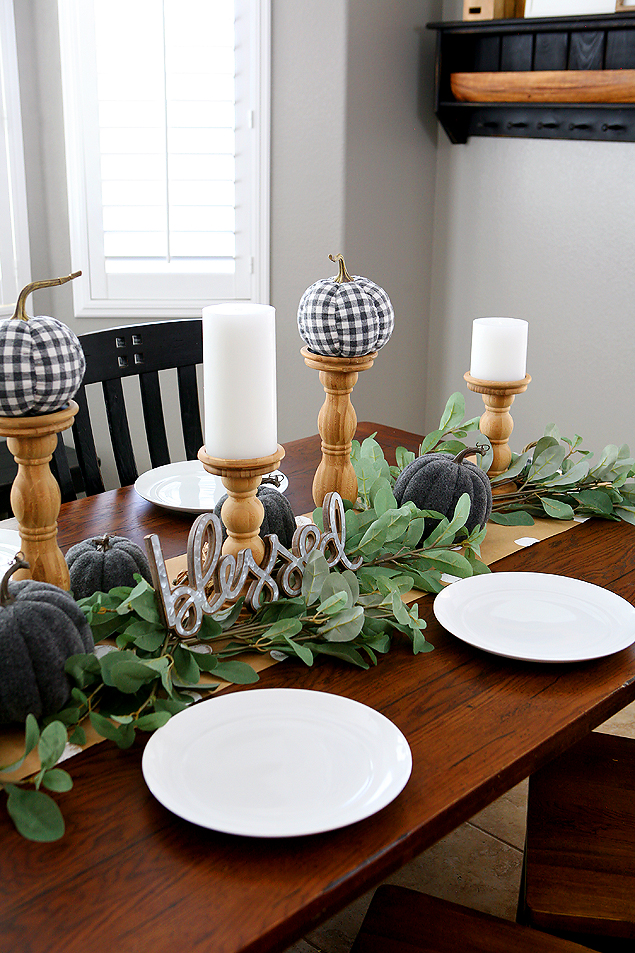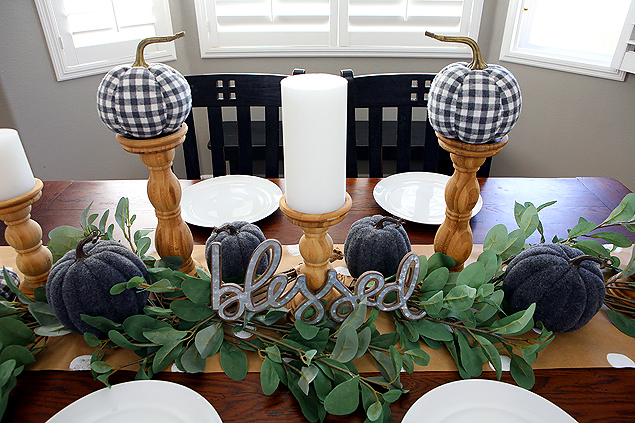 Let me tell you how we put it all together. First we started off by making our table runner. We used some Kraft Wrapping Paper, White Paint and a foam pouncer.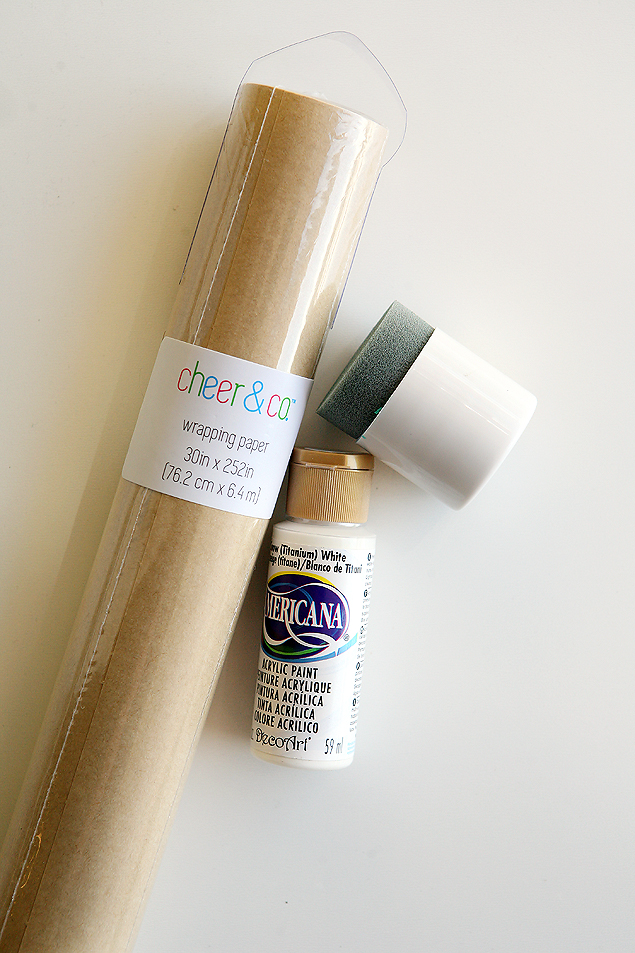 Kraft Paper Table Runner
Measure your table and add an extra 3-4 feet so your table runner can hang over on both sides.
We took our roll of kraft paper and cut it the length we needed. Then we folded it in half long ways and cut right down the center. It ended up being about 15″ wide.
You now have two paper table runners. Save one for later or go ahead and make another one for a future party or holiday.
Now it's time for the polka dots. Pour some paint onto a paper plate and then dip your foam pouncer and get busy.
Be sure to practice a few dots on some extra paper just so you can get the feel of it and so you know how much paint you want to use on your pouncer.
Once you are done with all your dots let the paint sit and dry for about 30 minutes.
You can be done at this point or you can cut a cute notch out of both ends of your table runner.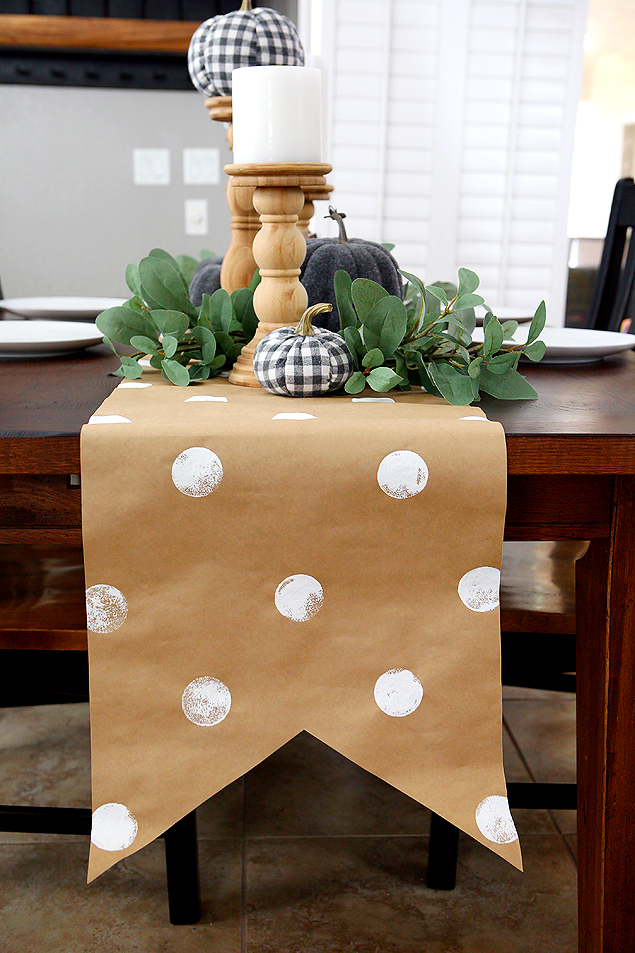 To notch our ends we took an extra piece of the kraft paper (the same width as our runner) and folded it in half. Then just cut UP towards the folded side of the paper at an angle.
Unfold your paper and use it for a pattern to cut the notches out of both ends of your runner.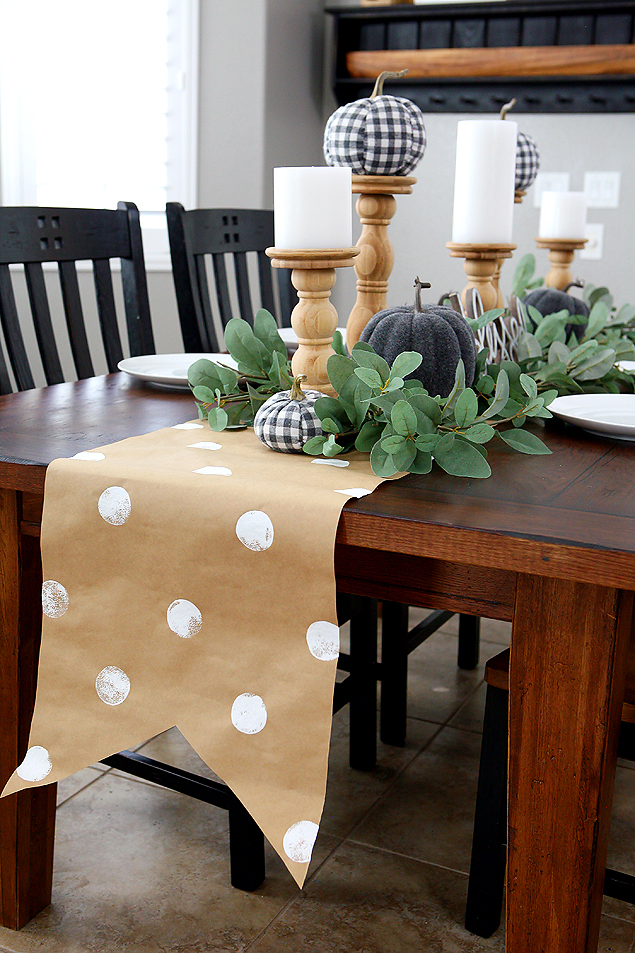 Fall Farmhouse Tablescape
Now for all the pretty things we put on top of our runner! We started with these gorgeous candlesticks. 2 Large and 3 Small. We topped the candlesticks with chunky white candles (2- 4×4 candles and 1- 4×8 candle) and these adorable plaid grey and white pumpkins.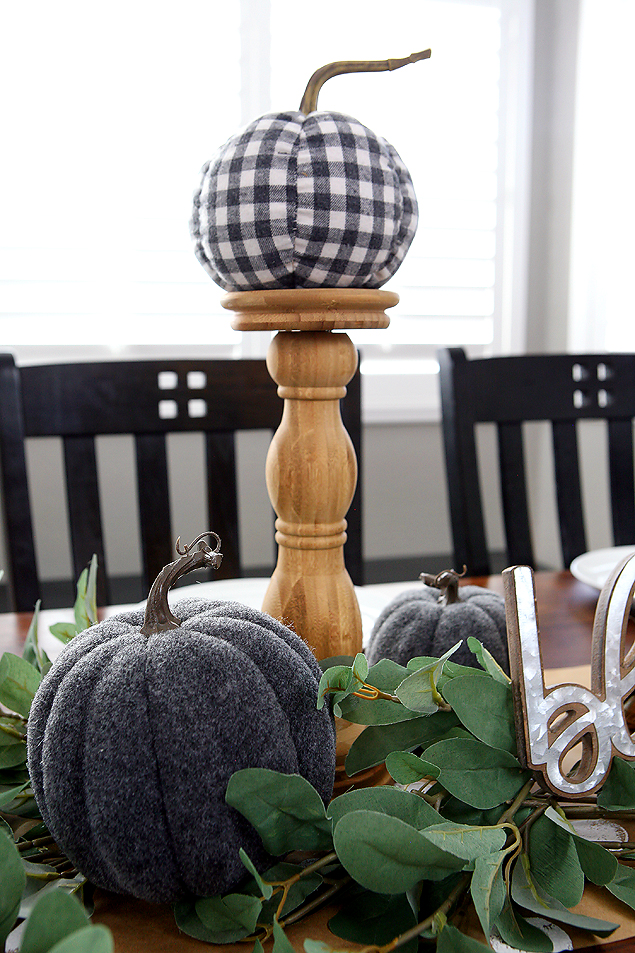 Next up was the greenery. Oh the greenery…. how I love it! 🙂 We used 7 Bay Leaves Bushes. We just set them on the runner overlapping each other so they almost look like a floral swag. We tucked in the ends of the bushes under the others for the most part. There were a couple in the middle that were going to be seen so we just took some of our kraft wrapping paper and put it around the ends of the bushes with some twine.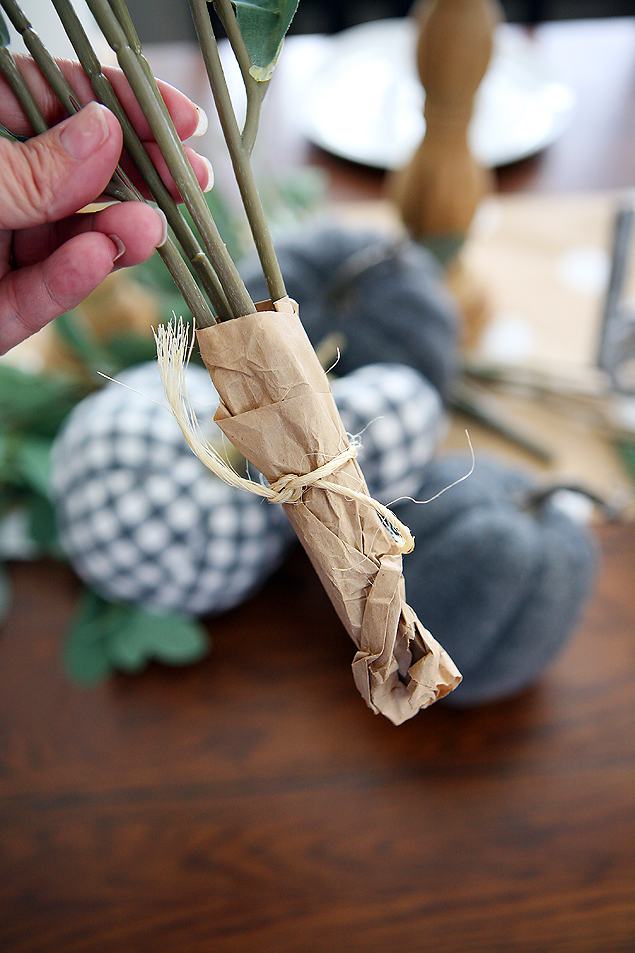 After our greenery was in place we added in some more pumpkins. 2 Medium grey and 2 Small grey and 2 Small Plaid grey and white ones on the ends.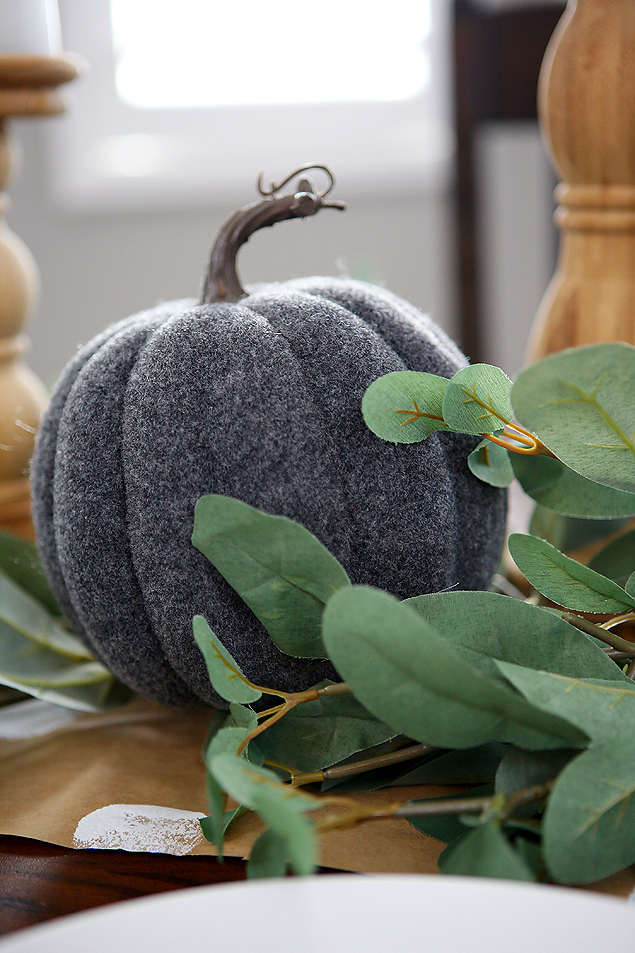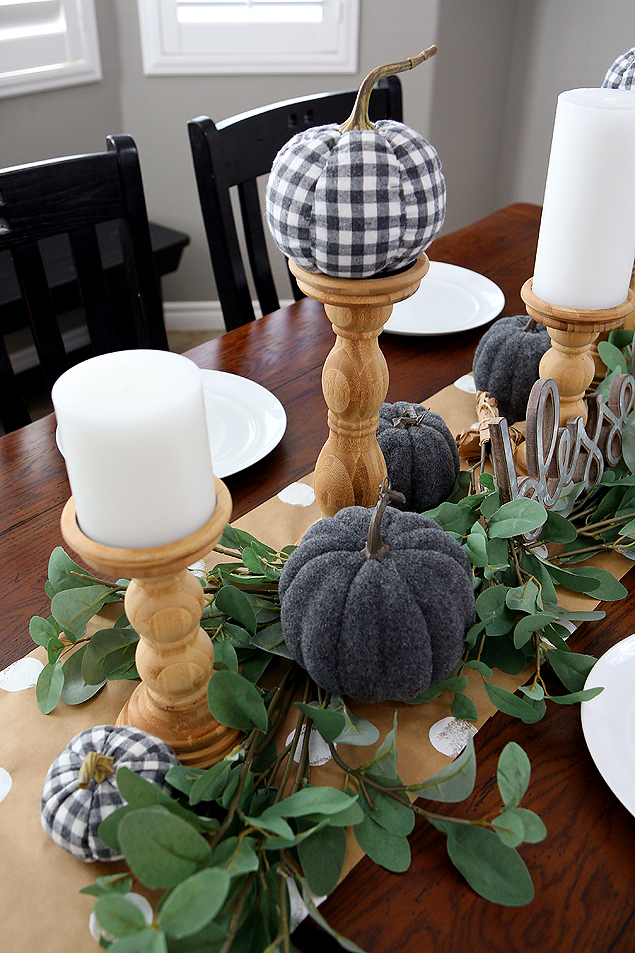 We finished it off with some white plates that I use for every holiday and a sweet galvanized script Blessed. It had a jute hanger on it but we just cut it off and set it right in the center of our table.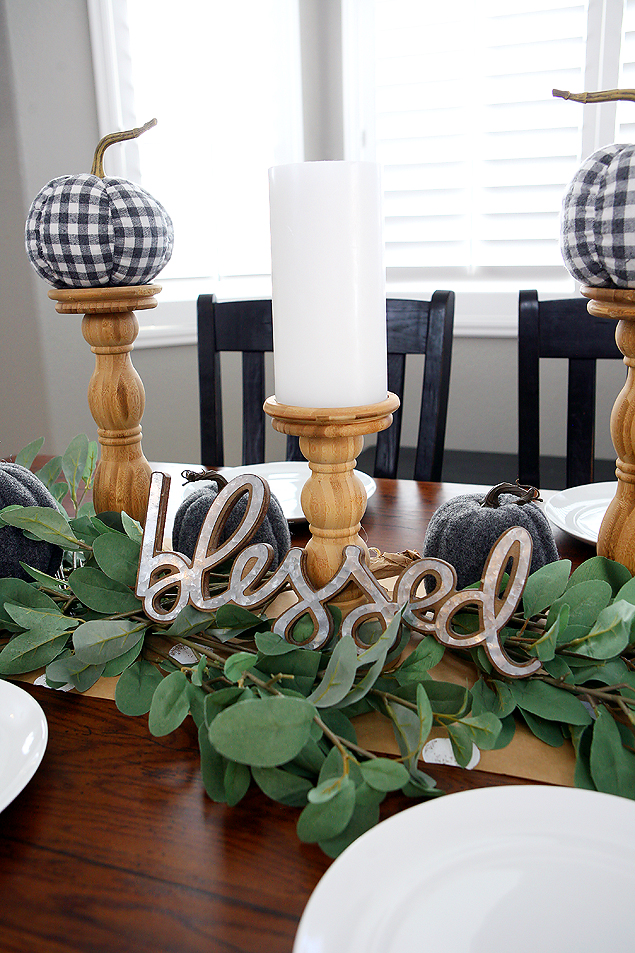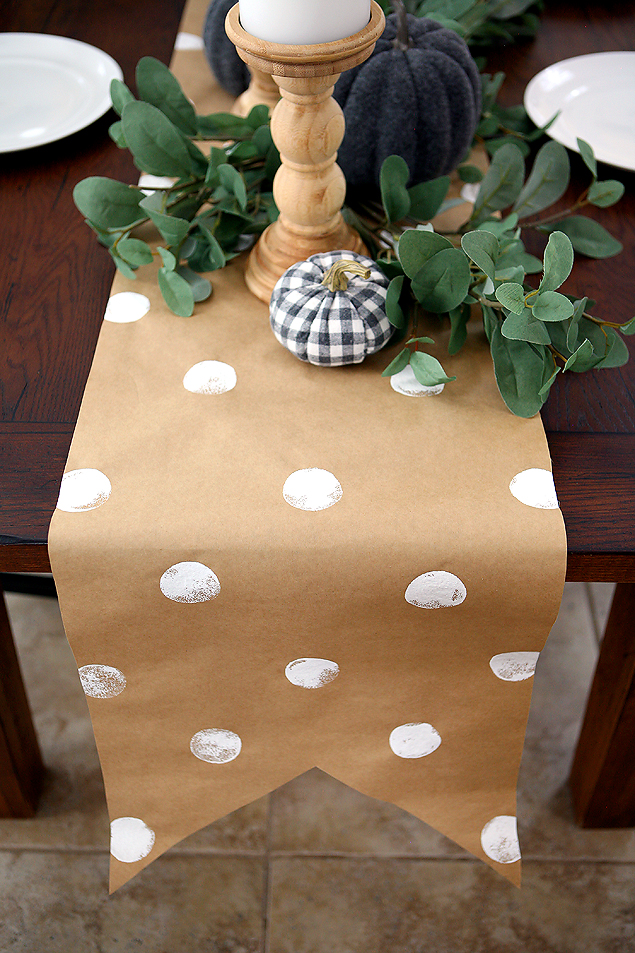 I just love how it turned out! My table is all set for fall now. Thank you to JOANN for having everything I needed to put my tablescape together. Now all I need is some homemade soup, a cozy sweater and a slice of chocolate chip pumpkin bread! 🙂

Here's our Pretty Fall Mantel we did last year. Still love the super easy Hoop Wreath we made.