October. There is something fascinating as the days wane and the nights close in. With vibrant hues and a slight nip in the air, a new season is upon us.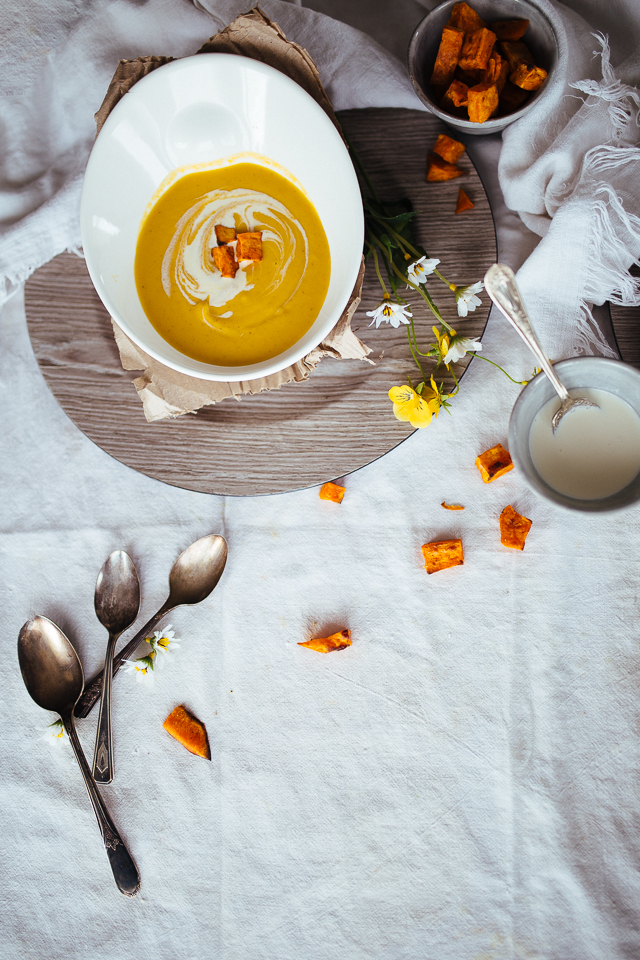 I love this time of year, though in a short few weeks the trees will stand bereft in the frozen air. In the meantime, rosy cheeks, woolen hats, stockings, and tightened scarves make their debut. Kitchens are crowded, lined with the scent of freshly baked goods. Ovens on overtime.
To me nothing suggests fall more than a warm cup of soup. Comforting and delicious, this soup is perfectly sweet, with just the right amount of savory. Roasted butternut squash and sweet potatoes, combined with the nutty notes of browned butter and sweet caramelized onions. With richness from the cream, finished with a hint of nutmeg and cinnamon, this is what I like to call harvest in a bowl.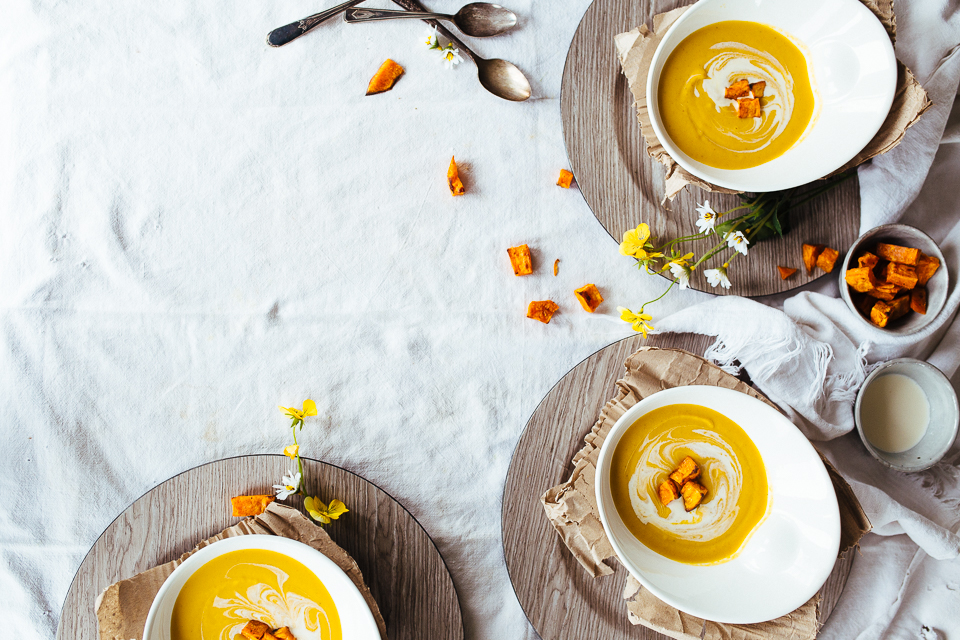 Harvest Soup
Ingredients
3-4 Tbsp. Butter
Avocado oil (or other mild cooking oil such as grapeseed or coconut)
1 Large butternut squash, peeled, seeded, cut into 1" cubes
1 Sweet potato, peeled, cut into 1" cubes
1-2 Sweet onions, diced
2-3 Cloves of garlic, minced
1 Apple (Tart yet sweet such as pink lady, fuji, or honeycrisp) peeled, cored and cut into slices
6-8 C. Chicken Broth
1-2 Tbsp. Better than bouillon
1 C. Cream
3 Tbsp. Pure maple syrup or more to taste
¼ tsp. Cinnamon
⅛ tsp. Nutmeg
Kosher salt and pepper to taste
Instructions
Preheat oven to 425 degrees. Line a sheet pan with parchment paper. Arrange squash and sweet potato evenly across the pan. Drizzle with just enough oil to barely coat. Season generously, with salt and pepper. Roast for about ½ hr-45 min or until cooked through and edges start to caramelize.
In the meantime melt butter in large heavy bottomed pot, over med low heat until it starts to smell a little bit nutty and turn a beautiful golden brownish color, taking care not to burn. Add onions and season with a little salt and pepper. Continue to cook over med-low heat until you get a soft, sticky texture, caramel in color. About 20 min. Add garlic and cook another minute.
Add broth starting with just 6 C. and 1 tbsp. of better than bouillon. Bring to a boil and simmer until the squash is ready.
Add the cooked squash, sweet potato and apple to the broth. Puree the soup with a handheld immersion blender until very smooth and creamy. (alternatively, use a standard blender to puree soup in batches, being careful not to fill the jar more than halfway.)
Add the maple syrup, cinnamon, nutmeg and heavy cream to the puree. Bring to a simmer. Adjust the seasoning, adding the extra Tbsp. of bouillon if necessary. For a thinner soup add more of the broth. If you like a sweeter soup, add more syrup.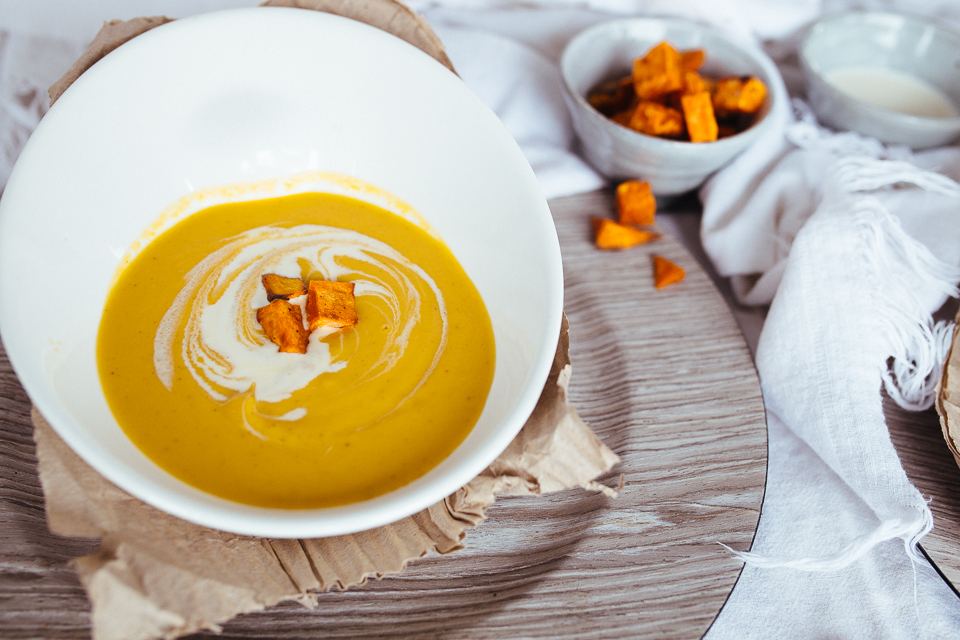 Visit Nicole on her Blog | Instagram | Facebook and here's a little taste of what you'll find on her instagram…