Excited to have
Cindy Larkin
back sharing another fantastic recipe with us today…
_______________________________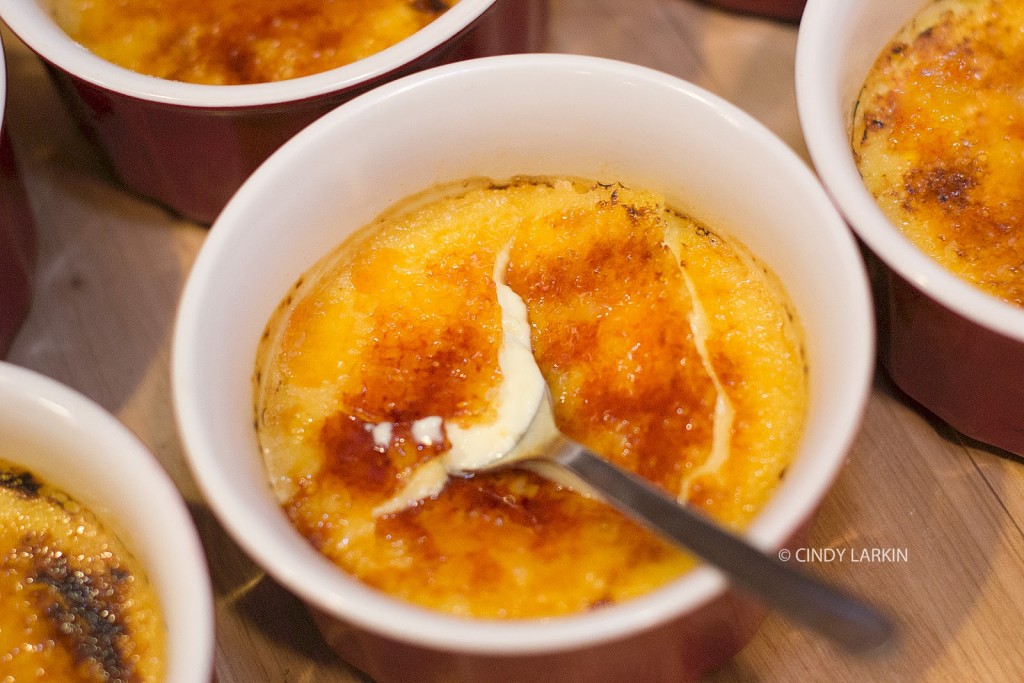 INGREDIENTS:
4 cups heavy cream
1 Tbsp. vanilla
1 cup sugar, divided
6 egg yolks
1 quart hot water
DIRECTIONS:
1. Preheat the oven to 325 degrees F.
2. Place the cream, and the vanilla into a medium saucepan and bring to a boil. Remove from the heat, cover and allow to sit for 15 minutes.
3. In a medium bowl, whisk together 1/2 cup sugar and the egg yolks until well blended and it just starts to lighten in color.
4. Add the cream a little at a time, stirring continually.
5. Pour the liquid into 6 (7 to 8-ounce) ramekins. Place the ramekins into a large sheet cake pan or roasting pan. Add a cheese cloth or a hand towel on the bottom to keep the ramekins from sliding around.
6. Pour enough hot water into the pan to come up the sides of the ramekins.
7. Bake just until the crème brûlée is set, but still trembling in the center, approximately 50 minutes. Remove the ramekins from the roasting pan and refrigerate for at least 2 hours.
8. Remove the crème brûlée from the refrigerator. Divide the remaining 1/2 cup vanilla sugar equally among the 6 dishes and spread evenly on top.
____________________________________________