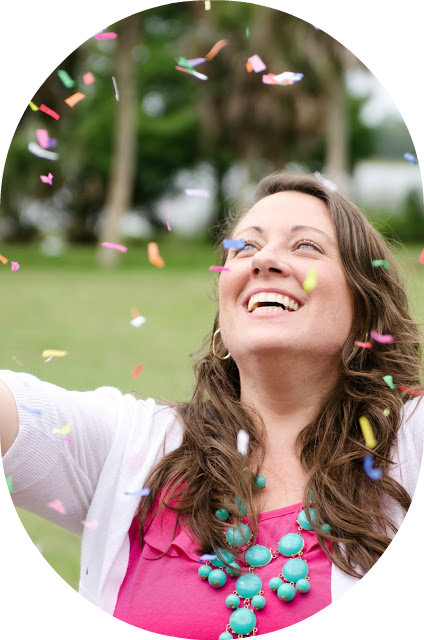 We've been lucky enough to have Jessica of
Two Shades of Pink
here from time to time, but we couldn't be more excited to have her here contributing for the rest
of the year!
If we had to pick 3 words to describe Jessica and her blog it would be… Happy, Creative and Refreshing. We just know you all will love her like we do!
____________________________________________________
Oh my sweet goodness! Pinch me I'm dreaming because I'm beyond stoked to be a Creative Team Member with the one and only Eighteen25 Girls! Whaaaaaat? These girls have been a blessing to me for years and a constant encouragement and source of inspiration. I am just plain honored to be here. 🙂 Hi, my name is Jessica and I blog over at
Two Shades of Pink
where I adore sharing inspiring diy ideas to celebrate both the little and big moments of life. You will find fun
creative packaging
,
seasonal and holiday crafts
, and
great entertaining and party ideas
. I'm excited to be here each month to hopefully inspire and get to know you better. 🙂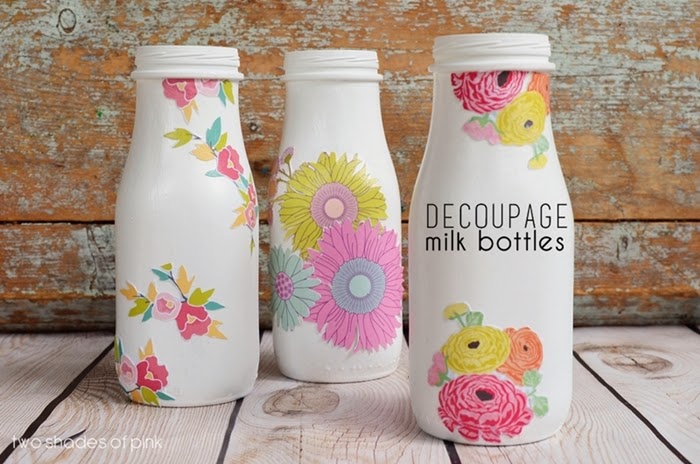 The idea for these pretty bottles came from perusing Pinterest one day and seeing a picture of some pretty spray painted bottles that I am pretty sure were decoupaged with some cut out flowers. It was one of those times where you whiz by something while scrolling Pinterest on your phone and then poof…you can't find it again. It seemed simple enough so I decided to just try it with scrapbook paper I had on hand and some old Starbucks iced cappuccino bottles that I bought just for the bottles and not the drink. 🙂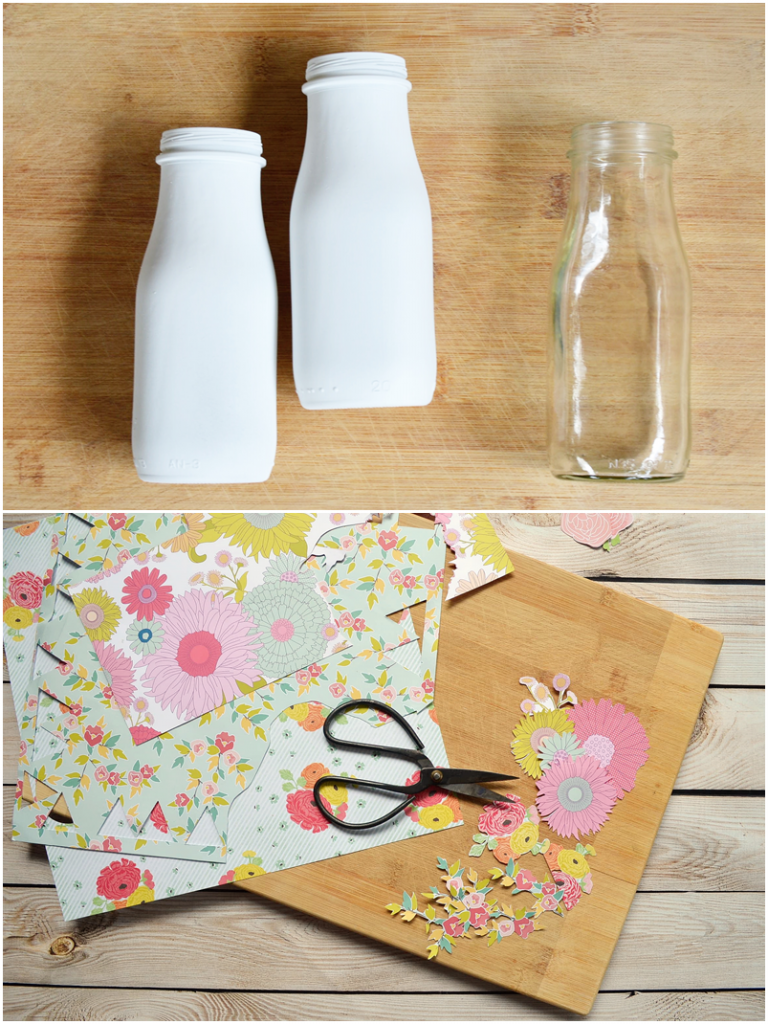 I spray painted the bottles white. I did mine with three coats but you can spray them until they are covered the way you like. You should probably seal them as well with a clear spray sealer but I am lazy and did not. Then I grabbed some floral paper that I figured would be relatively easy to cut out. This may take some patience but I find it kind of relaxing. Weird, right? For spots you can't get to with scissors, just use an X-acto knife on a cutting board.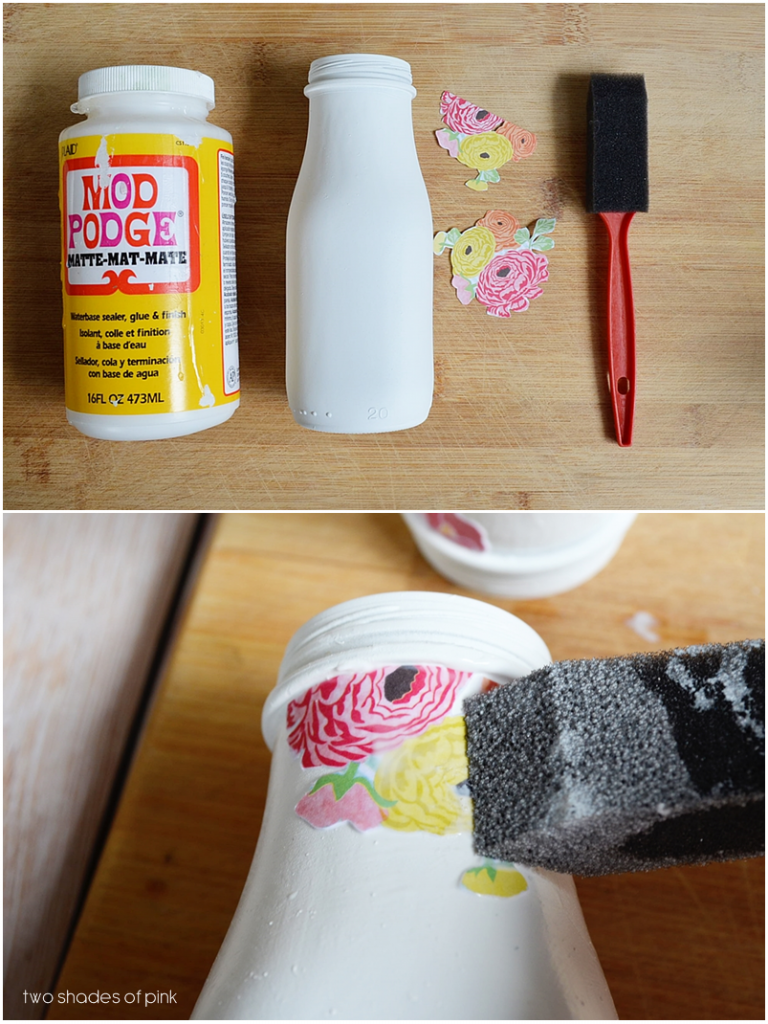 Now just use Mod Podge to decoupage them to your bottle. Brush a little on the back of the paper and then place it on the bottle. Brush over the top with a little more glue to keep it flat. I was using card stock so I had to press it down with my finger. Let it dry overnight and that's it. A pretty and simple project with a stunning result.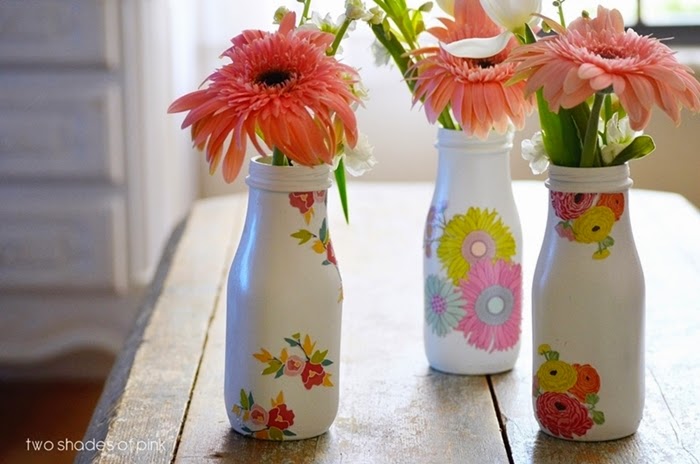 P.S. You could also save the lids, spray paint them and use for storage for tiny little craft supplies or even just loose change. I only had one lid to three of these which I painted gold but forgot to take a picture. Sorry. 🙁 I hope you enjoyed this project and there will be more to come!
_______________________________________________
and check out these other great posts of hers…