Hello Eighteen 25 readers! I'm Sarah from Life on Virginia Street. I'm excited to be here today to share a creepy felt ruffle wreath project with all of you!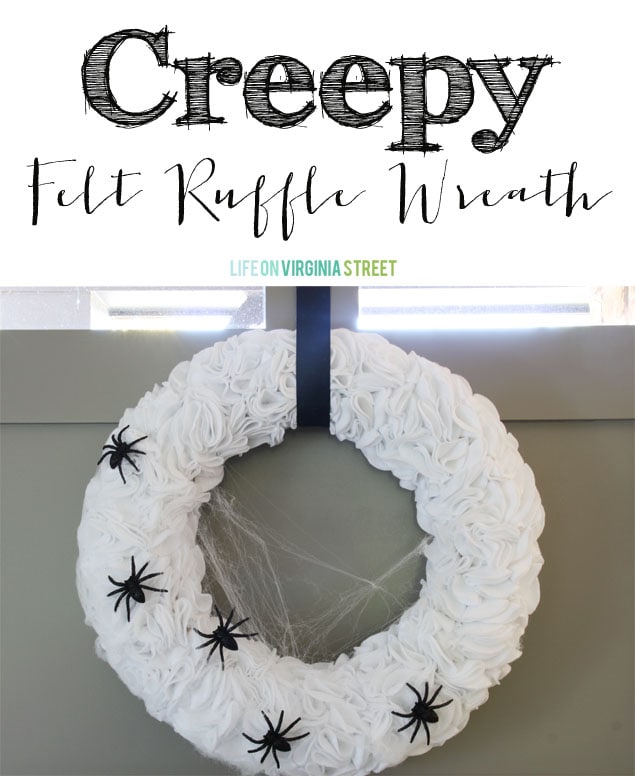 I have made several of these felt ruffle wreaths in the past and they have always been a huge hit. This year, I thought it would be fun to put a Halloween spin on the wreath. The great part is, I can easily remove the Halloween cobwebs and spiders to use the wreath for other seasons!
Supplies needed:
Felt – amount varies depending on size of wreath and density of ruffles, but 2 yards is more than enough if you buy the kind that is 70+ inches wide
Stick Pins – 250 to 400 depending upon wreath size and density of ruffles
Circle Rotary Cutter
Straw Wreath Form in your preferred size – I used an 18″ wreath
Decorative Cobwebs
Decorative Spiders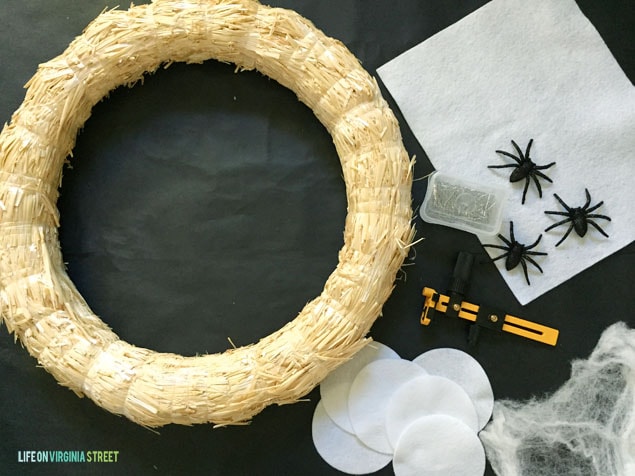 Use the circle rotary cutter to begin cutting your circles. I made my circles 2″ wide for this project. I cut approximately 30-50 at a time and then would apply them to the wreath before moving on an cutting more circles.
To affix to the wreath, simply fold the circle in half, and then in half again (your piece should look like a 1/4 piece of pie). Use one stick pin and pierce just up from the "pie piece" bottom and then push the felt into the wreath. Repeat this process, somewhat overlapping your ruffles so that the straw does not show through. Start to fluff and open your ruffles as you go along. See the images below as I continue to add additional pieces to the wreath.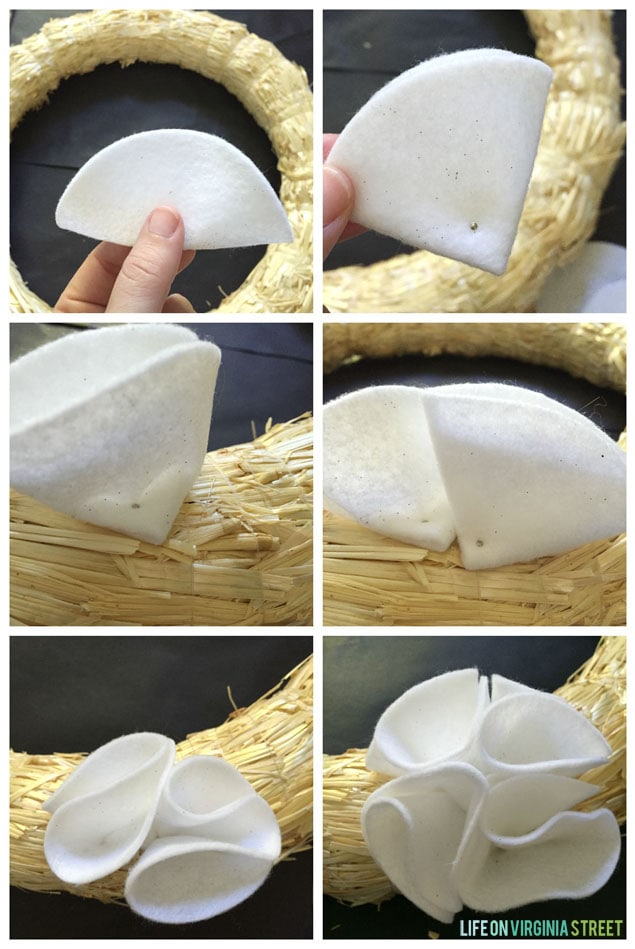 Keep in mind, you don't have to cover the wreath with felt on all sides (unless you're hanging it on a window or somewhere you will actually see the back side). Simply continue adding felt circles until you are happy with the look and overall coverage. I've been wreath with very dense ruffles and some with much looser ruffles and both are really cute. It's simply a matter of preference.
Once the wreath is complete, simply string some decorative cobwebs over the wreath and add your spiders! I was able to find some gold glitter spiders at Walmart (hence the reason there is black glitter on my felt) and I thought they added the perfect "cute" creepy touch to the wreath.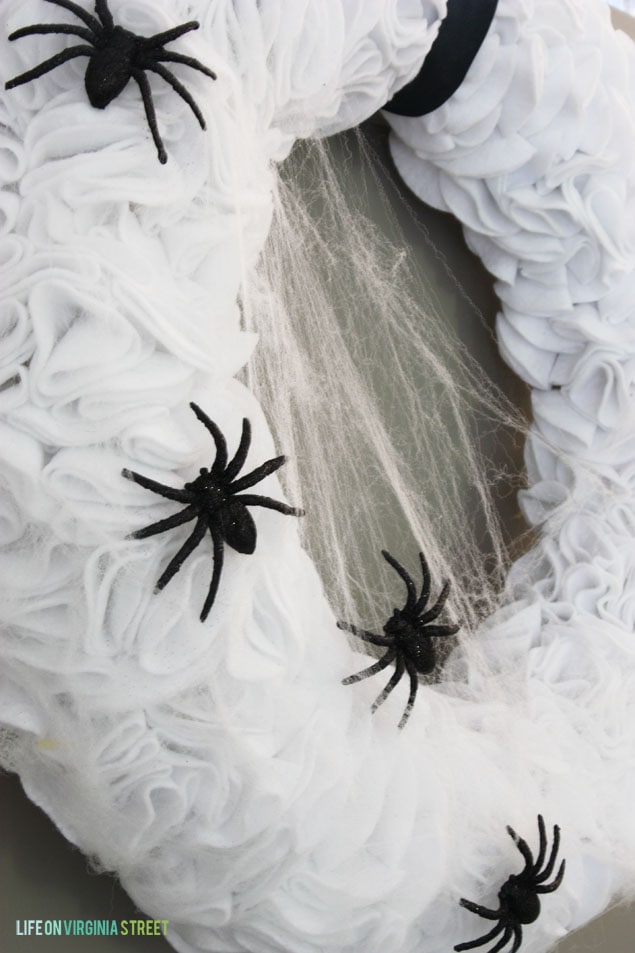 I love that as soon as Halloween is over, I can remove the cobwebs and spiders and dress the wreath up for Thanksgiving, Christmas or whichever holiday I want. It's such a versatile and unique wreath!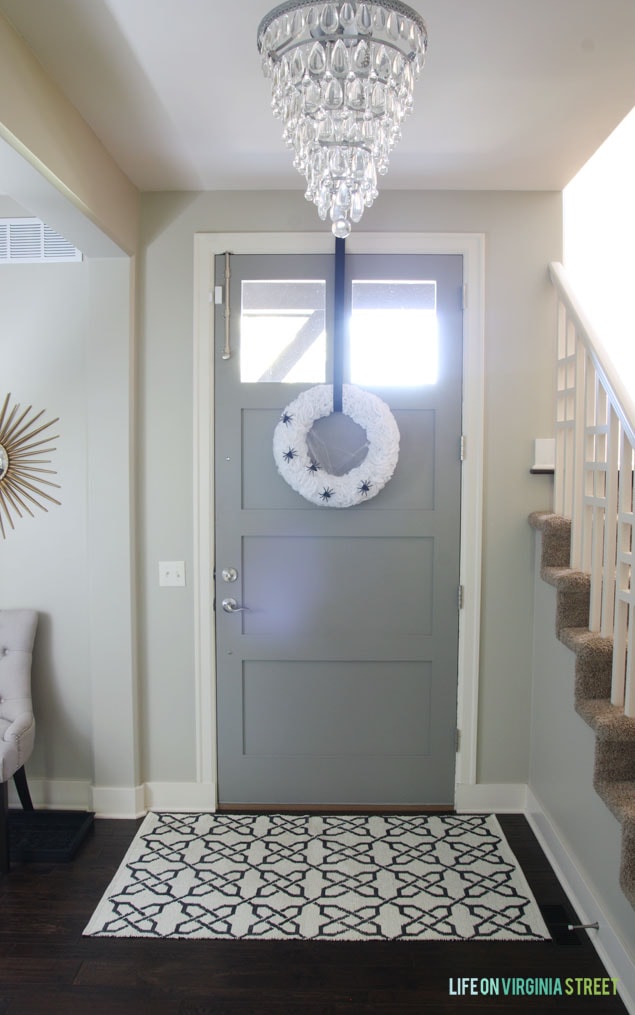 I really hope you enjoyed this project! I recently shared my fall home tour if you want to stop by – I'd love to have you! And if you're looking for a good laugh, or just a fun Halloween costume idea, be sure to check out the costumes my husband and I wore last year to our neighborhood Halloween party. Thank you so much to Jodie and Jen for having me over today.