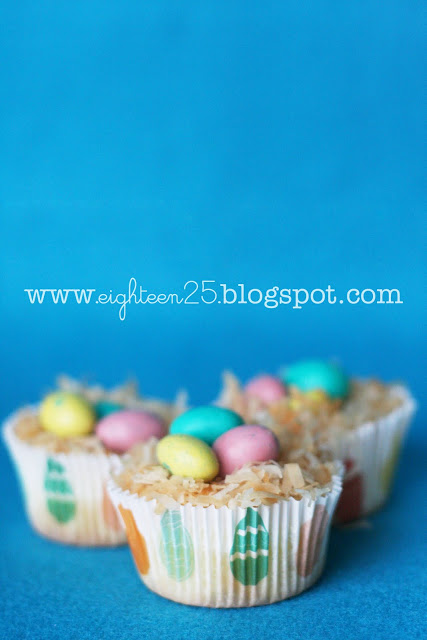 The idea for these came from
brightideas.com
.
I used a recipe I already had for the cheesecake part.
(it sounded easier)
I also tried the coconut two different ways.
————————————————————–
INGREDIENTS
2 (8 oz.) pkg. cream cheese, softened
1 cup sugar
1 tsp. pure vanilla extract
2 eggs
vanilla wafers
coconut
M+M speckled eggs
cupcake liners
—————————————————————–
DIRECTIONS
Preheat oven to 350 degrees.
Place a cupcake liner in each cup of muffin pan.
Beat cream cheese with handheld mixer until fluffy.
Add sugar and vanilla, beating well.
Add eggs, one at a time, beating well after each addition.
Lay a vanilla wafer, flat side down, in each muffin cup.
Spoon cream cheese mixture over wafers.
Bake for 20 minutes.
Allow cheesecakes to cool completely.
Turn oven down to 300 degrees.
Spread coconut on non-greased cookie sheet.
Toast in oven, stirring occasionally, until it turns light golden (about 25 min)
Cool Coconut and then spoon onto cheesecakes.
Add a few M+M eggs in the nest.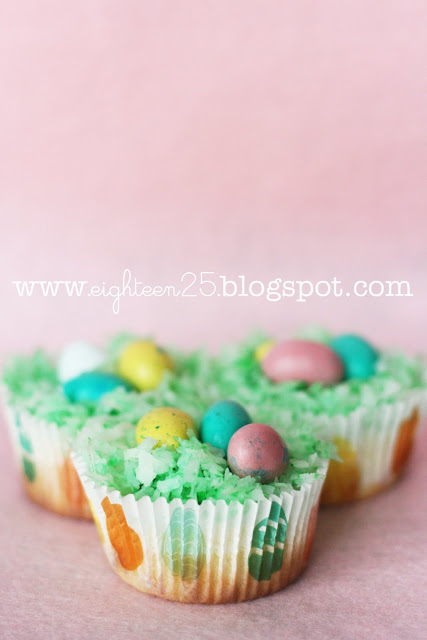 -OR-
Add green food coloring to coconut.
Stir until mixed well.
Spoon onto cheesecakes.
Add a few M+M eggs in the nest.
-AND-
For those of you that don't like coconut,
these are really good with pie filling or fresh fruit too.