Well…I made too many of them, and had a few left over. SO, of course I had to use them up!  🙂 I'm really excited to share this recipe with you for 4 reasons!!
1.  It's super easy.
2.  It's even more delicious than it is easy!
3.  I think it's an ingenious way to use caramel apples (especially when you make too many of them)
4.  They are beautiful, and did I say DELICIOUS?!!
**HINT:  If you don't have caramel apples on hand or don't want to make them, you can substitute them for [chopped apples and caramel candies] or [chopped apples and Snickers candy bar]…which makes them even more easy!
1.  Chop caramel apples into small bite sized pieces and set aside.
2 cups of flour
1 cup butter
1/2 tsp. salt
2/3 cups ice water
2. Put all crust ingredients except the ice water, in a bowl and mix with a fork. Or if you're like me, you may prefer to use your fingers!  Mix until all the butter is evenly dispersed throughout the flour mixture.  Add the ice water and roll into a ball.
3.  Turn out the dough onto a floured surface and roughly knead it until it's a bit smoother, but not overly kneaded.  (*HINT: if you over knead your crust, it won't be as flaky as you'd like it to be)
4.  Next, roll out the dough on a floured surface, and cut into approx. 3 inch circles. (depending on how large you want your tarts to be).
TART INGREDIENTS:
3-4 caramel apples; chopped
Sugar
Cinnamon
Turbinado sugar
Lemon juice
Egg yolks (for basting tops)
5. Roll out each circle with a rolling pin or press it out with your fingers, to make the dough a little bit thinner, if needed.  (you want them to be about 1 centimeter in thickness (not to thin and not too thick)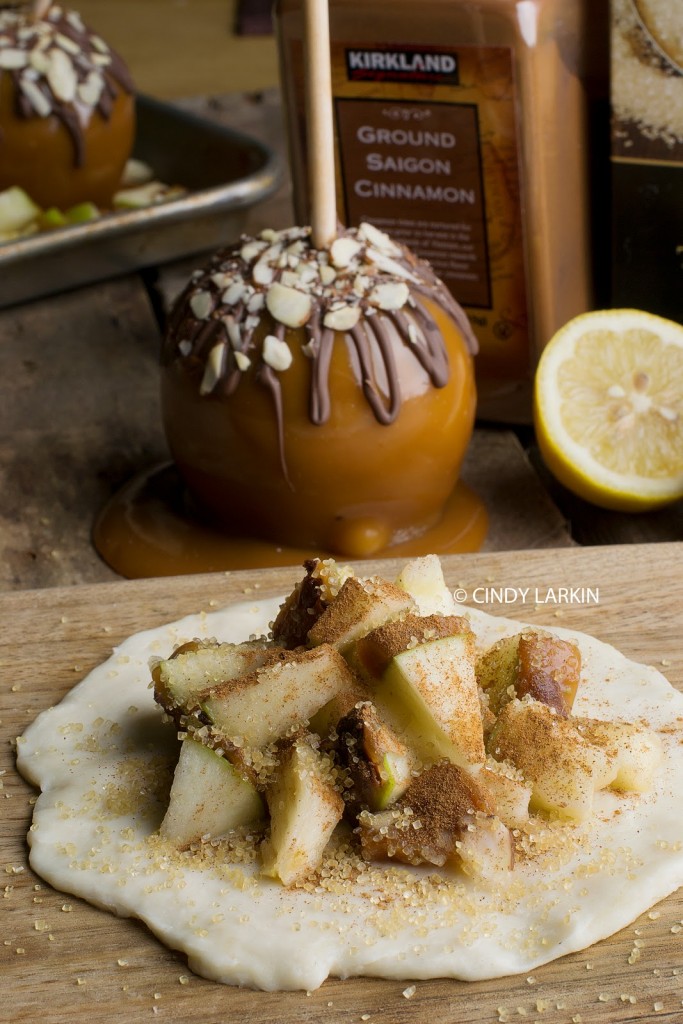 (this tart was pressed out with my fingers)
6.  Add approx. 1/4 cup chopped caramel apples.
7. Add a sprinkle of cinnamon.
8.  Add a sprinkle of turbinado sugar.
9. Add a couple drops of freshly squeezed lemon juice.
10.   Add the top layer of dough and press the top and bottom layers together, with a fork.
11.  Cut two slits into the top crust.
12.  With a basting brush, spread a thin layer of egg yolks on top. (this is what gives your tarts their beautiful golden color).
13.  Sprinkle tops with a little turbinado sugar.
14.  Bake in the oven at 375* for 15-20 minutes or until golden brown.
Enjoy!