This is a sponsored post written by me on behalf of Huggies®. As always, all opinions are my own.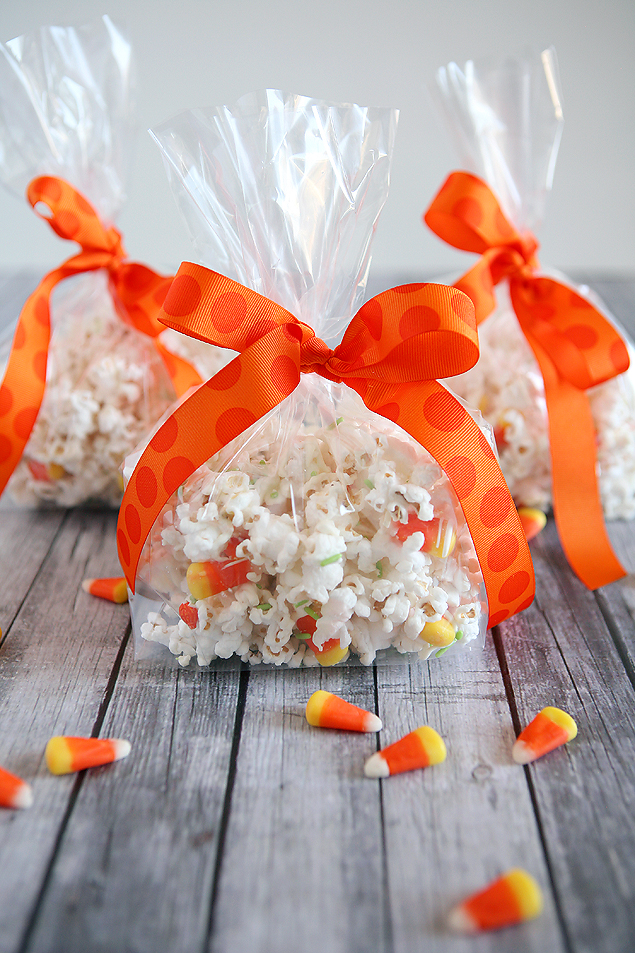 One of our family's favorite treats to make throughout the year is White Chocolate Popcorn. It's so delicious and so easy to dress up for different holidays and celebrations. So today we are sharing a version that is perfect for Halloween or any day of the year.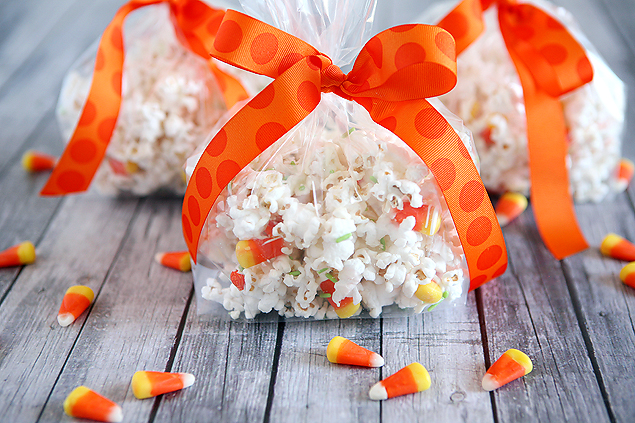 Did you know that September 13th is Kids Take Over The Kitchen Day? We love all those silly fun days, so to celebrate we let our one cutie that's not in school yet be "in charge" of making our White Chocolate Popcorn. (and let me tell you, she took her job seriously) 🙂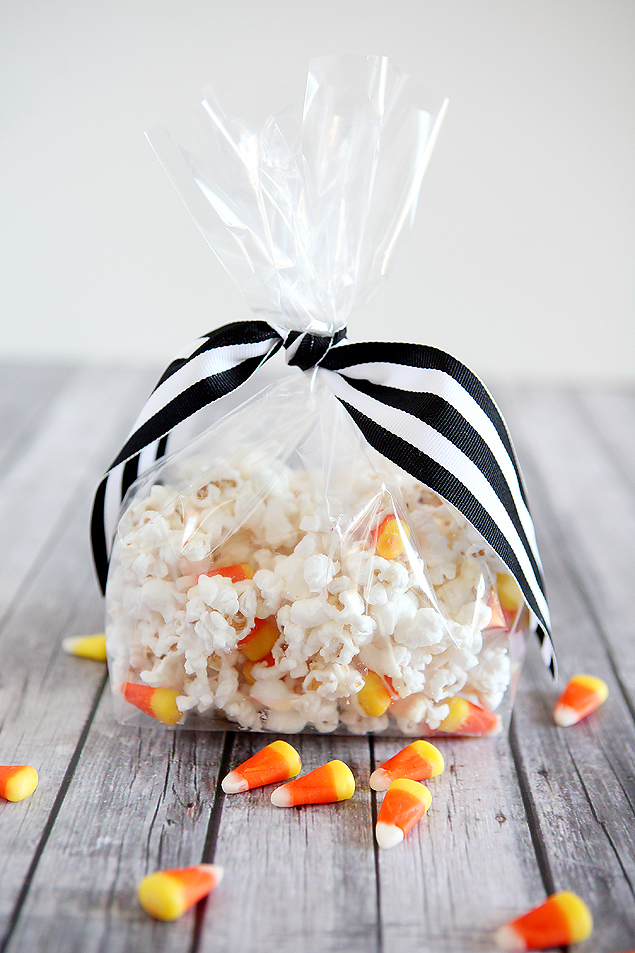 INGREDIENTS: [affiliate links included]
CLEAN-UP: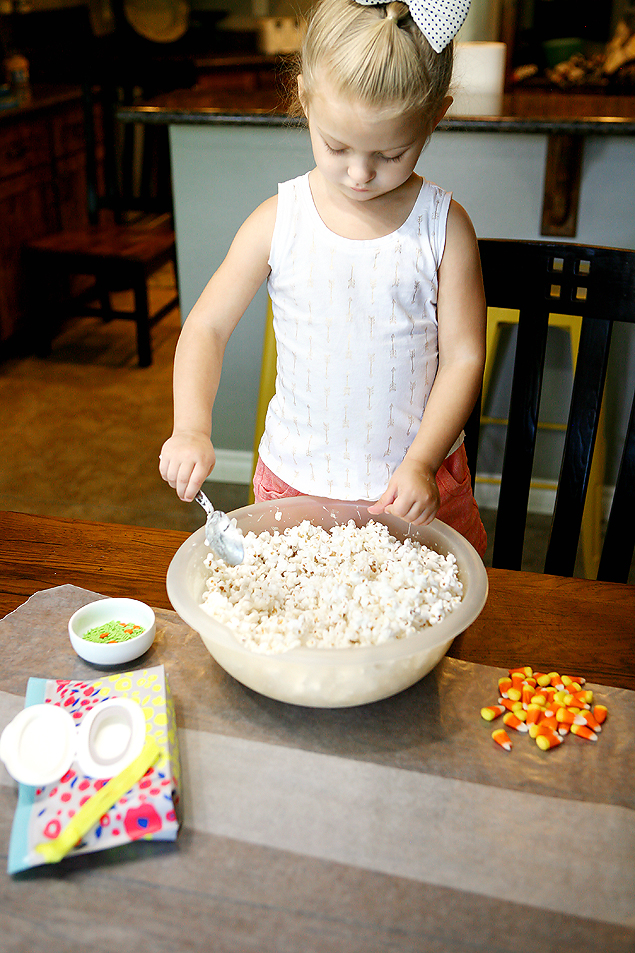 Pop enough popcorn to fill a large bowl. Then following the instructions on the bag of chocolate melts, melt half a bag and then stir into the bowl of popcorn.
Once the popcorn is coated (just needs a light coating) spread it out on some wax or parchment paper.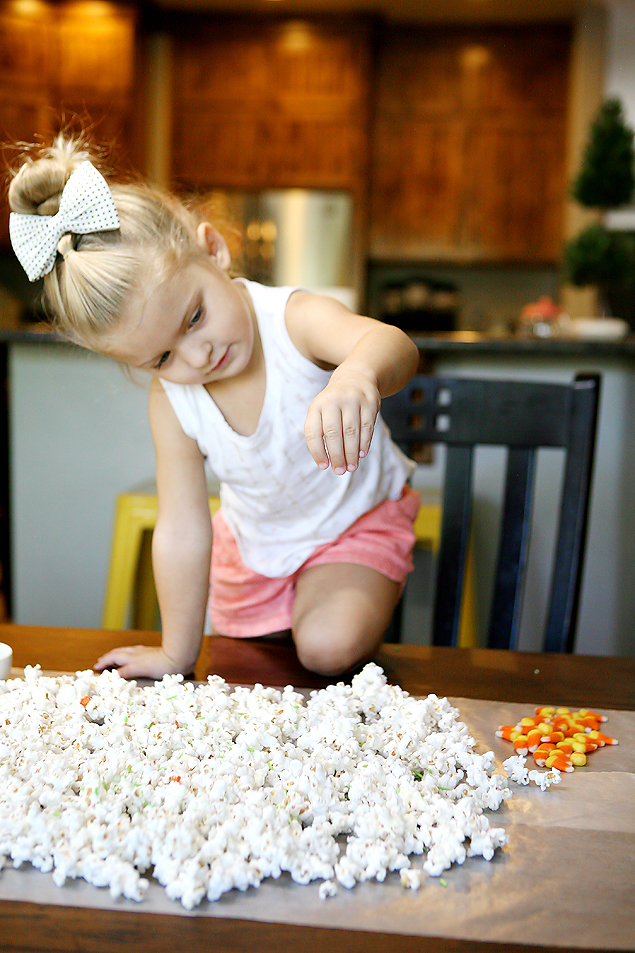 Then "make it rain" with sprinkles. This was for sure Posie's favorite part of the process. Then sprinkle your candy corns over the popcorn.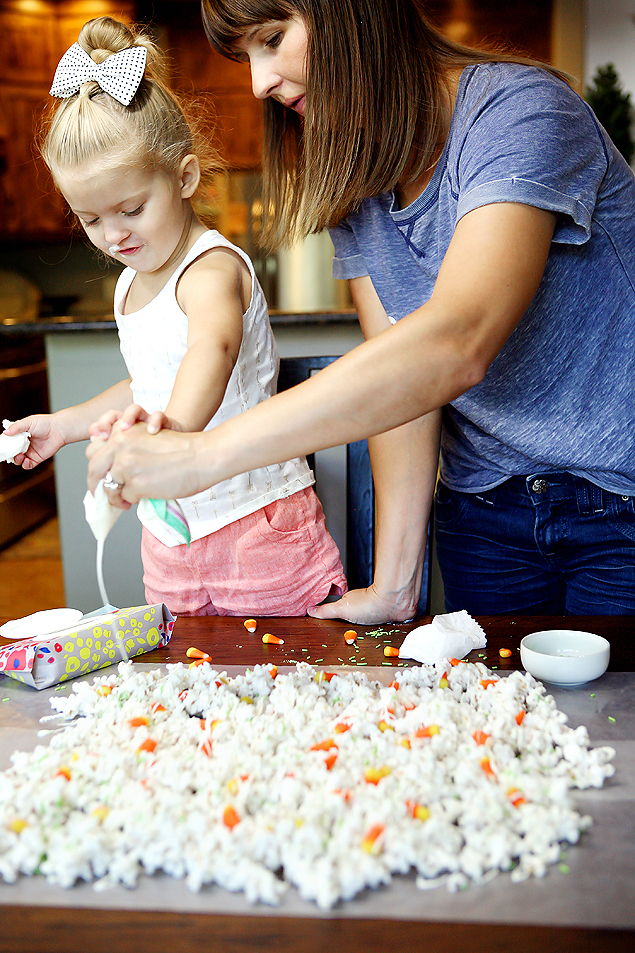 Next melt the other half of the bag of chocolate melts. Spoon the chocolate into a plastic baggie and snip a small hole in the corner of the bag. Drizzle the chocolate over all of the popcorn, sprinkles and candy.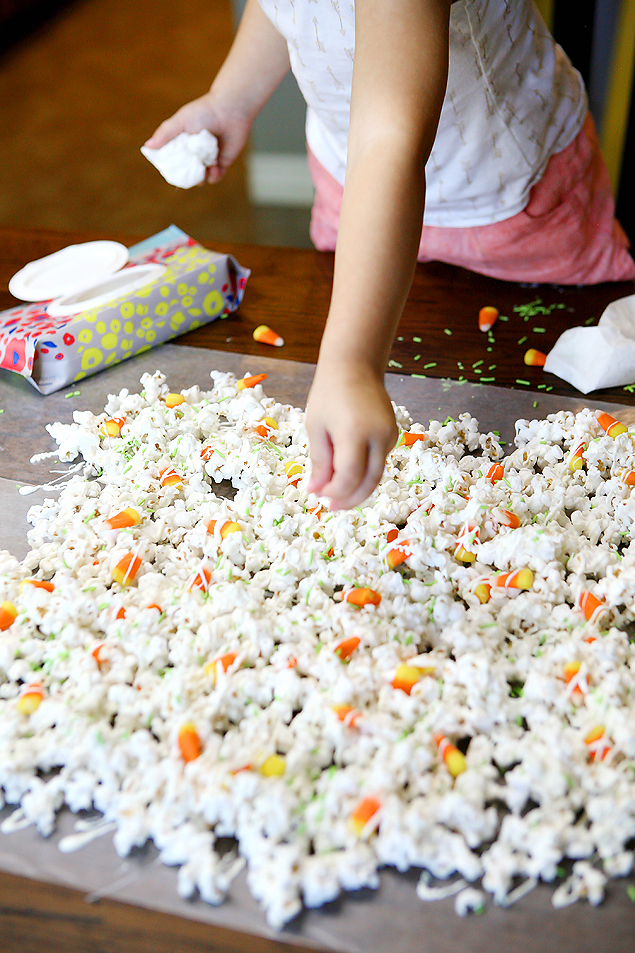 And then of course, add a few more sprinkles.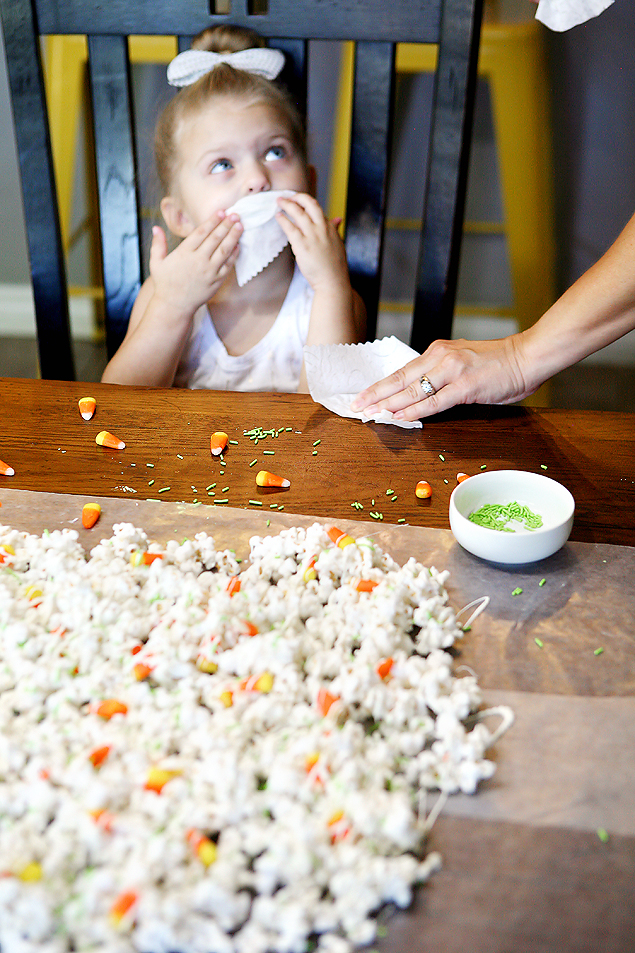 Then let the chocolate sit and dry while you clean up your mess. We choose to use Huggies® Wipes because they are gentle on skin and thick enough to clean the mess. From faces to fingers to cleaning up the table… they do the job perfectly.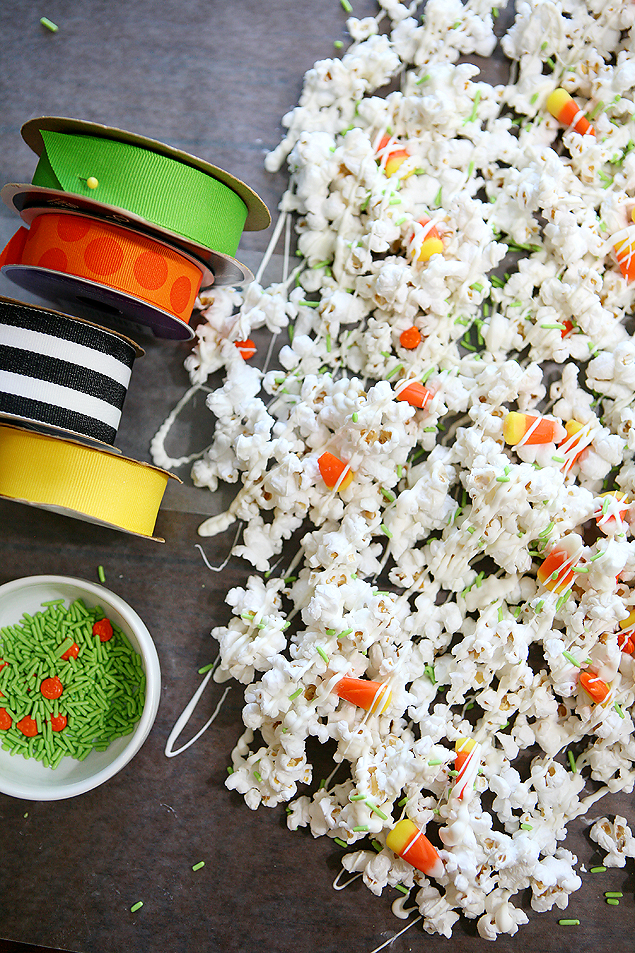 Once the chocolate has dried and hardened you can package the popcorn up. If you'd like to give some as gifts simply fill some cellophane bags and tie them closed with some fun ribbon.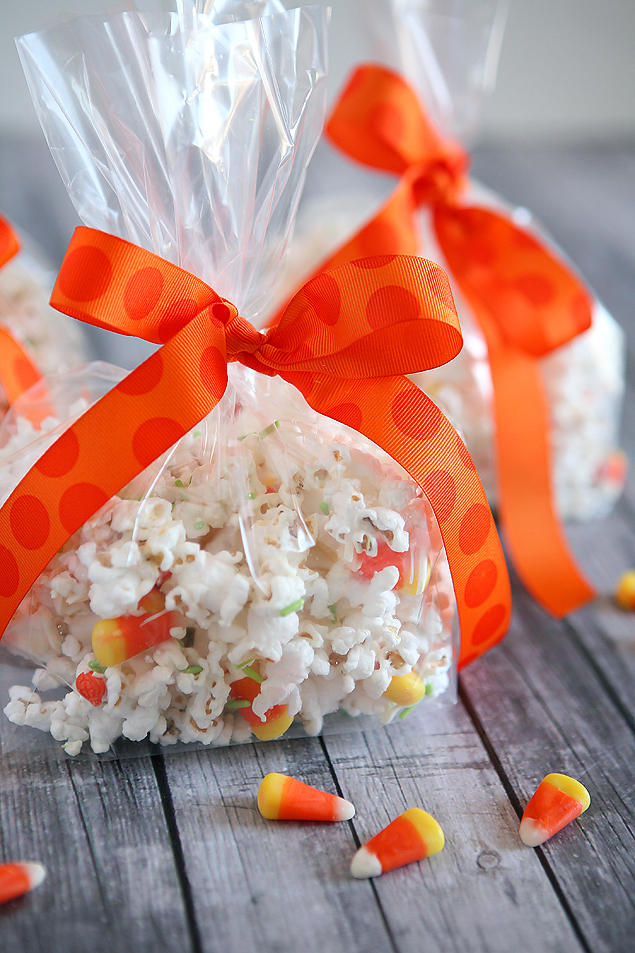 Now just deliver them to your friends and family. I promise you they are going to love it!!
Here are some other fun posts we've done in partnership with Huggies®:
Have a messy activity you'd like to share? Tag your photos using the hashtag #HugTheMessSweepstakes on Twitter and Instagram for a chance to win one of four $2,500 prizes. Visit the sweepstakes page HERE  for more information and to see recent submissions. You can also follow along with Huggies® on your favorite social media. Find them on Facebook : Instagram and Twitter.