Hi Halloween lovers! I'm so thrilled to be a part of the Spooktacular September this year. I'm Chrissy, hopping over from Fun Loving Families where I love sharing kids activities, crafts, and ideas for family fun.
Halloween is all about dressing up and candy, so why not join the two with some sweet lollipops "dressed" as witches!
Make these lollipop witches for your Halloween party favors and I guarantee your guests will love them.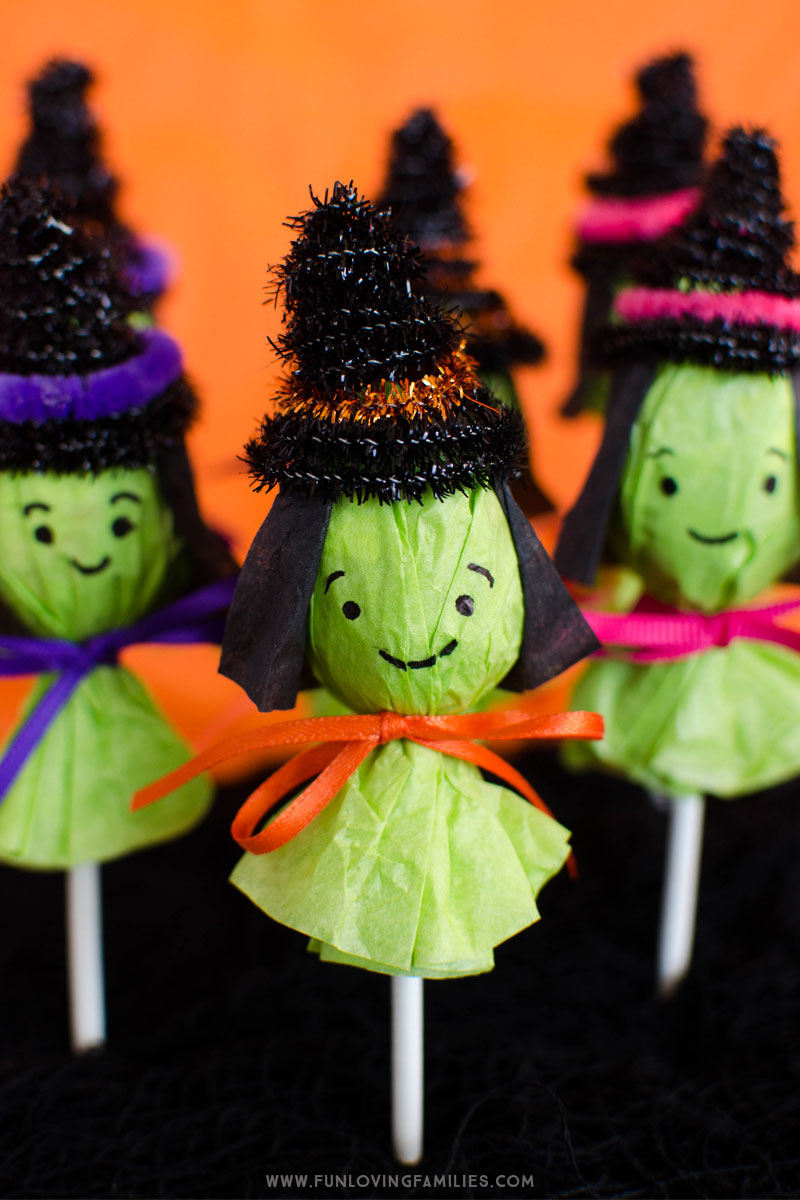 How to Make the Lollipop Witches
These adorable little lollipop witches come together pretty quickly once you get the hang of how to twist the hat into shape. I'll walk you through the steps below so you'll be able to create your own with no problems.
Here's what you'll need:
lollipops (we used BlowPops)
green tissue paper cut in 6″ circles
black tissue paper cut in 1X3″ rectangles (not pictured)
hot glue gun
ribbon
2- black pipe cleaners (AKA chenille stems)
1 – 2 1/2″ piece of orange (or other color) pipe cleaner
sharpened pencil
glue stick (not pictured)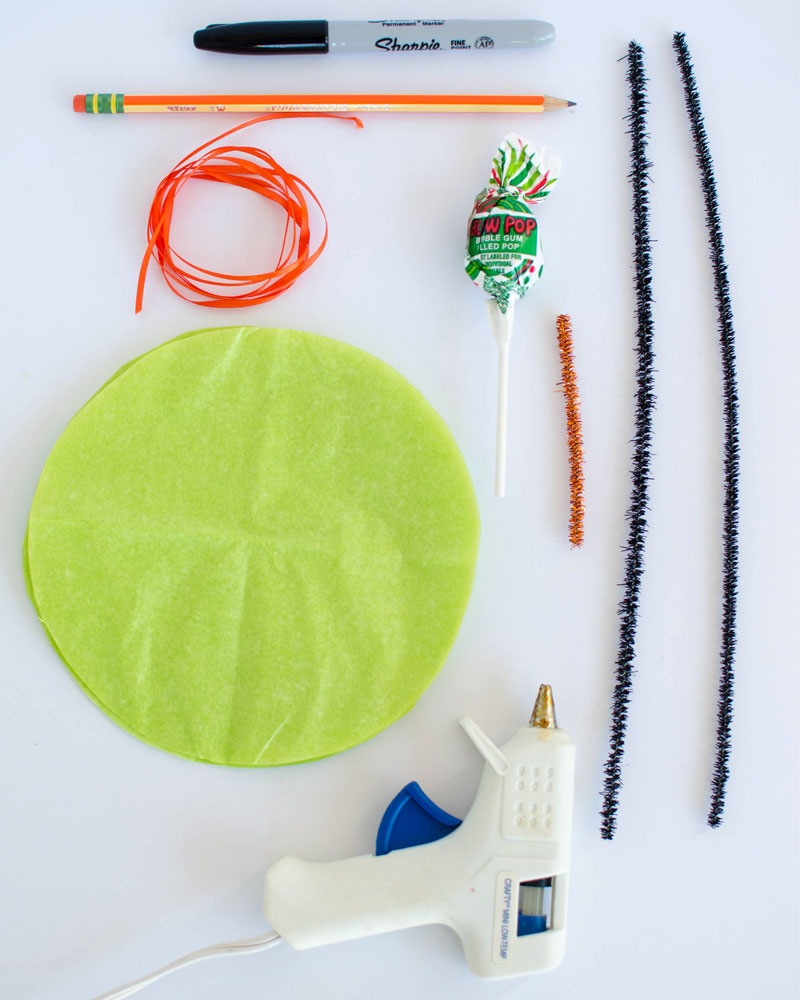 Step 1
Cover lollipop with green tissue paper and tie tightly with ribbon: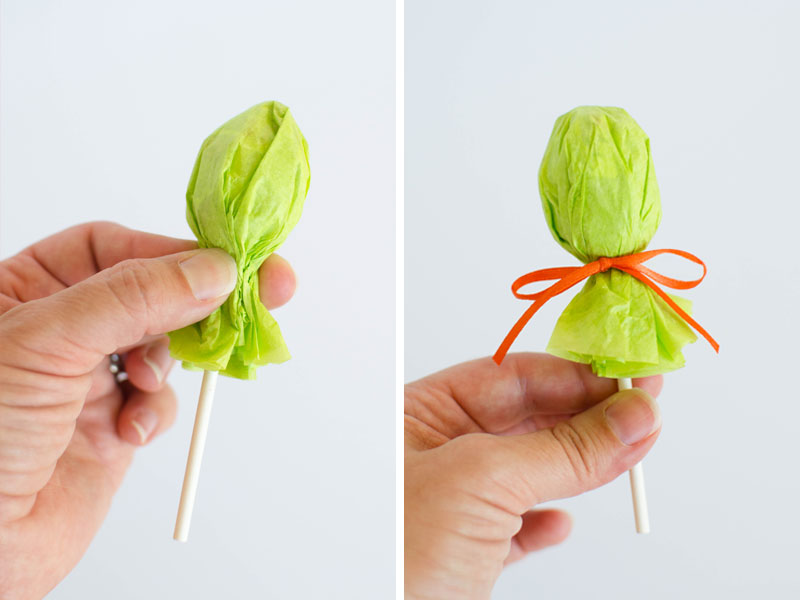 Step 2
To make the witch's hat, start by twisting the ends of two black pipe cleaners together to make one long piece.
Wrap one end around the tip of a pencil, then tightly wrap around the pencil going down about 3 loops around. Switch from the pencil to your pinky, to your thumb (or something progressively thicker and round) so that you end up with a coil. On your last twist around, wrap the end of the pipe cleaner around the bottom coil to secure it into place.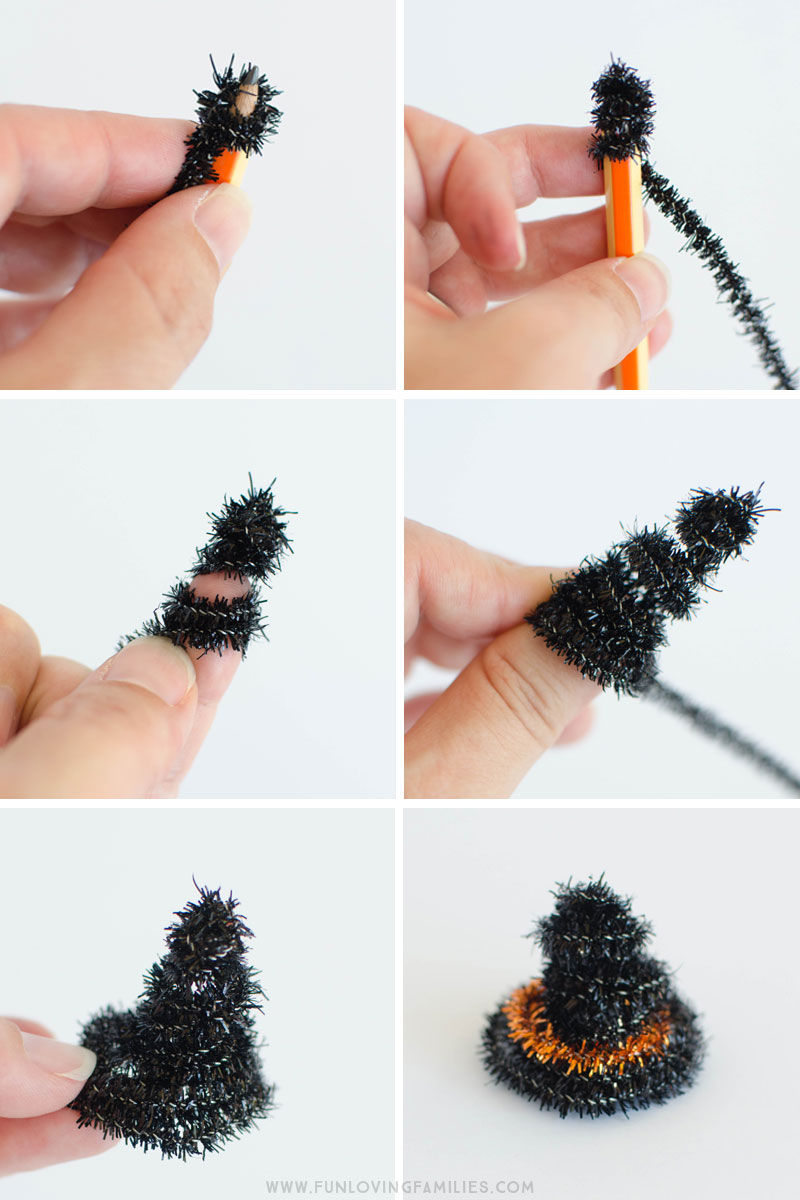 Now connect the ends of your little orange pipe cleaners to make a loop and slide over the top of your hat, then glue your hat onto your witch's head!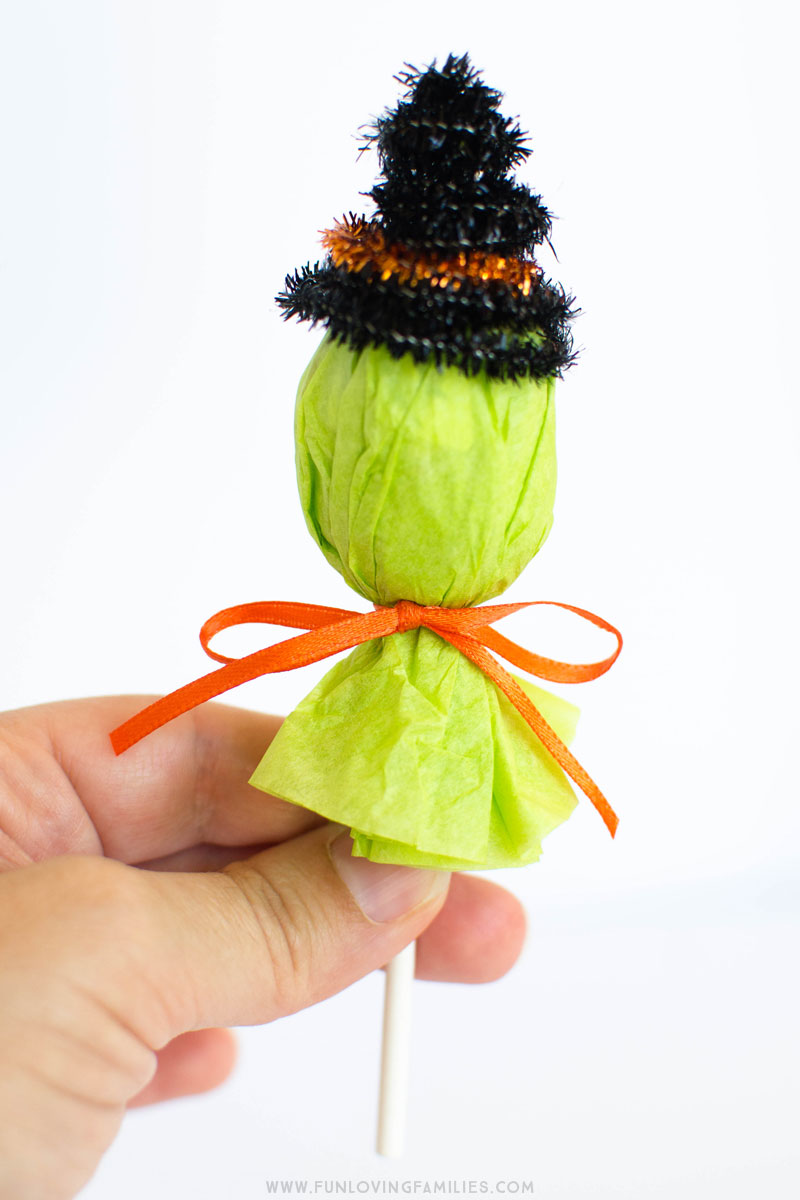 Step 3
Finish your lollipop witch by drawing a face and adding her hair! A little glue along the top edge is all you need to secure it into place right below her hat.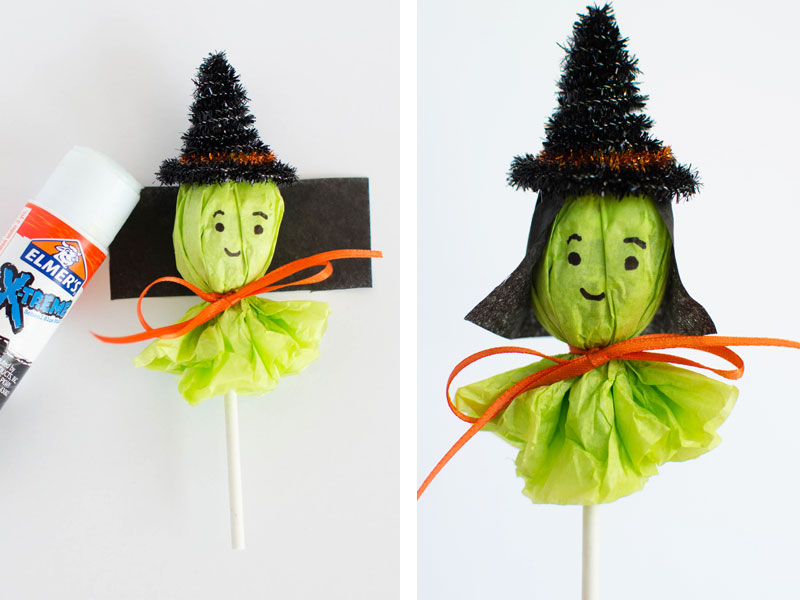 Have fun making these sweet Halloween lollipop witches. Make a few for the kids to give to friends at school, or make a bunch for your Halloween party!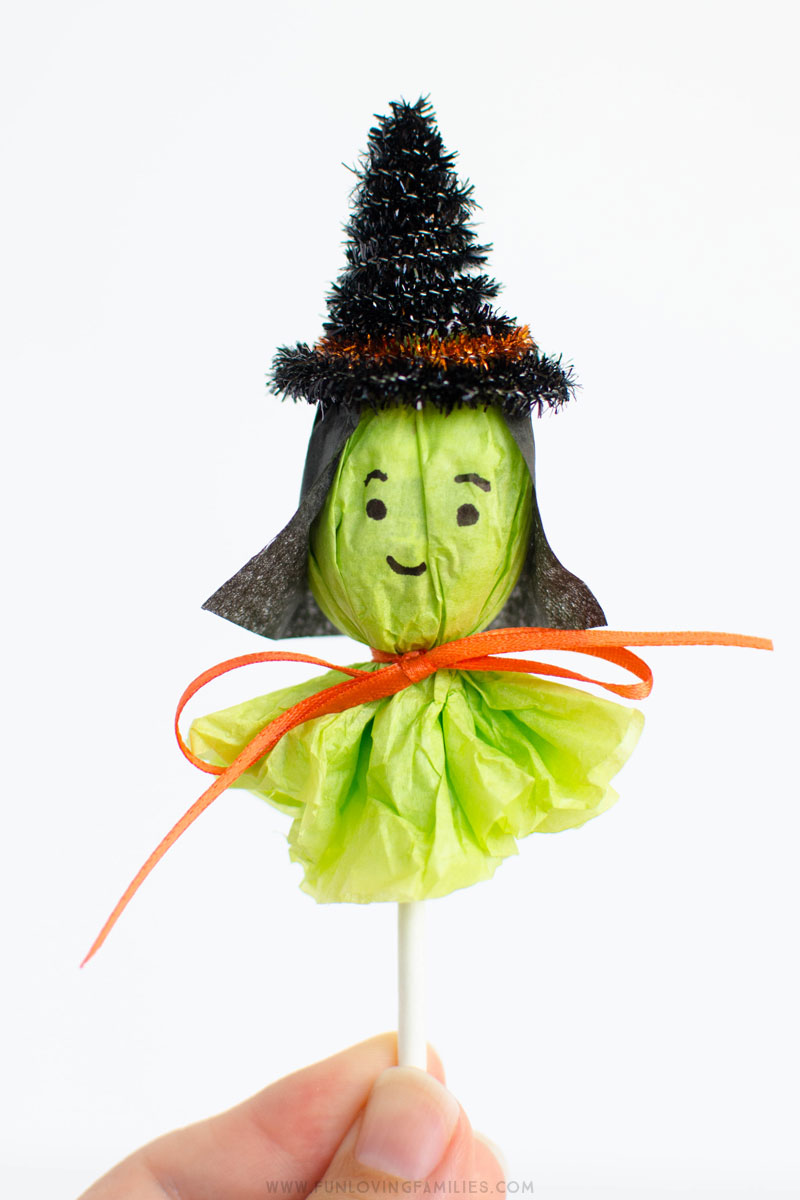 If you love making fun Halloween treats for kids, you'll love our Candy Corn Monster Halloween Brownies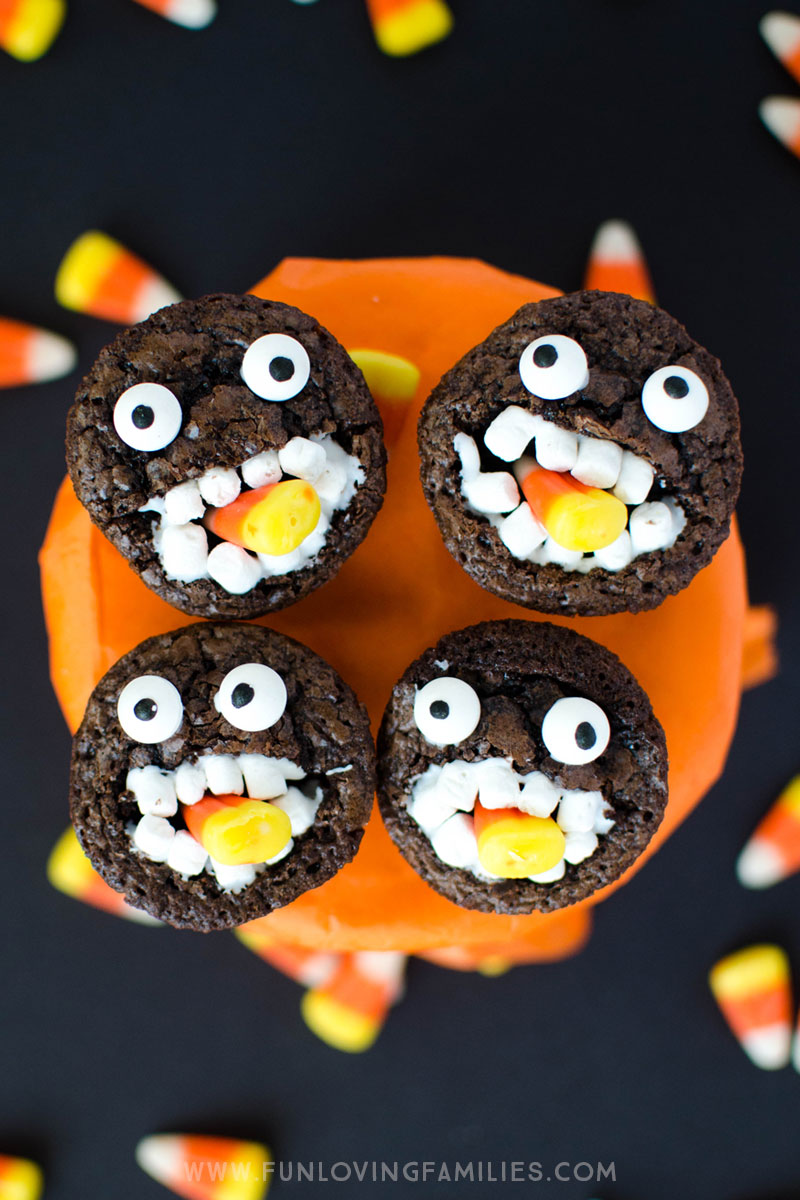 And, you can use our free You've Been Booed printables to spread Halloween cheer in your neighborhood: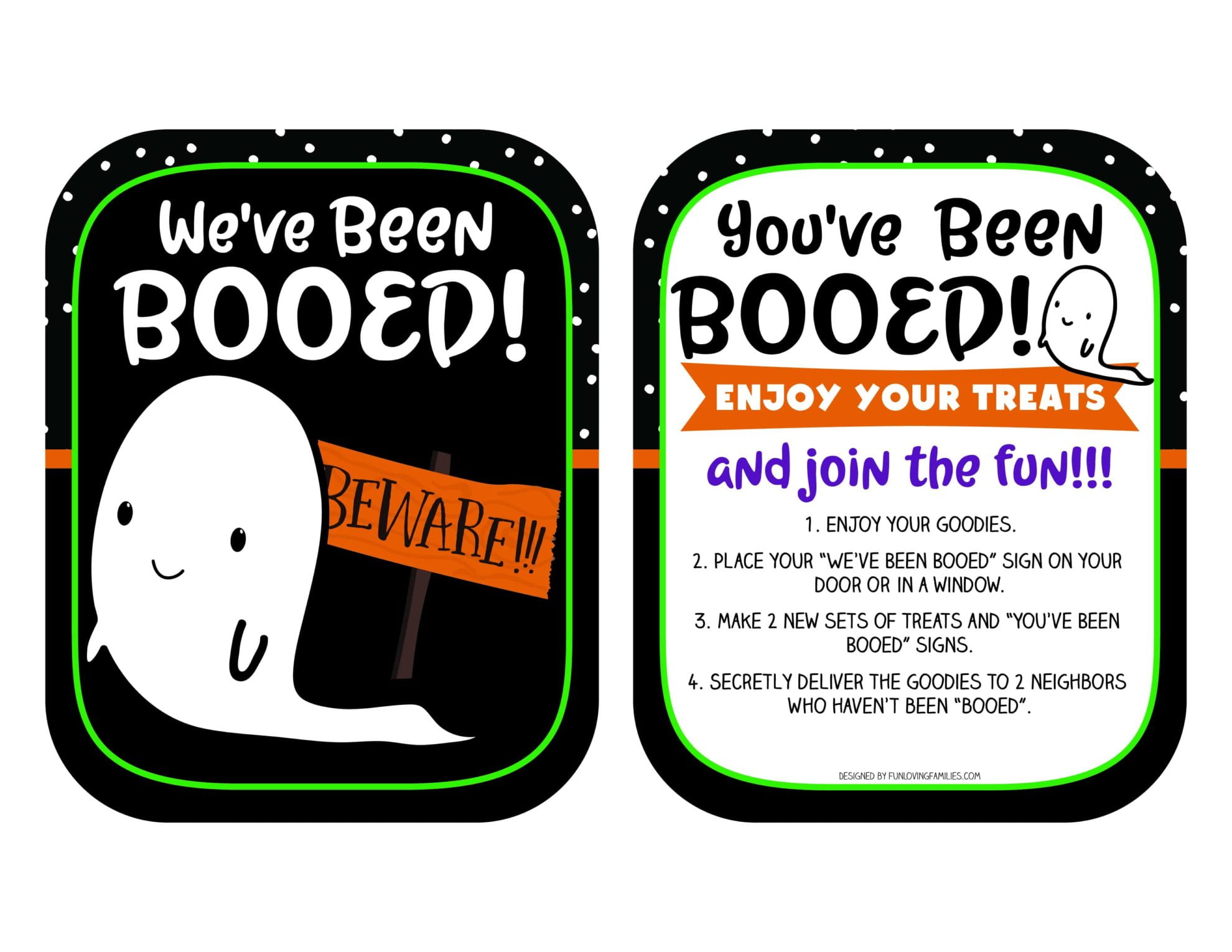 Thanks so much to Jen and Jodie for hosting the Spooktacular September. I can't wait to see all of the projects and ideas this month!
About Chrissy
I'm a maker and mom of two tween girls who are always on the go. I love finding ways to help busy families stay connected through games, crafts, and food. You can find all of that and more at www.funlovingfamilies.com.

Follow along with Chrissy on her BLOG | PINTEREST | TWITTER
Here's a few more fun Halloween projects to check out: