We are
Whitney and Alish from
Sisters' Stuff
and we are so so excited to be on eighteen25!
We think these girls are great and love reading their blog!
Last year I made this Trick-or-Treat bag for my daughter and thought I
would share a tutorial on it with you!
Supplies:
Bag-I got mine at Michaels
Material
Ribbon
Embroidery Floss and Needle
Wonder Under
Pattern for words or initial
Iron
Scissors
Pencil
Pins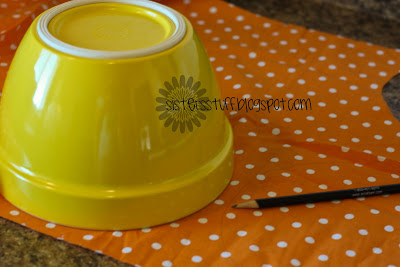 First, use something round to trace a circle. A bowl straight from the kitchen works great! Then cut it out with scissors. I did mine double thickness so I didn't loose color once my material was against my bag.
Next, pin your pattern to a different piece of fabric and cut out your letter. You could also trace your pattern onto your fabric if you want. Since I was using black fabric I just pinned on my letters and cut around them.
Now you should have something like this.
You can stitch along the edges of your circle for a little more decoration. Using embroidery floss.
Now use wonder under and iron on your circle to your bag. Do this with your words or initials as well.
If you want to add ribbons to the side of the circle make sure you add them
BEFORE
you iron down the side you want them on.
Last, tie on ribbons and add any extra embellishments!
Now you have a Trick-Or Treat bag that you can use year after year! The best part is that it is not bulky for storing like those big orange pumpkins! Now I guess I just need another
Trick-Or Treater to use the other bag I made!
Happy Halloween!
**********
thanks so much alish and whitney for this super fun project!!
my kids are sure to love their own personalized trick or treat bags!
be sure to head over and check out alish and whitney's blog!
they are always posting great ideas and yummy recipes over on sisters stuff…
and they are sisters for goodness sakes… you know how we feel about sisters!!