Are you loving everything so far?
We sure are!!
And with all of our fabulous guests, how can you not love it all!!
. . . . . . . . . . . . .

Hi there Eighteen25 readers! My name is Melissa Mortenson and I blog over at the Polkadot Chair! I'm so excited to be sharing this super simple Spooky table runner with you today!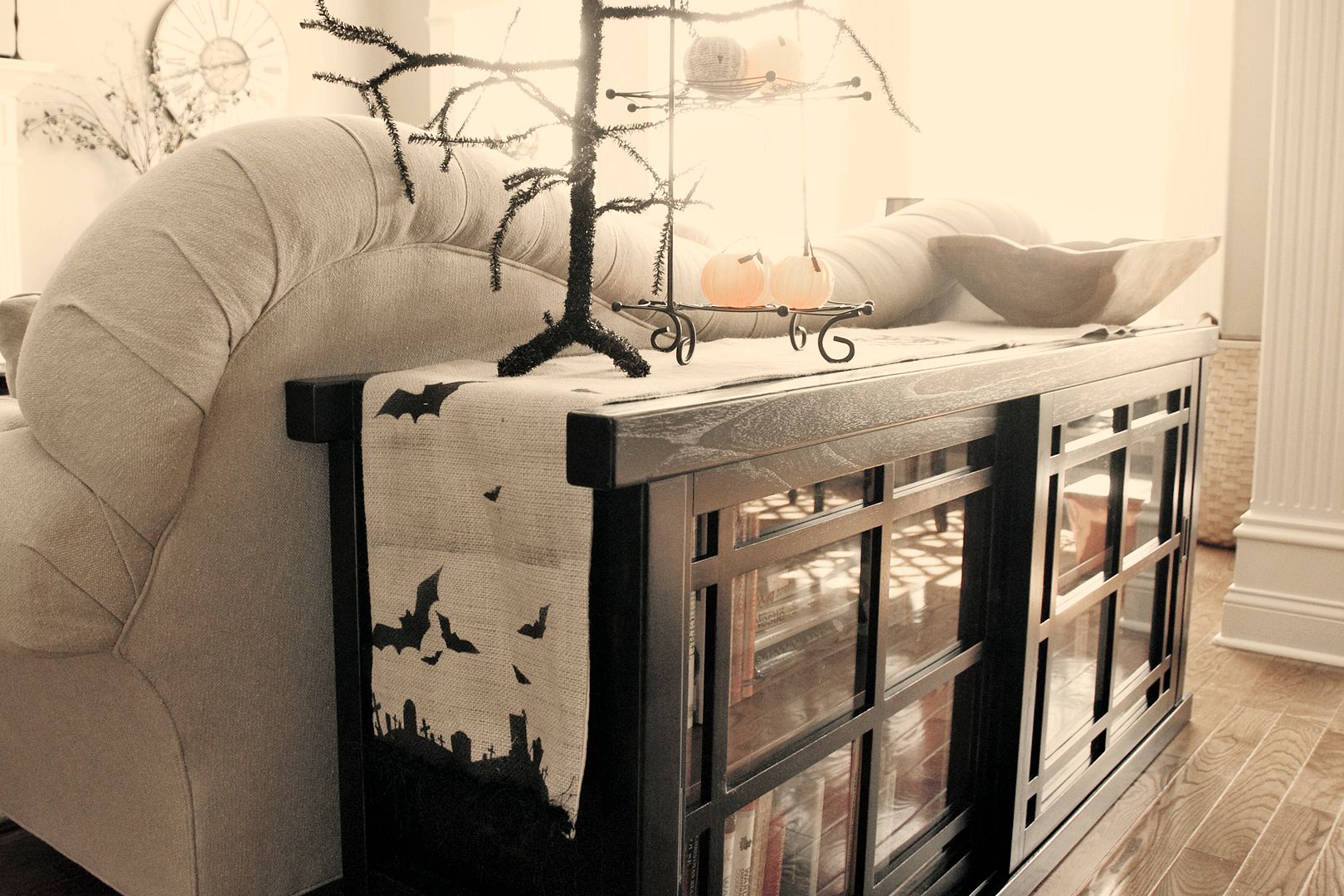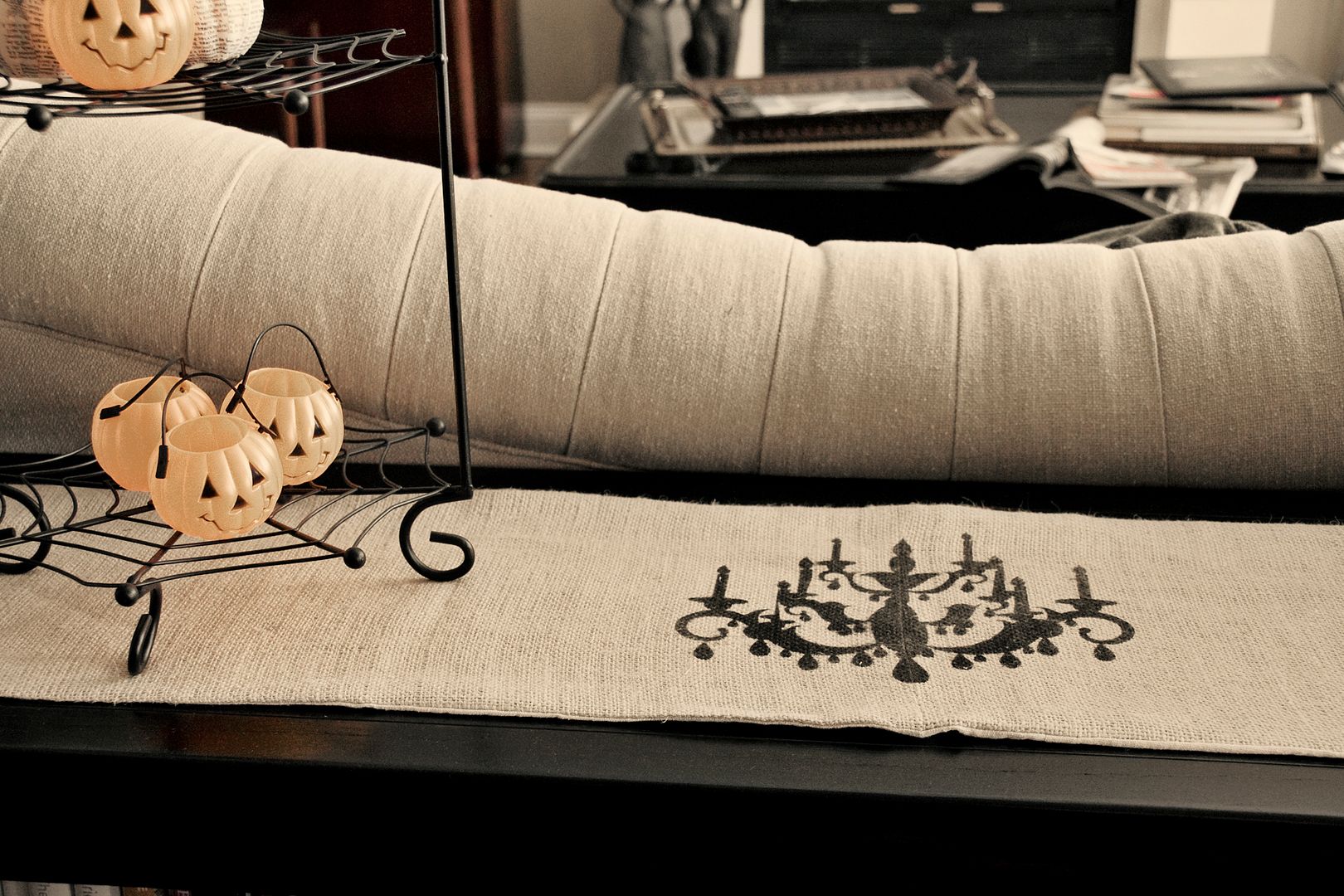 The runner is made from burlap and goes together very quickly!
For this project you will need:
-Burlap
-Unbleached cotton or muslin (some cheap fabric to line the runner with)
-Freezer paper
-Spray Paint
-Some type of e-cutter (i.e. cricut, silhouette) or an exacto knife.
The first thing you want to do is decide what size to make your runner. I decided to make the finished size of mine 11″x88″ (I have a long table).
Then cut your burlap WIDER than you want it. For example since I wanted my runner to be 11″ wide I cut the burlap 12.5″ wide. Burlap is very tricky to work with and can easily fray- so if you cut it wider it will give you some wiggle room with the finished project.
Then cut your lining material 1″ wider than your finished runner.
Next with the shiny side of the freezer paper facing down, cut out your design. I used a silhouette on regular paper setting and it worked fine. If you don't have an e-cutter you can easily cut freezer paper with an exacto knife.
Remove the design- discard- for this project you want the negative of the design.
Iron the design onto your burlap where you want it. The shiny side of the freezer paper melts and sticks to the fabric.
For my design, I put one design in the center then one design on each end.
Make sure you cover the rest of the burlap with extra freezer paper. The spray paint has quite a bit of overspray. Don't skip this step!!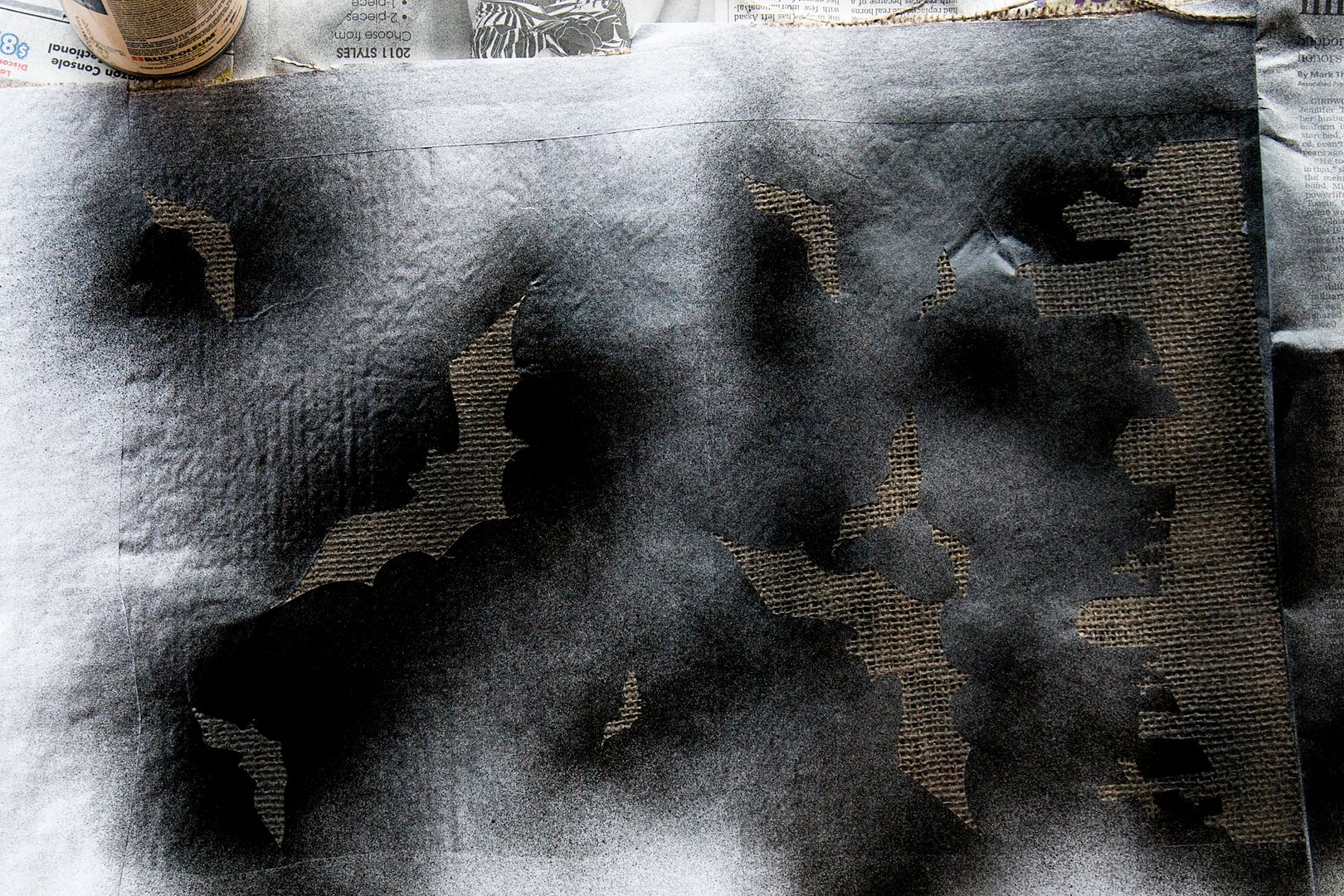 Next spray over the design onto the burlap. Make sure to spray evenly. Wait for it to dry, then peel off the freezer paper.
You are left with your design!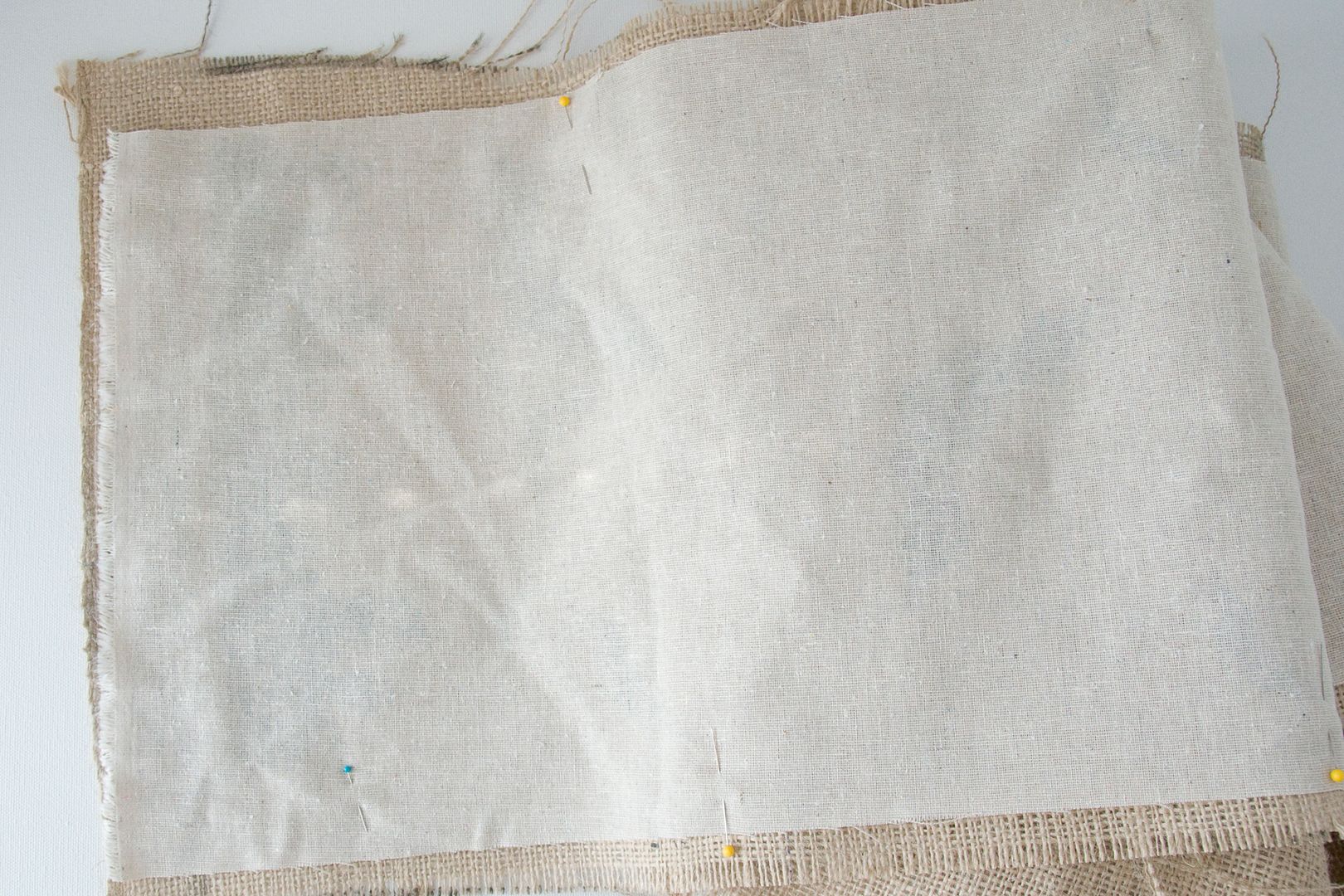 Next, place the runner and the runner lining together, right sides together and pin. The burlap will be bigger than the lining but that's OKAY it's supposed to be.
Stitch 1/2″ seam down both long sides of the runner, leaving the ends open.
Then trim excess burlap off, so that your seam allowance is even.
Turn the runner right side out and iron, design side down (the spray paint may stick to your iron) use a extra cloth on top of your ironing board to protect it.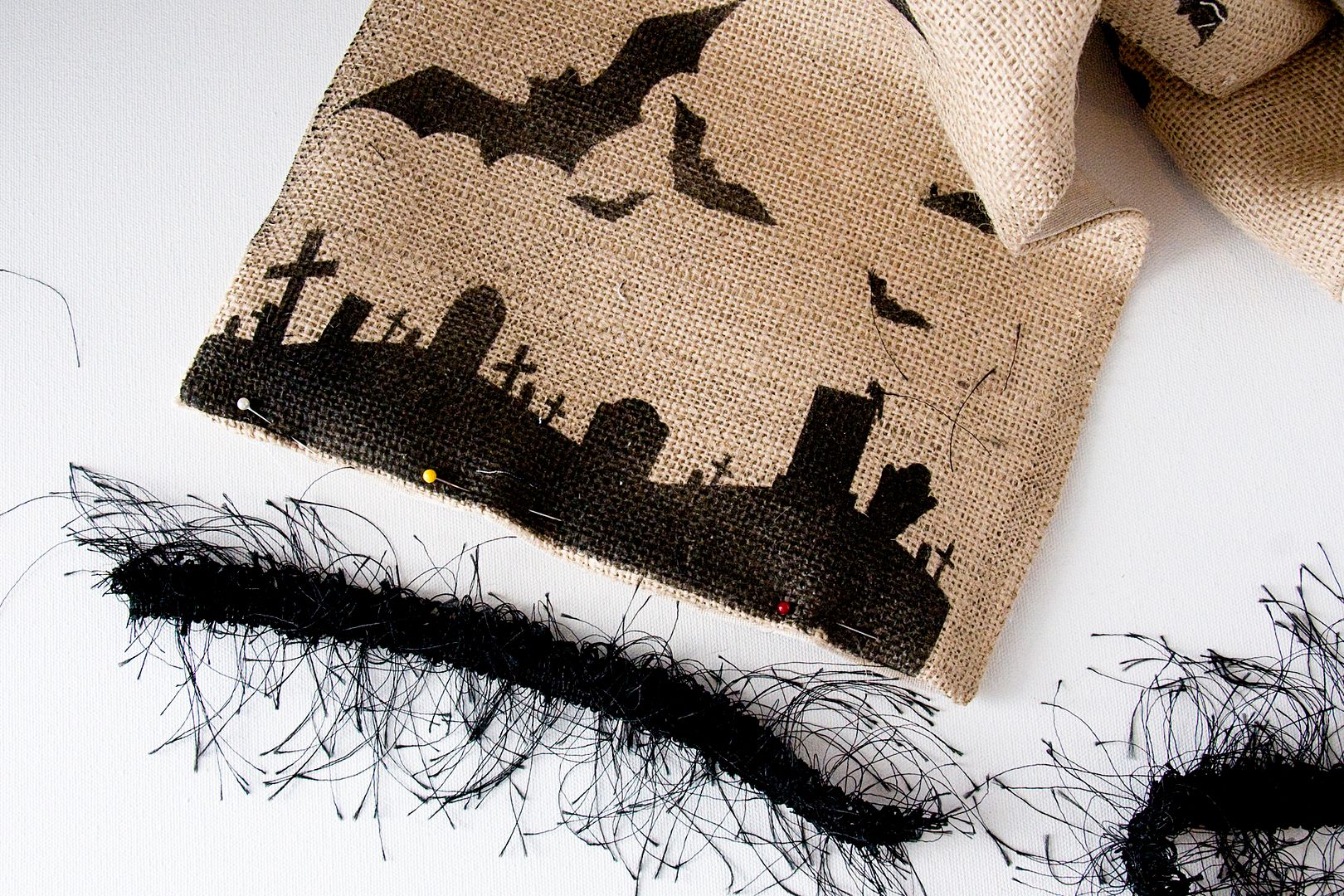 Fold under the ends of the runner so that the raw edges are tucked in. Pin in place. Cut a piece of trim to fit the runner ends and pin in place.
Stitch trim in place so that it goes through trim and all layers of the runner. Repeat for other side. If necessary put some fray check on the ends of your trim.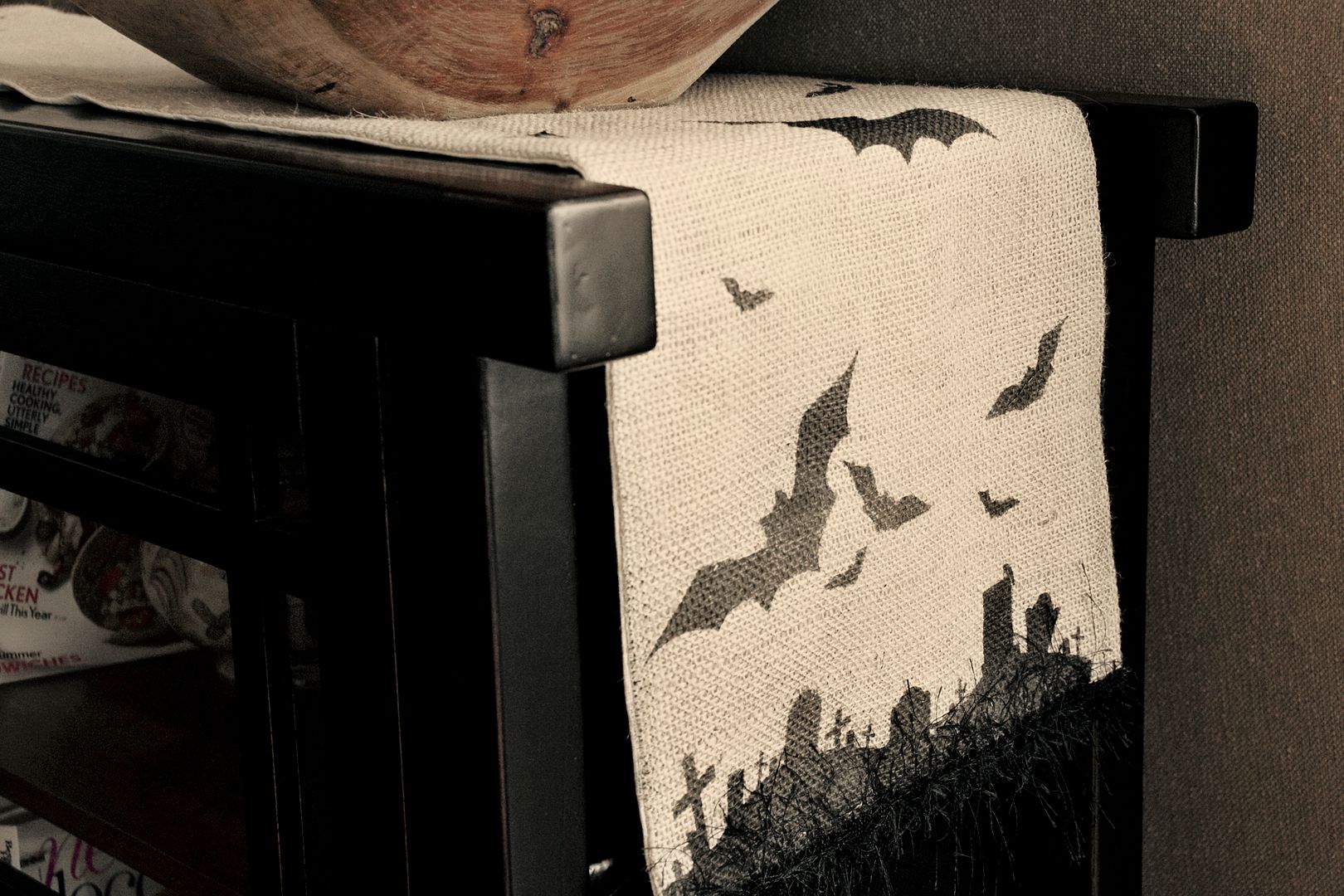 . . . . . . . . . . . . . . .
Thank you so much for joining us Melissa!! I am just loving your Spooky table runner!
. . . . . . . . . . . . .
this post is sponsored by: