I have to thank Pinterest for finding today's guest… Lisa Storms. Her cute projects were always popping up and now I'm always checking her blog for more fun ideas. She never disappoints. We are so happy to share some of her cuteness with you today.
. . . . . . . . . . . .
Jack O' Lantern Pomanders
Halloween has to be my favorite holiday for crafting! And it happens to fall during my favorite season. During fall I love citrus and spice scents in my home, and that reminded me of the clove-studded oranges my mom made during Christmastime when I was a child. I figured why wait until then and came up with a Halloween version.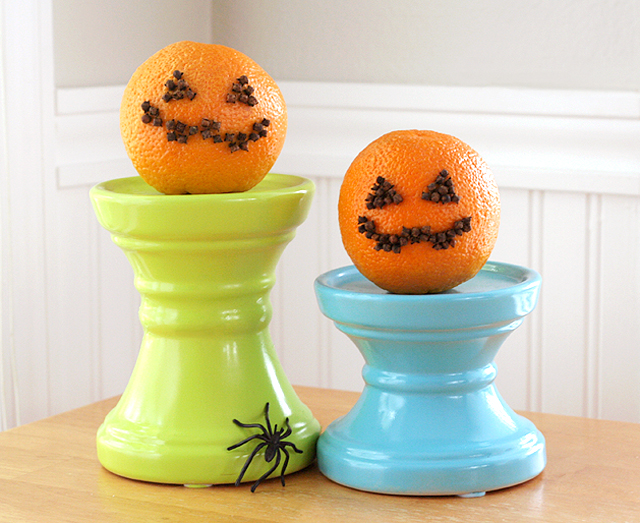 Creating Jack O' Lanterns from oranges was inspired by the oranges I decorate for my kids during Halloween by simply drawing a face on the outside with a black Sharpie.
Here's an example of a super easy Halloween breakfast using a clementine for a pumpkin. The bagel is just as simple to make. Spoon whipped cream cheese into a sandwich baggie and cut one corner to pipe mummy strips back and forth using two blueberries for eyes. I'm starting to get off-topic, so back to the pomanders …
I'm using the term pomander loosely. Traditionally they would be rolled in spices and dried out to be kept long-term. However when I learned they turned brown over time, I figured I would use these as temporary scents and decor in my home instead.
These are easy to make and great for the kids to help with. Here's the how-to:
Supplies: orange, whole cloves, toothpick.
Tip: When picking out an orange, be sure it will stand on its own if you will be displaying it this way.
The technique for adding the cloves is simple. Poke a beginning hole with a toothpick for easy insertion. Then insert cloves into desired pattern. Don't blink or you will miss those directions. Pretty simple, right??
For the eyes, I made a row of 1, 2, 3, and 4 cloves to form easy triangles. For the mouth I made a single line of cloves for a smile and added groupings of three cloves above and below this line for teeth.
This quick craft will add a little holiday fun and scent to your home this Halloween. Thanks Jamie, Jodie, and Jennifer for having me here today on your amazing blog! I can't wait to check in each day to see the rest of the Spooktacular projects! =)
. . . . . . . . . . . . .