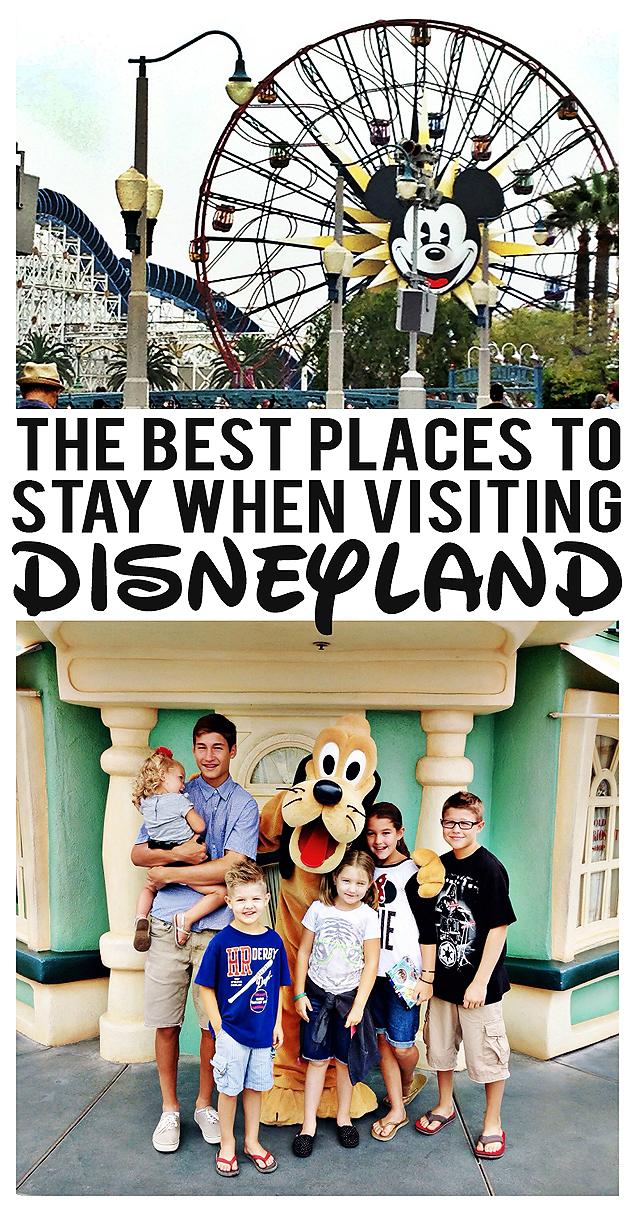 It's only a 4 hour drive for us to Disneyland so we are lucky enough to visit many times throughout the year. We've stayed at MANY different places over the years and have learned many tips and tricks along the way. Every time we go we do ONE of THREE different things.
Splurge on a Disney Resort Hotel
Go-in on a Condo/House Rental
Get the best possible price on Hotels near Disneyland
#1 – Splurge on a Disneyland Resort Hotel
If you are looking for the ultimate Disney Experience and want to stay right there next to the parks there are 3 Hotels to choose from. The extra cool part about staying at one of the Disney Hotels is that you get early access to either Disneyland or Disney California Adventure when you show your active room key and a valid theme park ticket.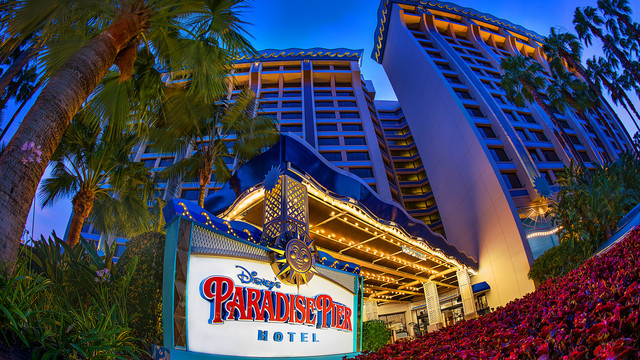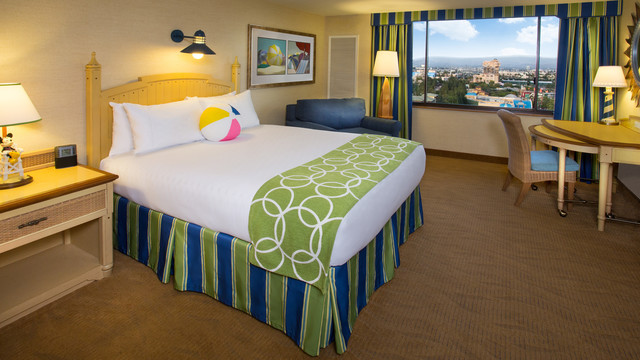 [images: https://disneyland.disney.go.com/hotels/paradise-pier-hotel/]
The most affordable of the 3 Disneyland Resorts is Disney's Paradise Pier Hotel. It's just a short walk across the street and features a Boardwalk Beach theme.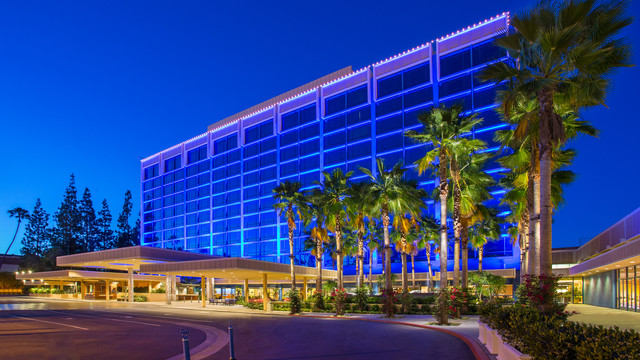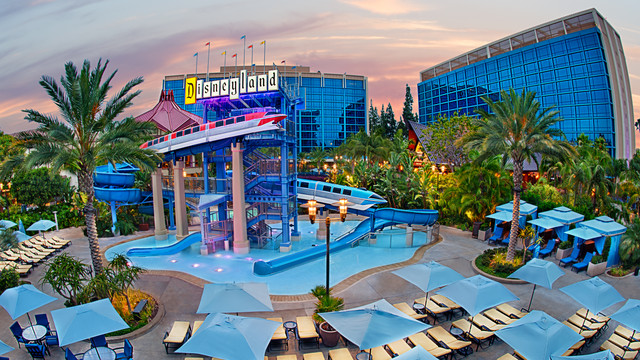 [images: https://disneyland.disney.go.com/hotels/disneyland-hotel/ ]
The Disneyland Hotel is just magical. It even has 3 swimming pools including the new Monorail pool with two twisting waterslides! It's located at the end of Downtown Disney so your walk to the parks is almost as fun as being in the park. There is also many dining options inside the hotel. Goofy's Kitchen is a popular Character Dining spot or if you'd like something a little quieter Steakhouse 55 is a favorite of ours.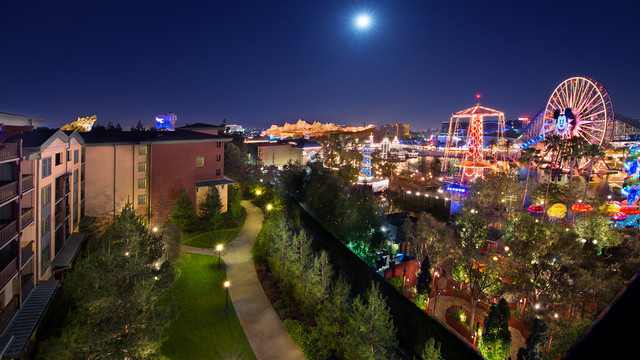 [images:  https://disneyland.disney.go.com/hotels/grand-californian-hotel/]
We sadly have never had the opportunity to stay at Disney's Grand Californian Hotel & Spa. We have only heard AMAZING things about it though. It's also the only one of the Disneyland Resort Hotels located inside a theme park and has it's own private entrance to Disney California Adventure Park.
#2 – Go in on a Condo/House Rental

There are many benefits of renting a house while visiting Disneyland. The top one for us is probably having the access to a full kitchen and room to stretch your legs. We enjoy going out to eat, but it's nice to save a little money and have some meals at the house. And let's face it, sometimes the kids are just too tired after a long day at the park to sit in a restaurant.

Recently we've started staying at one of the Suite Escapes Vacation Rentals. It has quickly become one of our most favorite places to stay. The owners have thought of everything. We've enjoyed the extras they provide like a welcome basket of treats, strollers, washer & dryer, beach gear, patio with BBQ and chairs and a heated Mickey-shaped swimming pool. Plus the decor is amazing! They are definitely priced right too! Check out their website for more pictures and info HERE!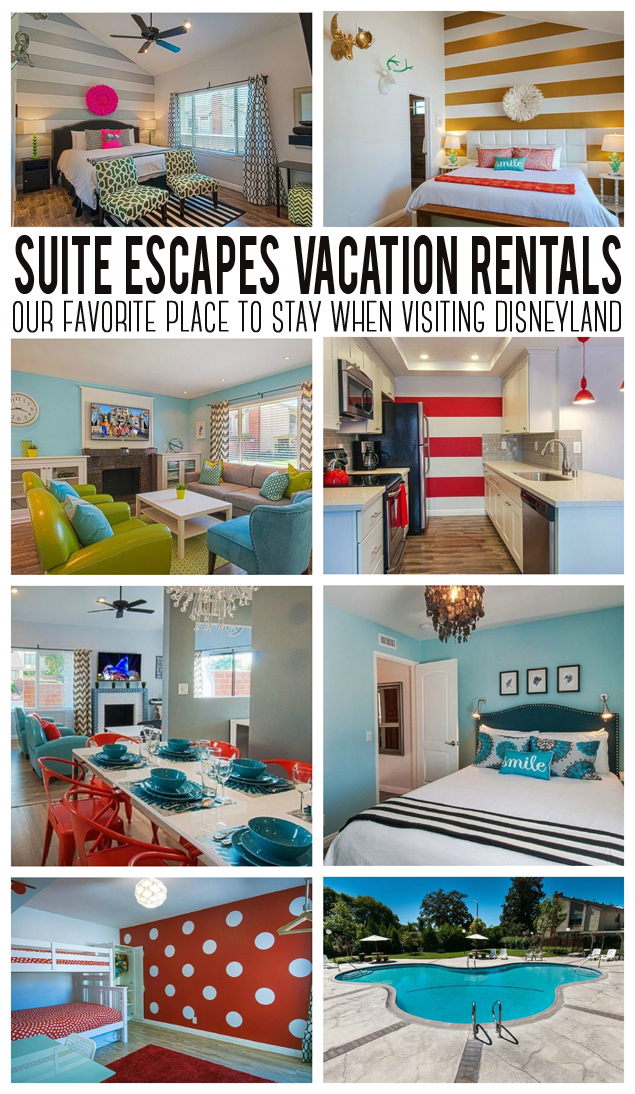 _________________________________
We discovered the Castle Houses a couple of years ago and the kids always beg to go back. They are on the higher end so these are best when going in on one with a couple families. Their themed rooms are just amazing and they now have a few homes with sprinkler parks and pools in the backyard! Visit their website HERE.

#3 – Get the best possible price on a Hotel
Since we head to Disneyland any chance we get, most of us have season passes (most of the time).  So, a lot of the time it's cheaper to surf the web for the best price possible.
We love to use Get Away Today. In fact we've been using them for over 10 years. They seem to have the best prices when buying park tickets along with your hotel. Even when you don't need tickets, they have great hotel promotions like their "stay a certain amount of nights and get a night free deals". What's nice is you know exactly what kind of room you are getting and what hotel. No surprises. 🙂 We are actually affiliates for Get Away Today because we love them so much. Use Promo Code: Eighteen25 to receive $10 off and Southern California Vacation that includes at least 2 nights hotel stay and 2 tickets.
We also have used Priceline many times over the years.  When using it, we choose our area, select how many stars we want and then name a price.  More than likely, we can get a 3 1/2 star hotel for $70-$80 a night.  Here are some things to keep in mind about these types of websites:
* They may have an additional resort fee.
* They may have a nightly parking fee.
* They may/may not have a free shuttle to the park.
* Double beds are based upon availability.  They suggest calling shortly after making your reservation to comment about your preference.
**A major advantage to staying in a hotel with a free shuttle to the park means you will not have to pay the parking fee once you get to Disneyland.  Your shuttle will drop you off right in front of the parks and will run every 30 minutes.
We hope this information comes in handy when planning your next trip to Disneyland. We LOVE chatting about everything to do with Disney so if you have any questions, please feel free to ask!