This No Bake Lemon Cheesecake is a favorite! Such a perfect summer dessert that everyone loves.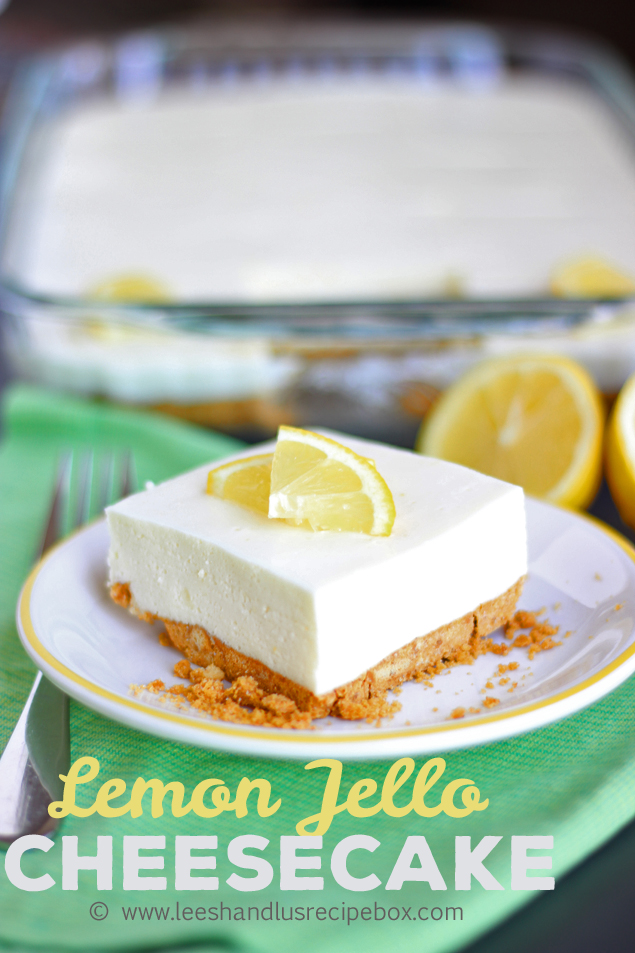 Hey!
We are
so excited to share this yummy, fresh, summery dessert with you today!!! Who else hates turning on the oven as it warms up??? That's me. I plan meals and treats that don't require the oven as much as possible during the summer. And this cheesecake fits that bill just perfectly. No Bake Lemon Cheesecake. My friend, Leticia, shared this recipe with me back when we were in high school. We made it at least a half dozen times during our senior year – and for some reason I went years without it. I emailed her two years ago to ask for the recipe – and finally made it again last week. We served it to several friends who came for dinner and it was a hit! The kids loved it and so did the adults. Win, win! I'm feeling guilty for going so long without it.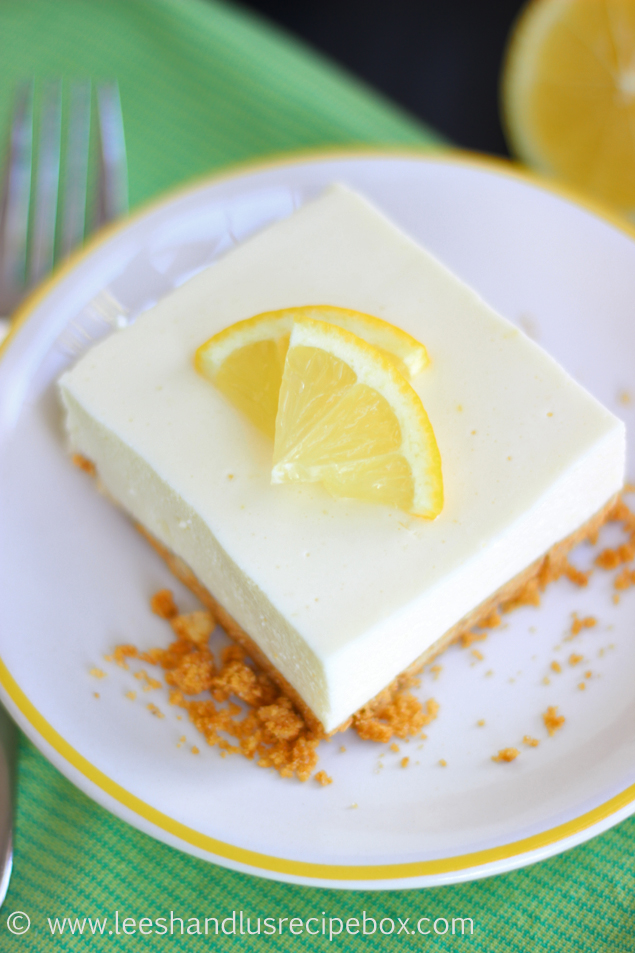 Now some may say this isn't cheesecake – but it's a no-bake cheesecake and those are quite different from your typical baked cheesecake in my book. But still, ever so delicious! And there is no oven involved which is perfect for those hot summer days! Because it has jello in it – it's got a nice firm but spongy texture. It's light and lemony and I like to make sure the crust is extra thick. I'm a sucker for that buttery, sugary graham cracker goodness! Mmm, I'm craving another piece right now.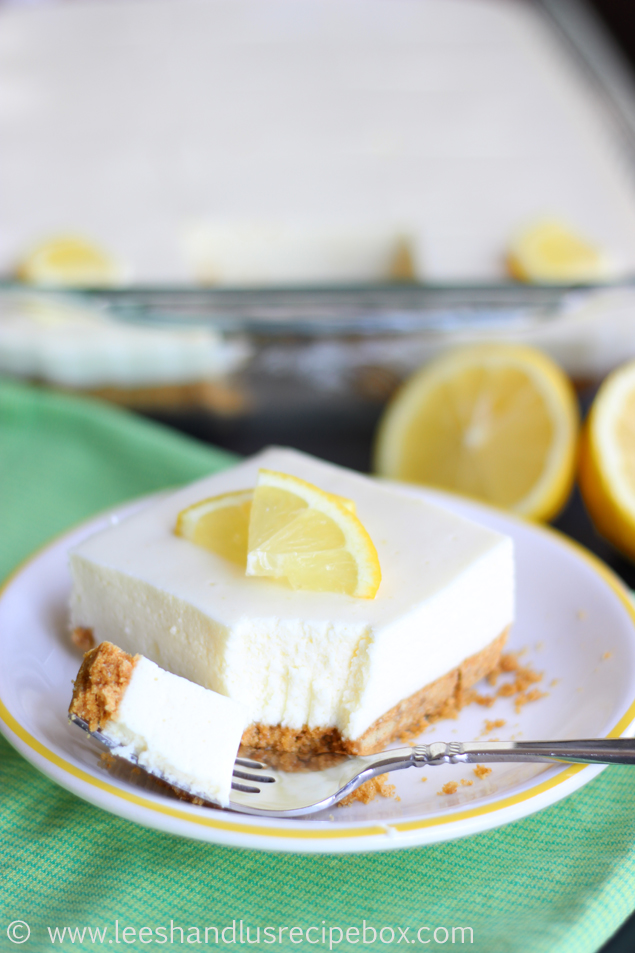 Serve it plain or garnish it with a small quartered lemon slices or a lemon zest curl if you want to get it a little fancy! And keep cool this summer – it's already starting to heat up here!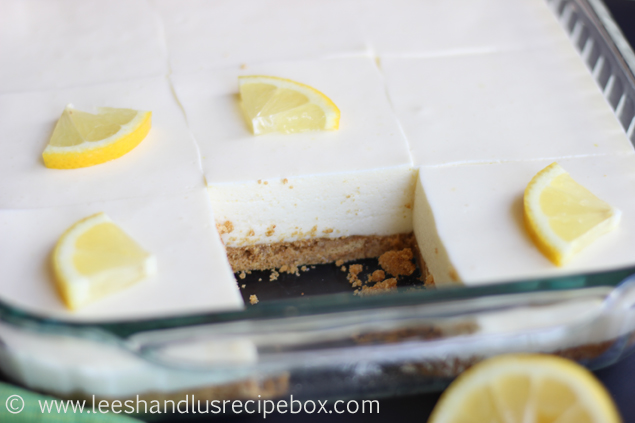 No Bake Lemon Jello Cheesecake
Ingredients
For the Crust:
1 ½ sleeves graham crackers, crushed to crumbs (about 2 ½ cups of crumbs)
¼ cup white sugar
½ cup butter, melted
For The Cheesecake:
1 (12 ounce) can evaporated milk (or substitute 4 ounces milk and 8 ounces heavy cream)
1 small box of lemon jello
1 envelope Knox unflavored gelatin
1 (8 ounce) package of cream cheese, softened to room temperature
½-1 lemons, zested
2 tablespoons lemon juice
1 cup white sugar
1 teaspoon vanilla
– – Lemon slice quarter or lemon zest curls for garnish, optional
Instructions
Pour the canned evaporated milk (or substitute listed in ingredient list) into a small bowl (glass or stainless steel) – and place it in the freezer until the milk starts to freeze to the edges of the bowl (for me this is about 30-45 minutes). While this is freezing – In a small mixing bowl mix lemon jello packet with the envelope of Knox unflavored gelatin until combined – then add one cup of very hot water and stir until dissolved. Place the lemon jello mixture into the fridge and chill until it's sticky on top (it should stick to your finger if you touch the top – if it's still runny it's not ready) but don't let it firm up too much. This usually takes about the same amount of time as the freezing the milk.
While you're waiting for the milk and jello to be ready, start on the crust. In a gallon size zip top bag place 1 ½ sleeves of graham crackers and zip closed. Roll with a rolling pin until the crackers are crushed as evenly as possible (or blend in a blender until you have crumbs). Pour the crumbs into a mixing bowl and add the sugar. Stir until combined. Add melted butter and stir until evenly combined. Press the crumb mixture into a 9 x 13 glass or metal pan using your hand or the bottom of a glass cup until the mixture is firmly packed down
Mix the cream cheese, lemon zest, lemon juice, sugar and vanilla until smooth with a hand mixer (or in a blender). In a clean bowl with clean beaters – whip the frosty milk until fluffy (it won't be quite as fluffy as cream – but it gets very frothy). Add the chilled and sticky lemon jello mixture to the cream cheese mixture and beat/blend til smooth. In a large bowl fold in the whipped milk into the cream cheese/jello mixture until combined and pour over the graham cracker crust. Smooth evenly across the crust. Chill covered for at least 2 hours, preferable 4+. Serve chilled. Cut into squares and serve. Garnish with lemon slice quarters or a lemon zest curl if desired.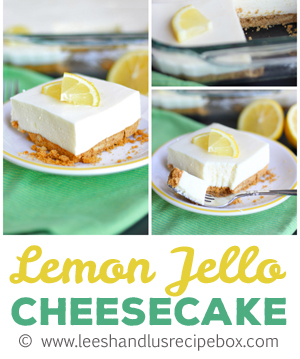 ---
Check out these other Dessert Recipes from Eighteen25: