This week will be dedicated to
Christmas Advents
here at Eighteen25
We are excited to share some of the ways we like to countdown to Christmas in our homes.
* * * * * * * * * *
First off is the
Christmas Countdown Clipboard…
I made this countdown a couple years ago and I get so excited to put it out on the first of December. Every day, the kids (and I) take turns removing a number. Watching as the days until Christmas get closer and closer (and my stress level goes higher and higher).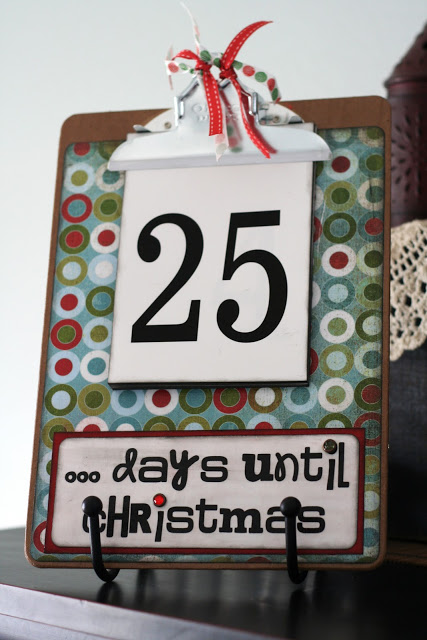 to make:
1. mod podge pattern paper to a clipboard using a foam brush.
2. print off
"… days until christmas"
on white cardstock. font used:
elise
3. back in a solid cardstock
4. dot your i's with sparkly fun brads.
5. print off numbers 1 through 25 on white cardstock. font used:
broadcast
note: the number sheets are 5×7, so you can get 2 out of an 8.5×11 piece of cardstock.
6. and if you're feeling fancy… tie some ribbon to the top.
let the countdowns begin!!