Hello everyone, my name is Rebekah and I blog over at
A Bit of Sunshine
. It is absolutely such an honor to be here today to share a little Spooktacular September fun with you!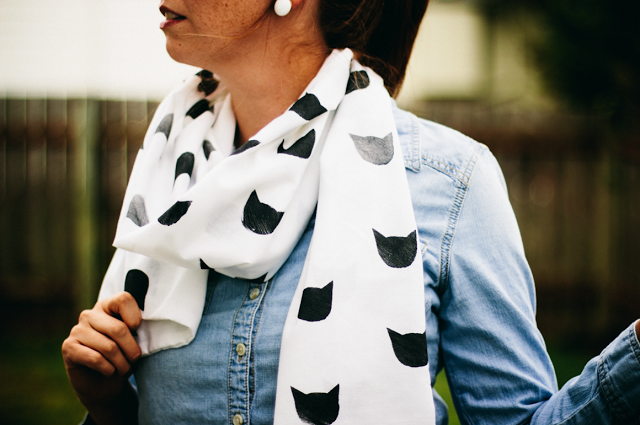 For ages I have been crushing on the super hip
Black Cat dress that Anthropologie
stocked a few seasons ago in collaboration with indie designer
Leah Reena Goren
. This simple block print scarf is inspired by Leah's gorgeous work. I thought the black cat design was perfect as a simple and chic nod to Halloween for wearing out trick-or-treating or to a festive party with your kids. It's versatile enough to wear it year round too, I love the graphic statement it makes!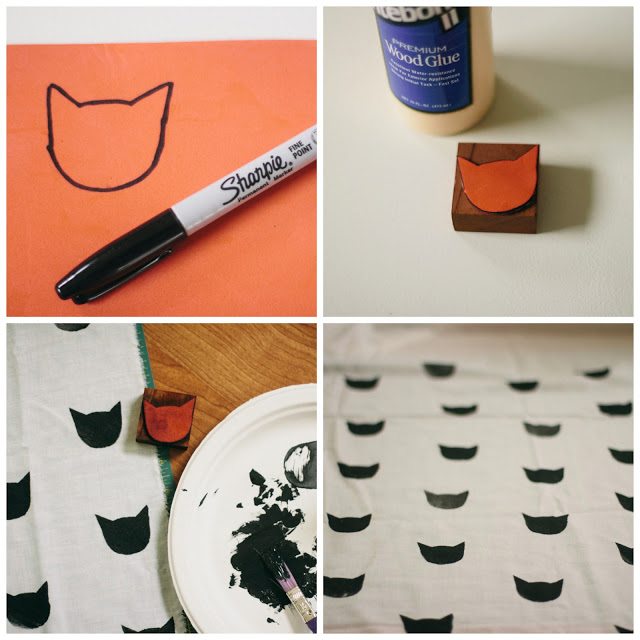 What you will need:
1. craft foam
2. sharpie
3. scissors
4. wood glue
5. wood block
6. fabric paint and paint brush
7. thin white fabric – mine measured 24″ wide by 53″ long
8. sewing machine
To create the block stamp simply draw a cat head outline on the craft foam and cut it out with your scissors. Adhere it to the wood block with some wood glue and let that dry. Using the fabric paint and brush apply a thin coat of paint onto the stamp and print the fabric, reapplying the paint as you go. I didn't spend a ton of time making the spacing just right I just eyeballed it.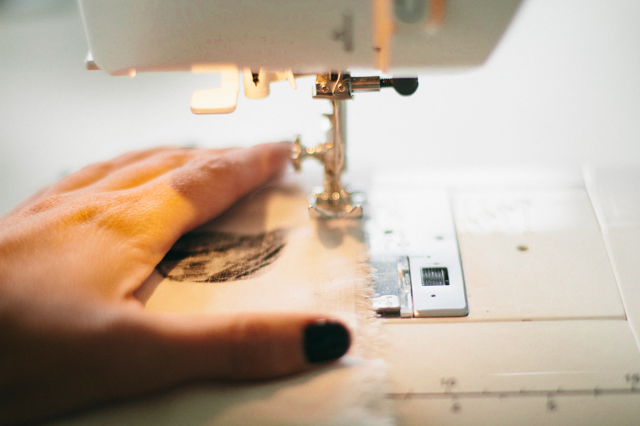 Once the fabric paint dries fold your fabric in half with the wrong sides facing and sew around the entire perimeter of the scarf leaving a small space on one end to flip the scarf to the right side. Sew the small hole closed and iron if desired (I placed a towel over my scarf when I ironed it to protect the paint).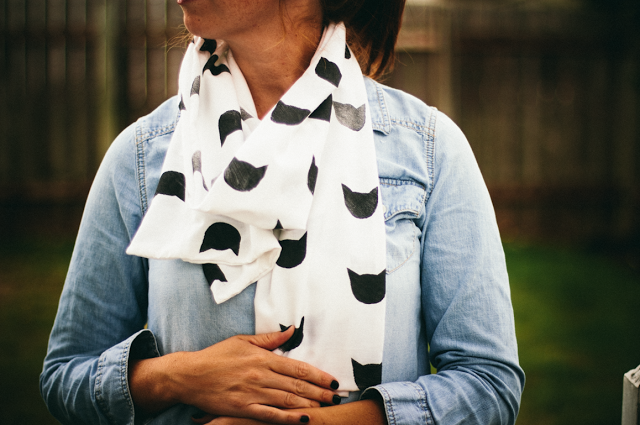 I am wearing mine this fall with some black tights and boots! Super simple and sweet just like Candy Corn…Happy Halloween you guys and don't forget to come visit me over at
A Bit of Sunshine
! A special thanks to Jamie, Jodie and Jennifer it is always such a joy to be here!

_________________________________
this post is sponsored by: