This Black and White Halloween Mantel is clean and glam with a touch of spookiness!
Happy Halloween month! It's my most favorite time of the year because I love the holidays and I love decorating my house for the holidays! Sometimes I keep my holiday decorations in the same spot year after year. It makes it so easy to decorate. I actually photograph it all and then when it comes time I pull up the pictures and can have my house decorated in an hour or two. But this year it was time for a Halloween makeover for our mantel.
We headed into JOANN and found the most fabulous stuff. Crows of all shapes and sizes, black flocked candle holders, a rose and feather wreath, an amazing glittered witch broom, an oversized cauldron, and floating lanterns. We also brought home some skeleton bats and made the most awesome garland!!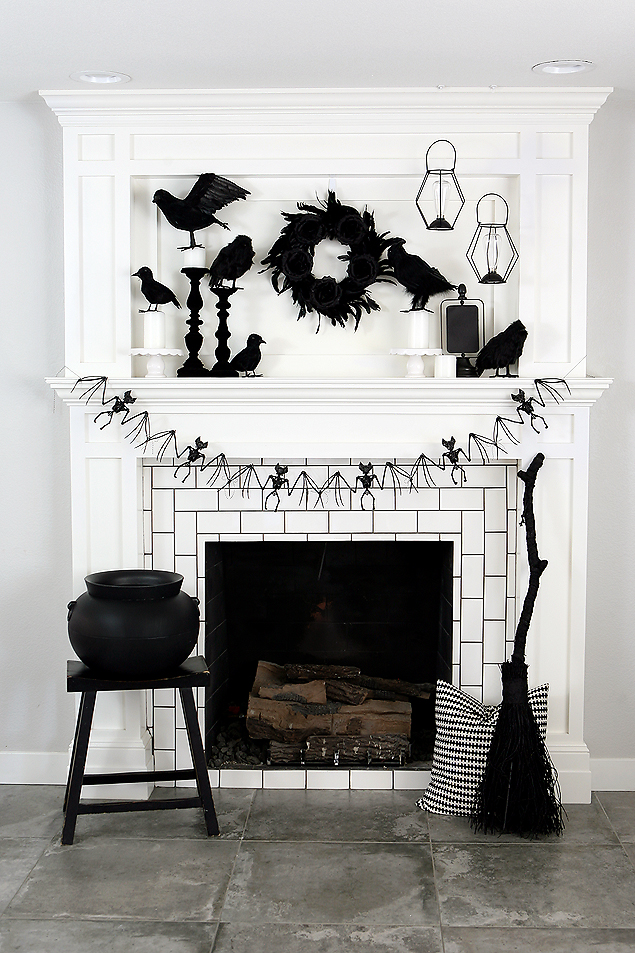 Let's talk about the skeleton bat garland first. Isn't it so cool?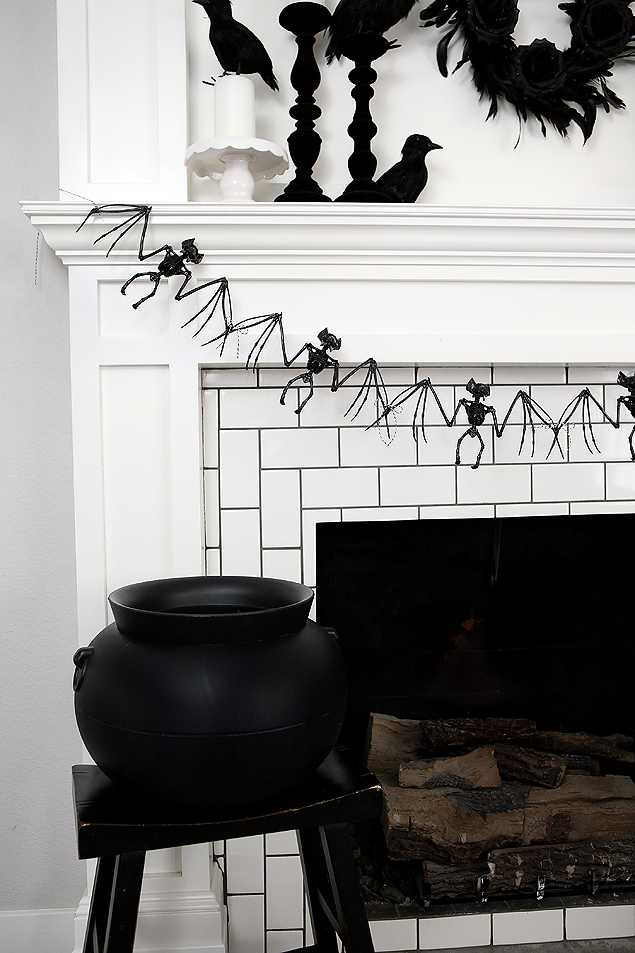 Here's what we used: (affiliate links are included in this post)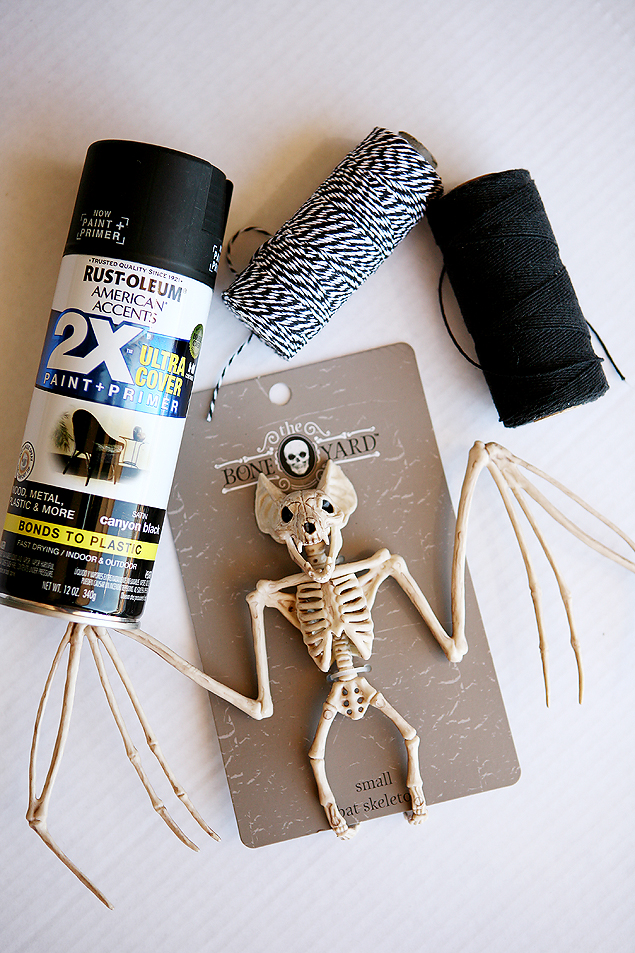 Lay your bats out and give them a couple light coats of paint. Letting them dry completely between coats. Flip them over and walk around them because they have lots of little spaces that can get missed. 🙂
Once they are completely covered in black paint and completely dry, bring them in the house to hook together.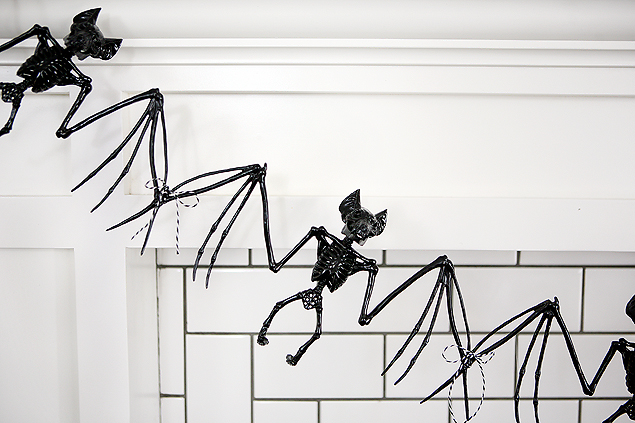 Now you'll want to lay all your bats out in a line. Where their wings touch you are going to put a dot of hot glue. Once the glue is dry go back and tie a cute bow with twine or you could even use embroidery floss.
When you get them all hooked together go ahead and hang it up. Then stand back and smile because it's so stinking cool looking. 🙂 haha.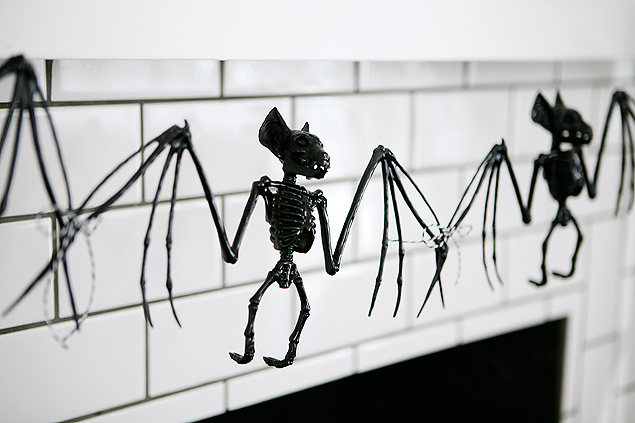 Now let's talk about all the other awesome items we used.
We always start with a center piece for the mantel. A big piece of art or a sign or in this case a wreath! We LOVE this black Feather Wreath so much. It's pretty, but dark and a little spooky and exactly the feel for what we wanted for our Halloween Mantel.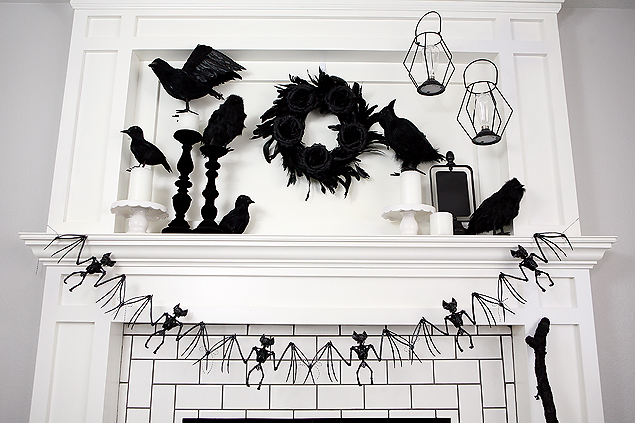 Next up are the black crows! I'm a big fan of crows when it comes to Halloween and JOANN had a few different types. We got one big crow with it's wings up. Two cuties with super long fluffy feathers, one large Critter Crow and 2 little baby crows that I just want to pet all day. haha. Just kidding. (kinda)
We brought home these fun flocked Candleholders too. One large and one small and then spread some white candles here and there. ( 1 package of 3″x5″ and 1 package of 3″x3″)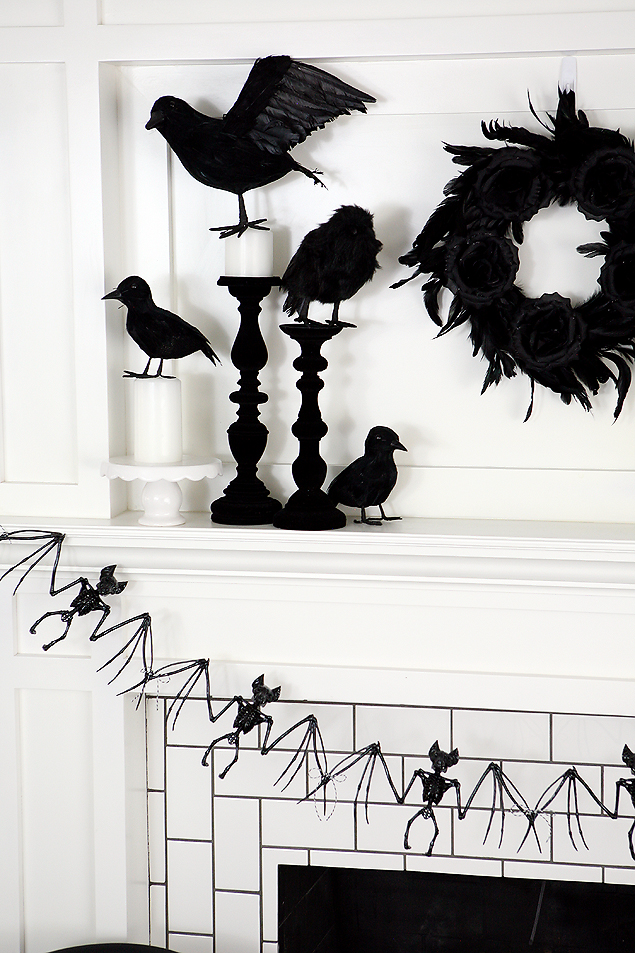 We wanted to incorporate some floating lanterns.  So we grabbed these two with fun edison bulbs in them. We used some command strips on the ceiling and then hung our lanterns using fishing line.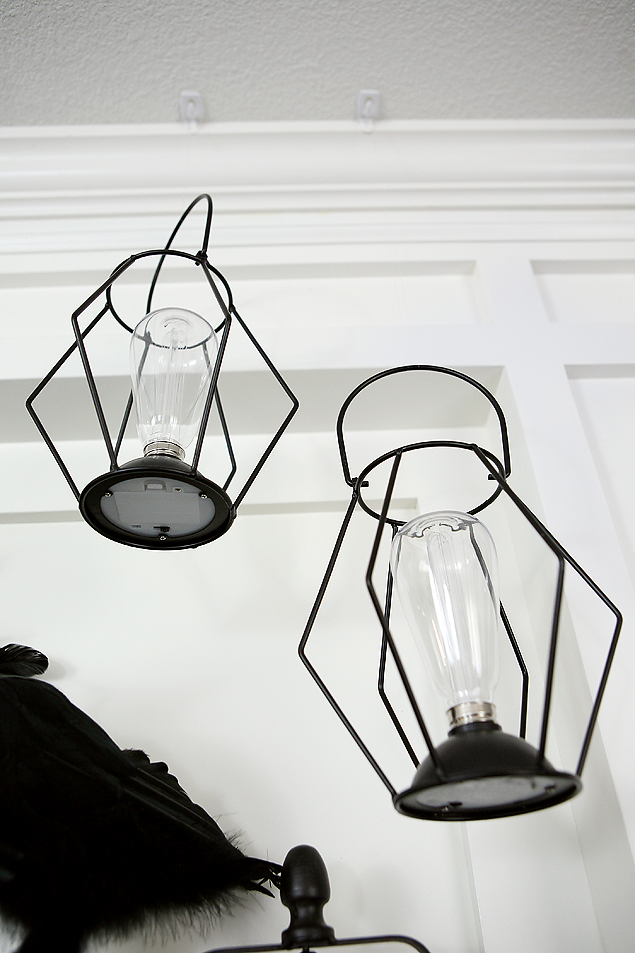 We tucked in a fun little tabletop chalkboard. We thought about drawing something on it, but decided in the end to just leave it blank. It adds to the overall look and feel by it's fun shape.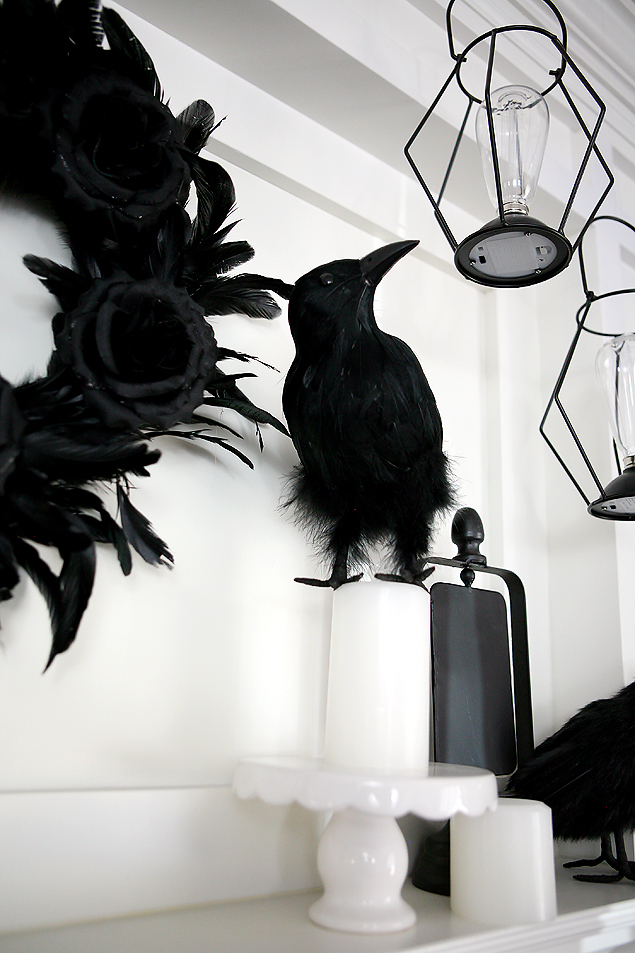 We always like to get a couple fun big things to put around the fireplace too. We immediately grabbed this large Rattan Broom that looks like it belongs to the coolest witch around because it's covered in sparkles.
The oversized Cauldron HAD to come home with us too. It's the perfect size and we think it looks great sitting on our little bench seat next to the fireplace.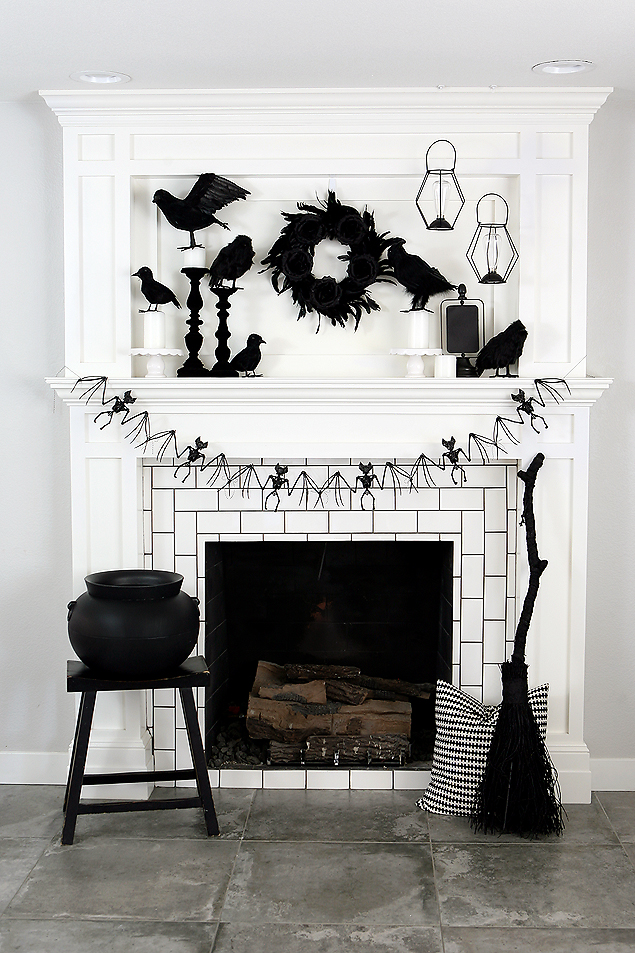 I just love walking into JOANN and seeing their holiday decor right there in the front of the store. It just calls to me… look at me… take me home. Haha! I'm so excited to look at our Halloween mantel all month. It makes me happy and my kids love it too. 🙂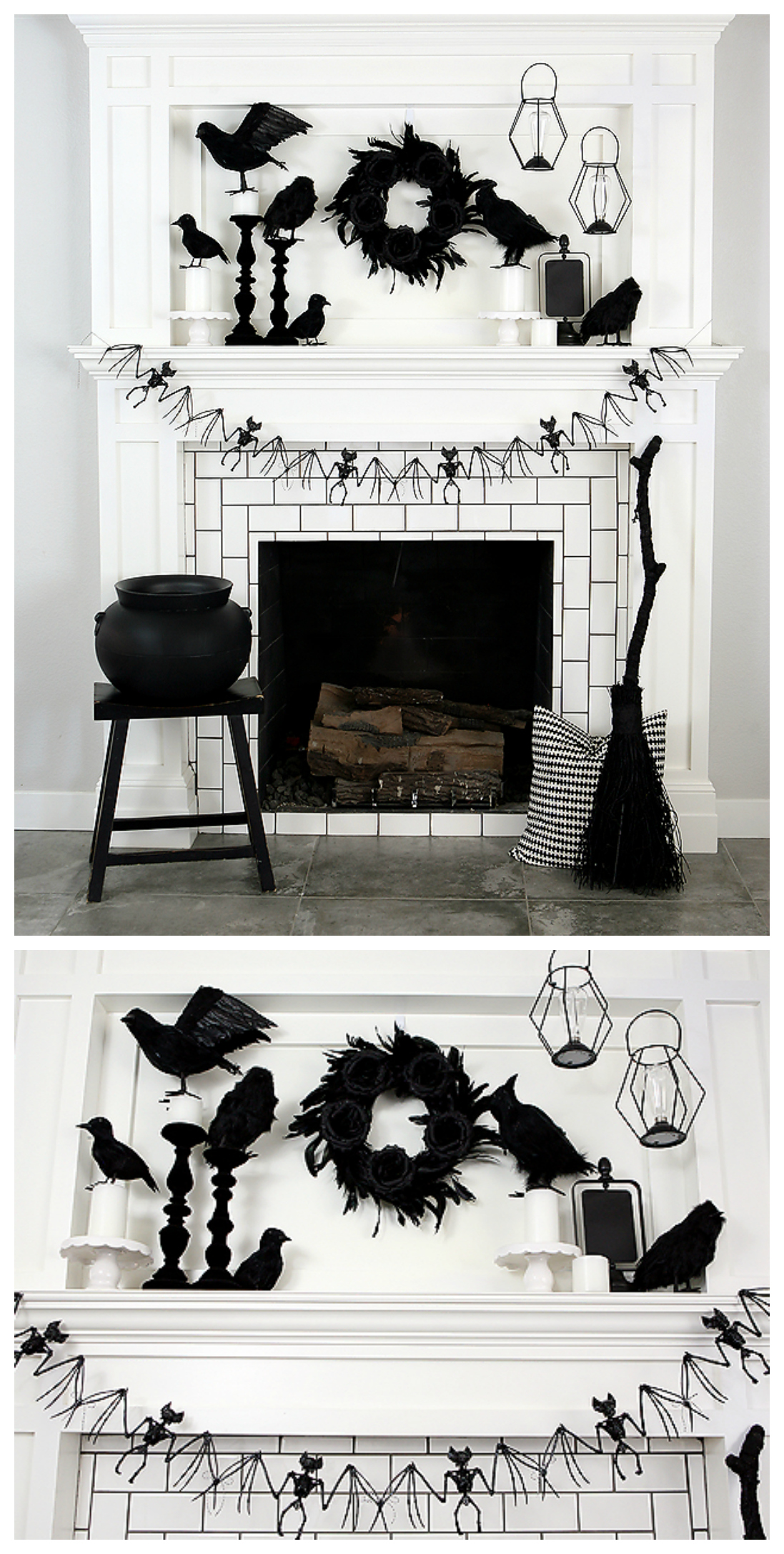 Check out our other posts that we have partnered with JOANN on: