Please Welcome Back…

__________________________________________________________________
Autumn is my absolute favorite time of year and although the dog days of Summer aren't completely gone yet, I'm already daydreaming of changing leaves and pumpkin patches. It's still a little bit too early to bring out your Halloween decorations so here's a quick Fall craft to hold you and your kids over until Spooktacular September on eighteen25!
Materials:
wood peg people
wool felt
wood sticks
pinecones
acorn caps
toilet paper rolls
recycled cardboard
strong double-sided tape
glue gun
Instructions:
1. Gather natural supplies. We used twigs, pinecones, and acorn caps to embellish folk toys but you could use pretty much anything (bark, pebbles, dirt, grass, etc).
2. Cut a circle out of a piece of recycled cardboard and slit up the middle. Fold over on itself to make a cone shape and staple in place. Trim natural materials to fit on roofs.
3. Apply a layer of double-sided tape and adhere either the pine cone scales or twigs to the cone roofs.
4. Cut a strip of wool felt and depending on the age of your child, have him sew a straight line across the top. Pull thread to gather, wrap around neck of peg, and sew in place. I love how proud my son is in the second picture!
5. Cut two thin pieces of wool felt lined with double-sided tape and adhere on peg for suspenders. Attach another panel of wool felt at the base of the peg for his pants.
6. Glue acorn cap to the top of their heads.
7. Glue the toilet paper tube to the roofs.
8. Enjoy watching your kids play with the cutest little woodland couple ever!
See you all next month for Spooktacular September! Can't wait for all the wonderfully spooky crafts!
_____________________________________________________________________
and check out these great posts of hers….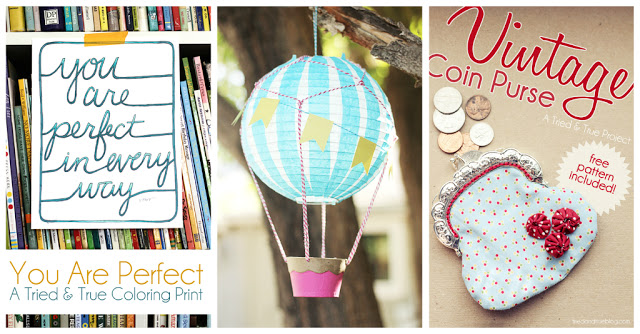 You Are Perfect Free Coloring Print
:
Vintage Hot Air Balloon
:
Vintage Coin Purse Tutorial & Pattern
____________________________________
this post is sponsored by: