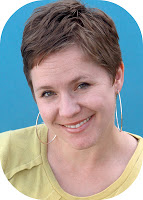 We have one more Creative Team member to introduce to you… please welcome
Autumn from It's Always Autumn
. She's actually been a guest here before when she shared her amazing
Herringbone Tray
…. if you missed it check it out
HERE
. She's definitely a girl with many talents and we are so happy to have her as part of our team!
____________________________________________________________
We live in a world where pink = girlie, but I think white can actually be the most feminine color, especially with a little bit of eyelet lace. It's simple, old fashioned, and just plain pretty. White may not be the most practical color for a two year old, but I adore how it looks, and there's always bleach, right? This is an easy to sew blouse with a loose, comfy fit, and you can make it in any size you need. Anyone with basic sewing skills should be able to handle this top. The instructions might look long, but that's just because I tried to show a photo of every single step.
Start by gathering your supplies. You'll want a lightweight woven (not stretchy) fabric. I think mine is a very lightweight muslin (from a thrifted nightgown). You'll also need a yard of double fold bias tape and 2-3 yards of flat eyelet lace. The only eyelet lace I could find at Walmart was gathered and I didn't feel like driving to another store, so I just unpicked the gathers and ironed it flat.
Here's how to figure the dimensions for your fabric:
So use the formula to find A, then use A as the shirt length and A times 1.5 as the shirt width. I've included the actual measurements I used for a 2T size shirt as a guide from here on out in parenthesis.
(To sew gathering stitches set your stitch length to the longest it can be, then set your tension quite low. This will allow you to pull on the lower thread and gather the material.)
(New to bias binding? You'll find lots of tutorials online.)
Finished!
I kind of want one for myself now. But I'm pretty sure I wouldn't look as cute in it as she does:
If you're interested in more sewing for girls tutorials, check out one of these projects:
And if you'd like to sew for yourself instead, try one of these:
_____________________________________
_____________________________________
this post is sponsored by: