We are so excited to introduce you to another one of our amazing contributors for the year.
Jenn from My Fabuless Life
, is as creative as they come. Seriously. It's not fair. But we are the lucky ones because she'll be sharing her fabulous-ness here all year!! Take a look… I'm sure you'll agree.
______________________________
Hi Eighteen25 friends! I'm Jenn and I blog over at my
My Fabuless Life
, about DIY, crafty stuff, decorating—pretty much whatever floats my creative boat! Oh, and all budget-friendly! I can't even tell you how thrilled I am to be hanging out here with the Eighteen25 ladies each month!
Today I've got a quick little vase project that's perfect for Valentine's Day. I have to admit, I'm not really a big Valentine's person, but I can always get on board with hearts, glitter, and pink (and gold in my world) everywhere! For my vases, I used an old jar from a candle (with the wax cleaned out of course), and a regular old drinking glass I bought at Target for $1.00 (they still have them, so run out and get some!).
To make your own, you'll need:
Jar or drinking glass
Heat Transfer Glitter Vinyl (you can find it at most craft stores, or
here
)
Pen
Scissors
Cookie cutter for tracing (unless you want to just free-hand it)
Iron
Trace your shape onto the back side of the vinyl and cut it out. Then, are you ready for the hard part? Place the shape (or shapes) where you want them and iron them down onto the glass, just like you would any other iron on. Sometimes the vinyl can be a little stubborn and you have to sort of heat it up with the iron and then rub it down—just be careful not to burn your fingers! The glass can get hot!
That's it! You can see in the pictures that I originally intended to use more hearts, but when I put the first one on, I was totally loving the simplicity of that one little heart, so I just left it at that. For the polka dot vase, I just punched them out with a hole punch and ironed them on one by one. A little public service announcement on that though: it's tedious!! Placing all of those tiny dots and getting them to stick down was slightly time-consuming. I think it's worth the effort because I love how it turned out, but consider yourself warned 😉
I'm thinking these could be a great subtle V-Day hint for the significant other. Like, "Hey, cool vase I made, huh? Wouldn't it look great with some flowers?" Just a thought 😉
You might also like:
Budget Bathroom Makeover
Storybook Baby Shower
Free Printable 2015 Calendar + Menu Planner​
_____________________________________
Visit Jenn on her Blog : Facebook : Instagram : Pinterest : Google+
and check out these other great posts of hers…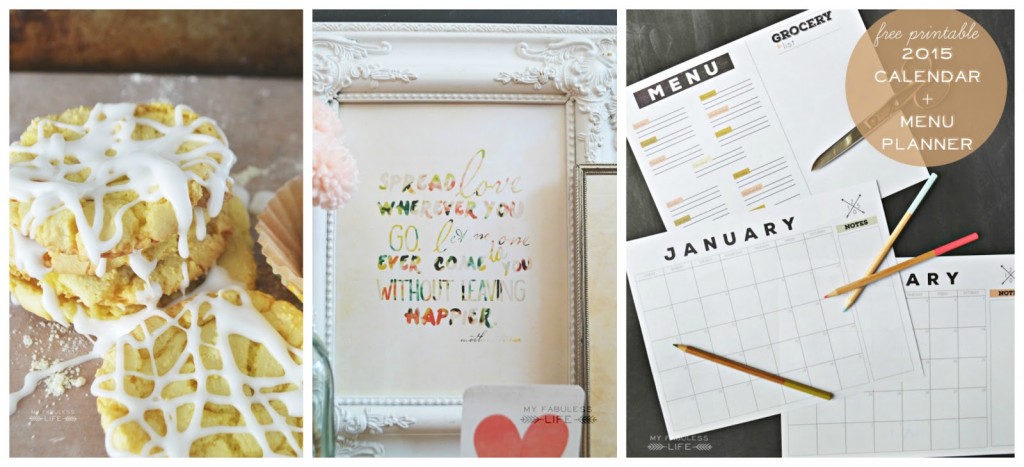 Lemon Pound Cake Cookies | Free Valentine's Printables | 2015 Calendar + Menu Planner