Spring has definitely sprung and the abundance of beautiful flowers around the neighborhood is proof! Appropriately enough, our theme this month is flowers and we've got 10 amazing flower theme ideas. There are ways to display your flowers, ways to make flowers, quotes about flowers and more!
We made these Pretty Recycled Flower Pots out of old food cans.
With just a few simple items… you can have your table looking so pretty.
SUPPLIES:
• old food cans
• scrapbook paper – we used this pretty American Crafts Paper
• glass candleholders – we can usually find a couple of these at the thrift store for just a dollar each
• E-6000 glue
• tape or glue dots
• pretty flowers
• small bag of potting soil
• Clean out your cans and let them dry
• Pick which ones you'd like to add candlesticks to and glue them to the bottom of the can. Let dry for 24 hours
• Plant your flowers in your cans… add soil if needed
• Cut your scrapbook paper the width that you need and tape the edge down
• Stand back and see how pretty they are!
Hello there mister fern. You are as cute as can be!!
I just can't stop looking at my pretty table now. Hopefully I don't kill them anytime soon.
Okay… are you ready to see what our friends have made!! Everything is just so PRETTY!!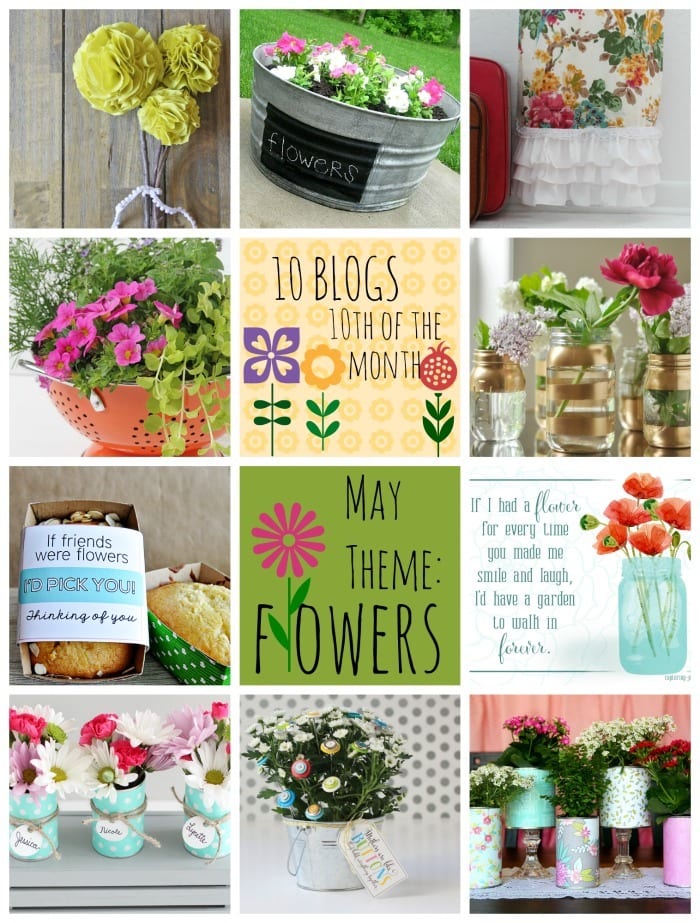 Head over and check out their amazing projects and ideas!!
and we'd LOVE to have you pin the image above. 🙂
• Washtub Flower Planter from Simply Kierste
• If Friends were Flowers Printable from 30 Days
• Pretty Recycled Flower Pots from Eighteen25
• DIY Gold Mason Jar Flower Vases from Your Homebased Mom
• Fabric Pom Pom Flowers from Little Miss Momma
• Colander Flower Planter from Two Twenty One
• Floral Curtain Hanging Tip from Lolly Jane
• Flower Quote Printable from Capturing Joy with Kristen Duke
• Button Bouquet from LandeeLu
• DIY Quick Flower Favors Gift from Or So She Says