It's so fun to see all the Spooktacular September posts over here — we love Halloween! Today we are here to share a recipe for Poison Lip Balm along with free printable tags.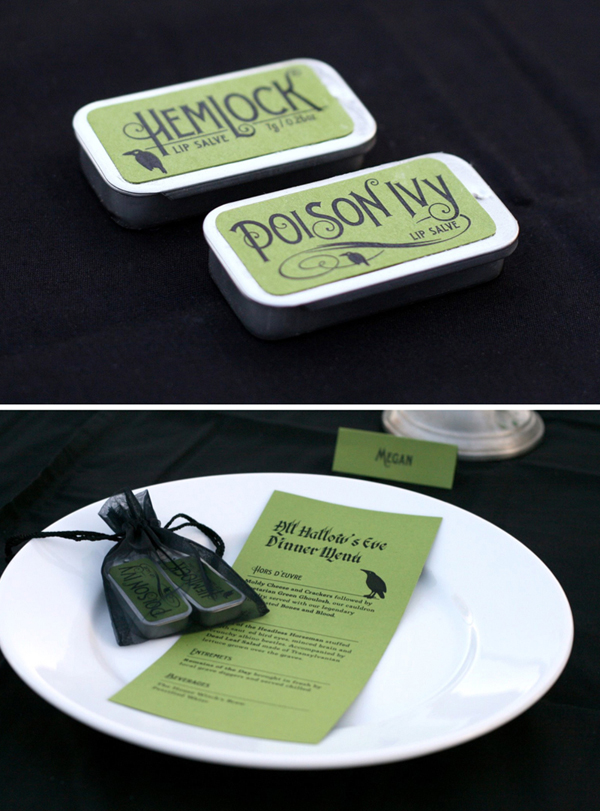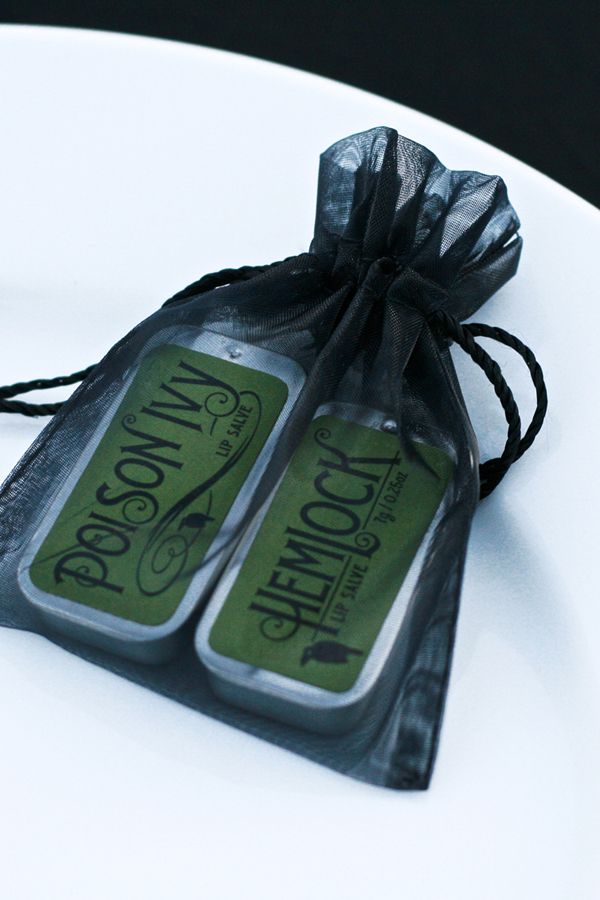 Not many people realize that Bettijo has a line of natural and organic spa and bath
products
. Her goodies have been featured in lots of
magazines
, so we know you're going to love having her simplified lip balm recipe.
Poison Lip Balm Recipe
SUPPLIES:
7 tablespoons (3.5 oz) Coconut Oil
4 tablespoons (2.0 oz) Beeswax
4 tablespoons (2.0 oz) Olive Oil
1 teaspoon (0.15 oz) Essential Oil (equal to about 88 drops)
1/2 teaspoon (0.8 oz) Vitamin E
Lip Balm Tins
Plastic Pipettes
Free Printable Label Template
Colored Cardstock
Xyron
Create-A-Sticker
Decoupage Medium
We also included the ingredient's weights since it's easier to be precise if you use a scale to measure. This recipe will make 7.5 ounces, enough to fill about 30 containers. Feel free to adjust the batch size as needed.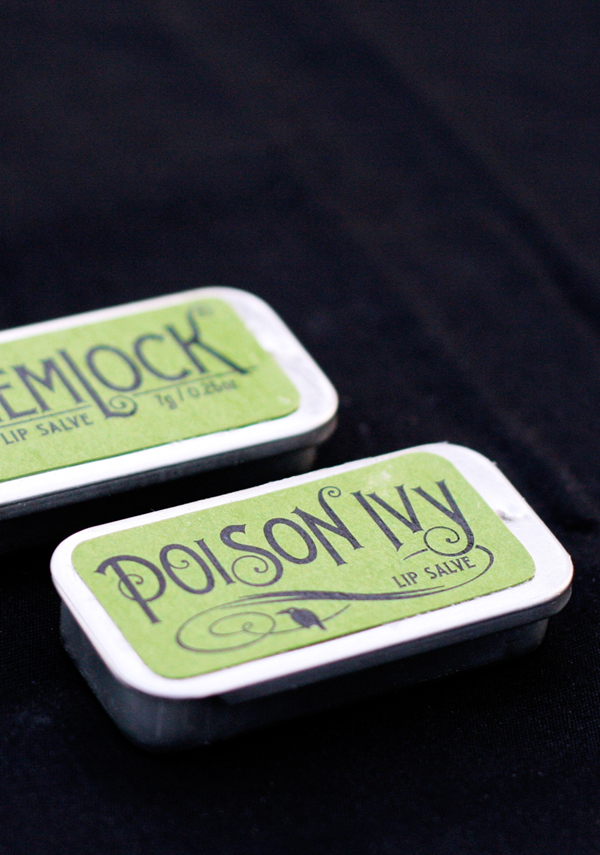 HOW TO MAKE LIP BALM:
Measure Coconut Oil, Beeswax and Olive Oil into a glass measuring cup. Microwave at half power for one-minute intervals, stirring in between with a metal spoon or fork. Repeat until beeswax is melted (usually about 2-3 minutes depending on batch size). Once mixture is melted, let stand (to cool slightly) for 1 or 2 minutes and then add the Essential Oils and Vitamin E.
For the
Poison Ivy Flavor
we used both Peppermint and Marjoram Essential Oils but you could also just use Spearmint. For the
Hemlock Flavor
try Bergamot or Orange. You can find essential oils at a health food store, some supermarkets or
online
.
Mix well and fill into containers. A little
dropper/pipette
 is handy for tranferring the lip balm mixture into small containers. If we try to pour we sometimes get lucky but usually spill everywhere. If the mixture starts to become solid before you have filled all the containers you can reheat for 30 seconds then continue filling. Try not to reheat too much as you can burn off the essential oil goodness.
HOW TO MAKE THE LABEL:
Print our free Poison Lip Balm template on colored cardstock then cut each label out. Run through the
Xyron Create-A-Sticker
and apply to the tins. Brush a thin coat of decoupage medium
like Mod Podge
 over the labels to make them more durable.