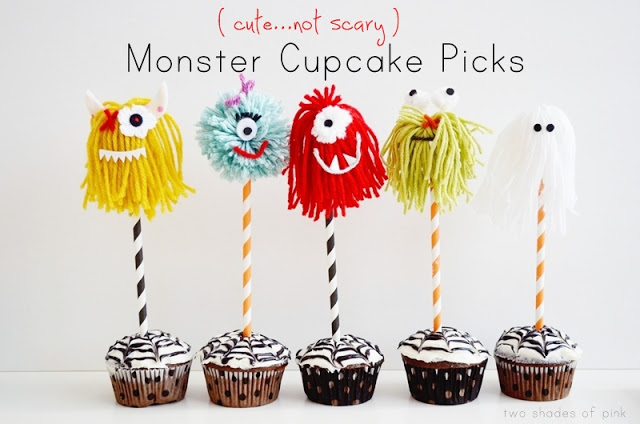 Hey there!!!  I'm Jessica from the blog Two Shades of Pink.  Here's a little summary about my blog…I basically love to share crafty and pretty DIY ideas for parties, seasonal and holiday decorating and I have a heart for pretty packaging too. I am really excited to be back for some Spooktacular fun with the fabulous Eighteen25 girls.  I feel totally blessed to be among such incredibly creative bloggers too.
Today I am sharing these adorable Yarn Monster Cupcake Picks. I'm smitten with their cuteness. Our family likes to celebrate a "not so scary" Halloween and these are just perfect.  My girls went nuts over these and each one I made became their favorite one. 🙂
For those who don't read my blog, I am an avid crafter with yarn yet I don't knit or crochet. Yarn is cozy and happy…perfect for Fall. 🙂 I will just about wrap anything with yarn or figure out a way to use it.  So here is my latest idea…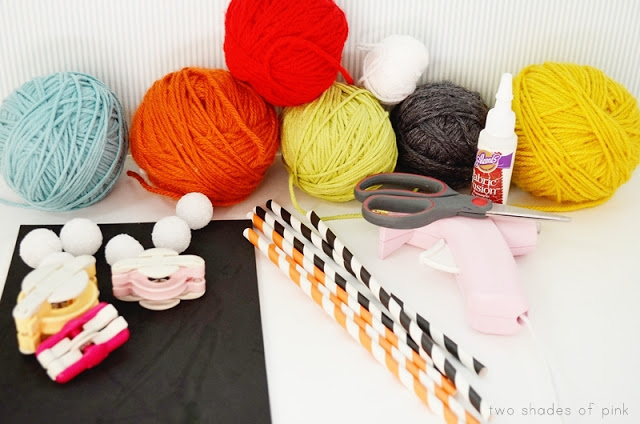 You need some yarn, pom pom makers (or just do it by hand), scissors, fabric glue, hot glue, paper straws (or skewers), 1/4 inch Styrofoam balls and foam sheets.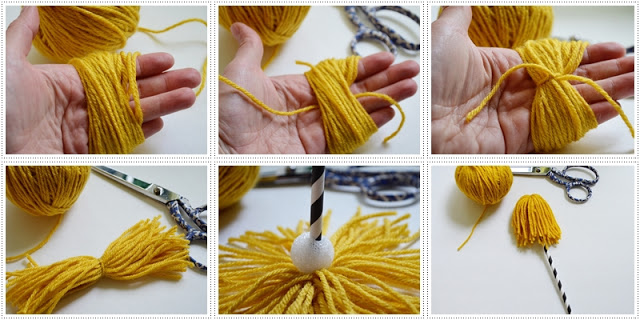 First up is how to make these little yarn bundles to make some of the monster heads.  The others are pom poms.  In fact, it is similar to making a pom pom.
1. Just wrap the yarn around your hand 50-70 times.
2. Slide another small piece of yarn through…
3. Tie a double knot.
4. Snip the other end (on the back of your hand) so you have a tied little bundle. Spread the yarn around into a circle.5. Using hot glue, secure one of your Styrofoam balls in the center of your bundle.  Stick a paper straw into the ball, remove and add some glue inside the hole and put your straw back in the hole until set.
6. Now you have your cute little monster hair head.  Give it a haircut or start giving it features.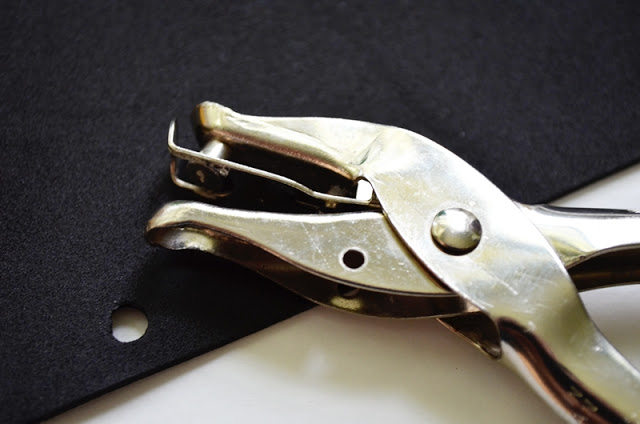 I used foam to make teeth and black little pupils for the eye. Oh I may have used felt too. I liked the foam because it's stiffer and easier to cut into small pieces,.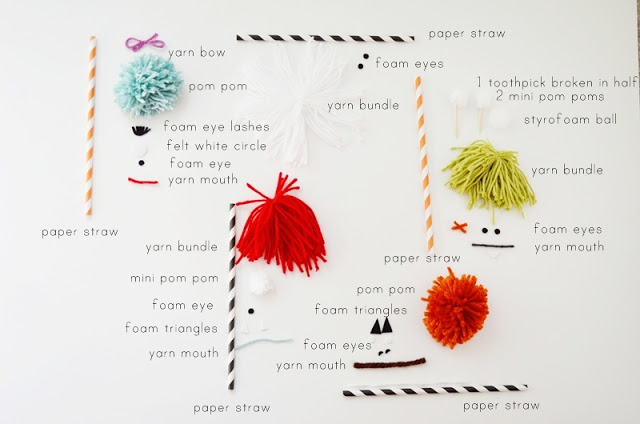 I laid each of these out to give you some ideas on how to assemble them.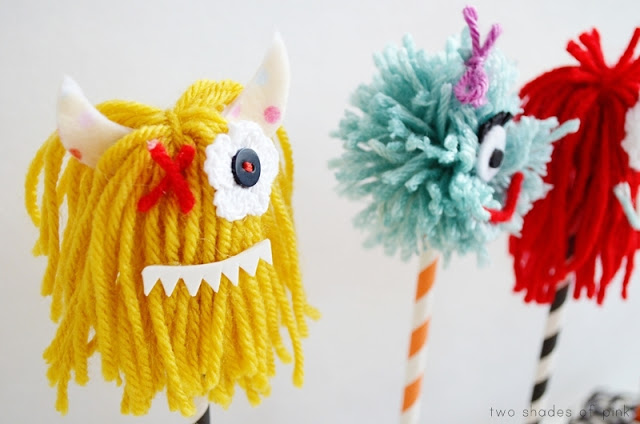 This one ended up with with a crochet flower and button eye.  Oh my cuteness!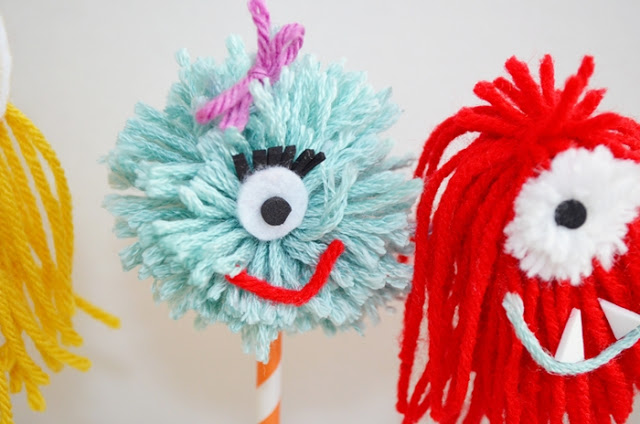 Girly monster.  Her eyelashes and bow make me smile. :0)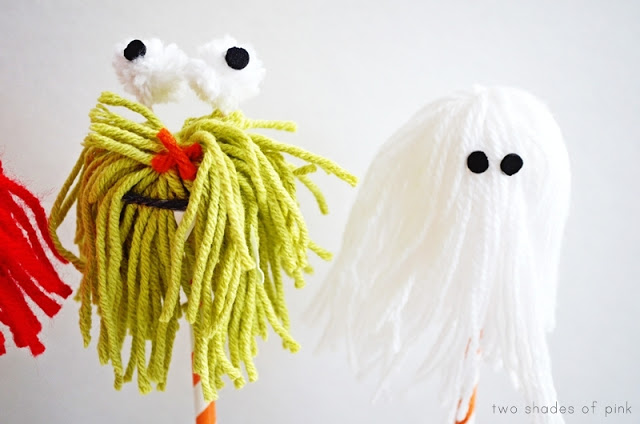 Some of the monsters had one eye, one was a cute ghost, another a funny little jack-o-lantern. The mouths were made of yarn or foam, eyes were pom poms with black foam pupils, or maybe two halves of a toothpick with mini pom poms for eyes.  Just use your creativity. I used fabric glue or hot glue to attach each feature.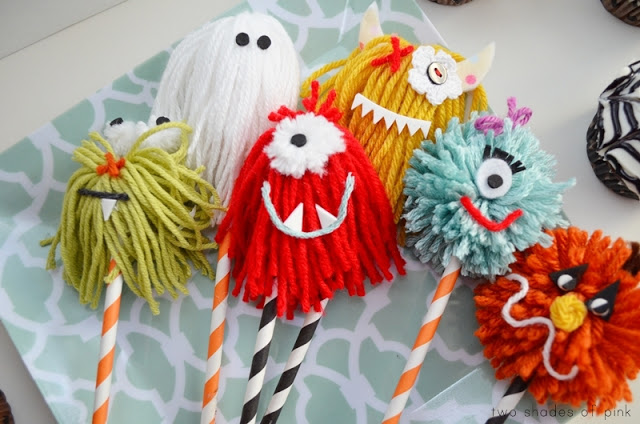 It takes no time to whip up a bunch of these and they will no doubt be a great party favor too. 🙂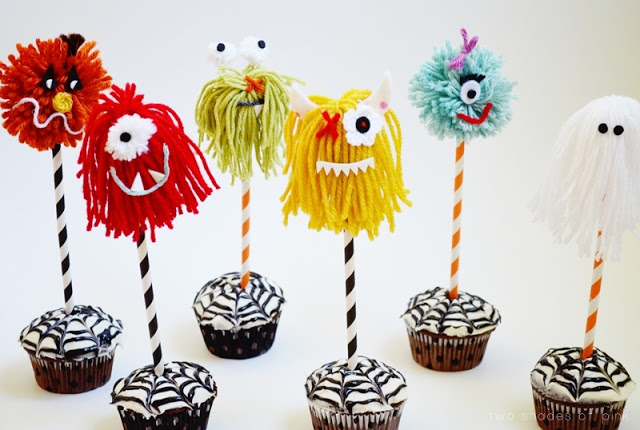 Aren't these darling?
A sweet thanks to Jen, Jodie, and Jamie for having me.  I love being here and I'm continuously inspired by the three of you.
Happy Halloween friends! Stop by anytime to say hello. 🙂