Before the sun goes down and the trick-or-treating begins on Halloween, we make sure to grab a picture of our kids in their costumes. And since we now have a pretty big collection of photos, we figured we should find a way to show them off.
A "Halloween Through the Years" accordion album
You should be pros at putting together these accordion albums.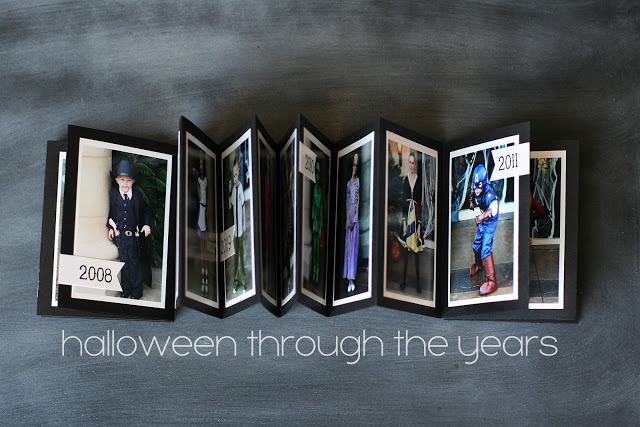 this little album measures just 3 by 4 inches and would be perfect for a coffee table, office desk or to send to the grandparents.
what you'll need
• wallet-sized photos
• HALLOWEEN 4×6 title page (download HERE)
• 4×6 date page (download HERE)
• black cardstock
• twine or ribbon
• adhesive
how to assemble
• cut 4″ by 9″ strips out of your black cardstock (i used 5 sheets of 8.5×11 and i had room for 20 photos inside my finished album)
• score and fold the strips every 3″
• adhere together the last fold on the first paper to the first fold on the second paper and repeat until all sheets are together, making an accordion – you'll want to leave at least one empty page at the end so you can add on for next year
• trim your wallet-sized photos (mine came four on a sheet at costco for 39 cents) and then adhere them onto your pages
• cut your dates out (i added notches to make flags) and then adhered them to the first photo of each year)
• cut a piece of twine or ribbon about 30 inches long and tie it around your cute little album.
or stand it up on a table or tv and display it proudly.
next week, we're sharing another idea for those halloween photos.