Please welcome back…



_______________________________________________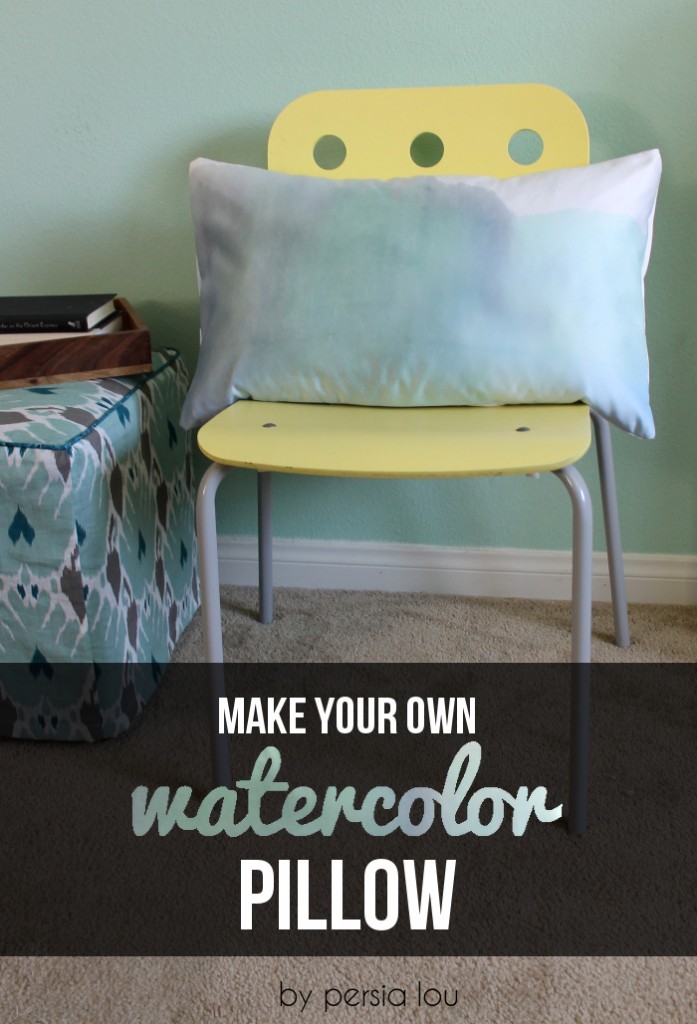 Hey there, friends! Well, I have already shared one watercolor project with you all, and today I'm back with another, so I guess you could say I'm on a watercolor kick these days! I really do love watercolor and how it seems have a mind of its own. It flows and mixes around and never does exactly what I want it to do but ends up looking beautiful despite my meddling because what do I know anyway?
I have been wanting to try to get a watercolor look on fabric, so I made this pretty pastel pillow. It was really simple and a lot of fun to make, so I think I will be experimenting with this technique again soon. Here's how you can make your own.
You will need:
Fabric paint or acrylic paint + fabric medium
Washable Fabric (I chose a silky polyester that is machine washable)
Water
Brush
Sewing machine and thread
Pillow insert
Start off by mixing up your paints. I put about an inch of water into a few plastic cups and then squirted in a tablespoon or two of the paint. My painting turned out pretty light, so if you want your stokes to be darker, use more paint.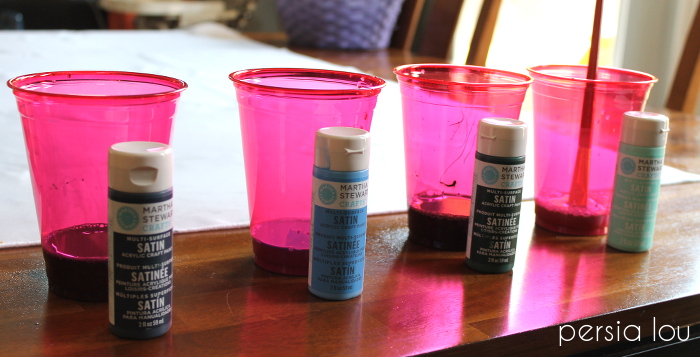 After my paints were all mixed up I just started painting! I went for a kind of dark to light ombre thing and tried to mix the colors together on the fabric.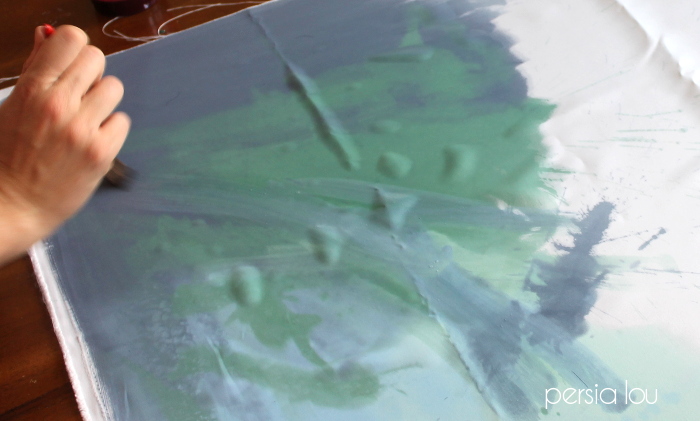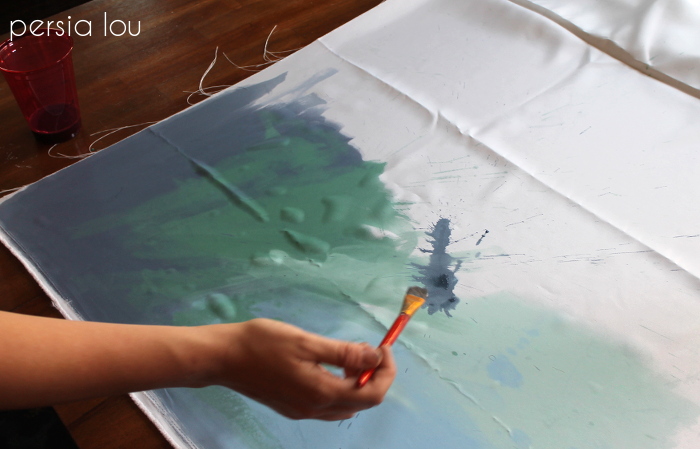 Splat!
By the way, this is really messy and I don't recommend doing it on your kitchen table like I did (unless, like me, you hate your kitchen table and are secretly trying to ruin it so you just have to get a new one). The watered down paint will seep through the fabric, so be sure to protect your work surface!
When your painting has dried, use an iron to heat set the paint. I washed and dried the fabric after this, and it is definitely set and permanent.
Now it's pillow-making time! I went to Home Goods and picked up a pillow on clearance to get my pillow form. I just love a nice, squishy down pillow, and picking up a clearance pillow with a cover you don't like is a great way to get one on the cheap.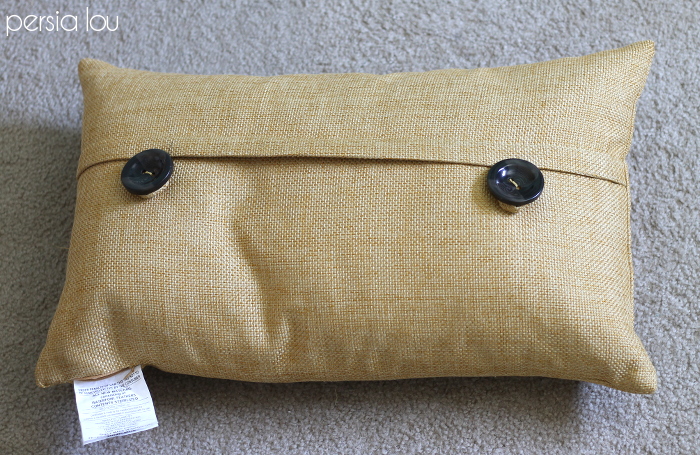 Here he is – not too bad, but not really my style and definitely itchy. I used my seam ripper to open up the pillow case and tucked those giant buttons safely away in my button stash.
I decided to make an envelope pillow case because they are so easy and zippers still scare me a bit, and I used one side of the original cover as a pattern piece to help cut out the three pieces.
Start off by cutting one piece for the front of your pillow using the original case as a guide.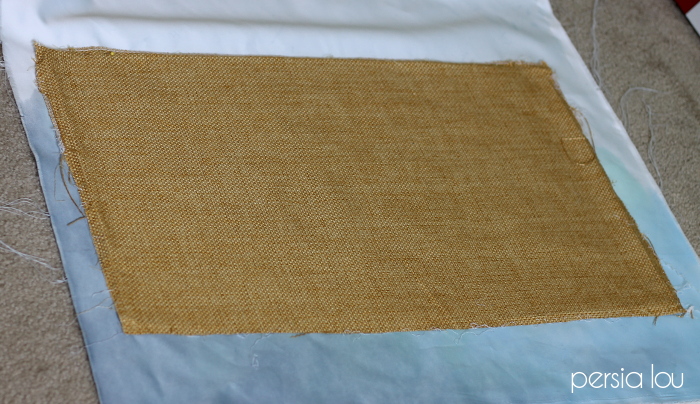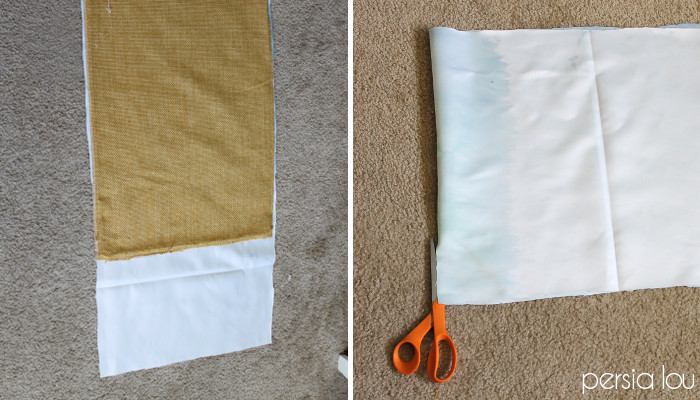 For the back of the pillow, cut another piece using the original case, but cut this one 10 inches longer than the pattern piece (this will give your envelope back about a four to five inch overlap). Then, fold this piece in half and cut to create two pieces.
Finish one end of each back piece, by rolling the fabric under twice and top-stitching. Then stack the two back pieces and pin them in place so they are the same length as the front piece.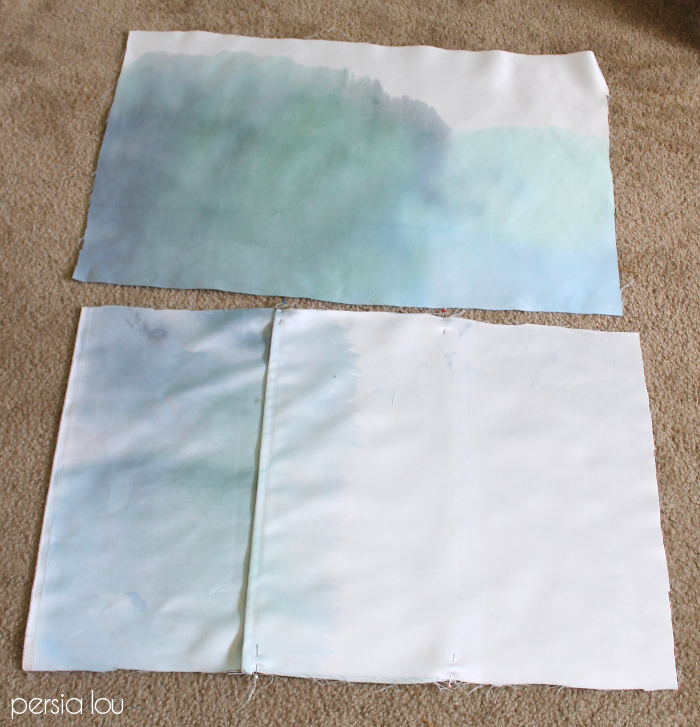 Stack the front piece on top of the pinned together back pieces, right sides together, and sew all the way around! Flip that baby right side out, stuff your pillow form in, and enjoy!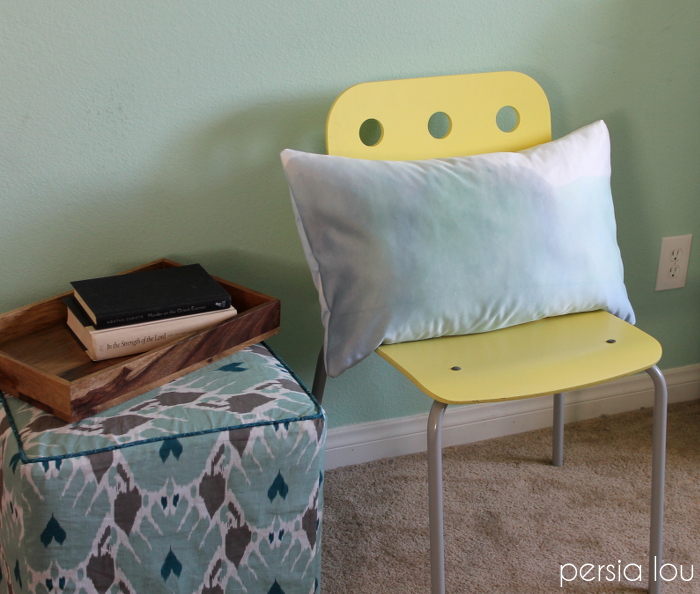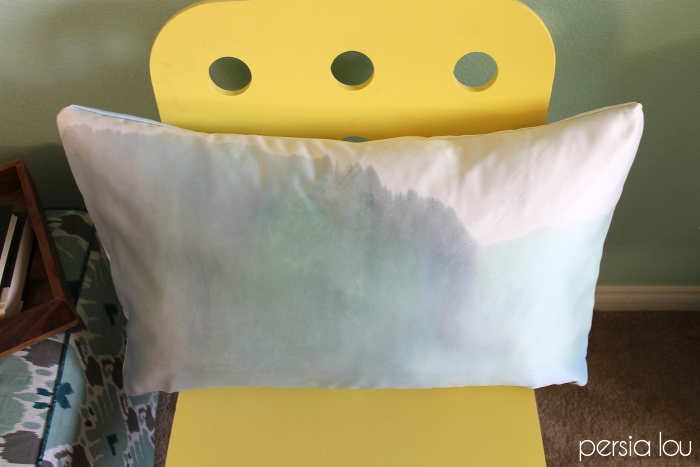 I love the edges of the watercolor where you can see the paint bleeding into the fabric. So pretty! I think this little guy will have a new home on our bed. What do you think?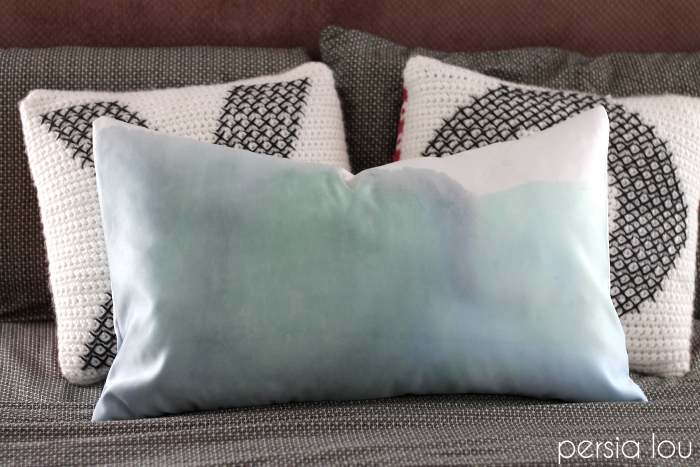 __________________________________________
and check out these other great posts of hers…