i'm excited to say that this countdown will be hanging in my home.
it was so fun to get all of our creative juices a flowin' and see what we could come up with.
you'll be happy to know it's so simple to make +
you'll be able to stuff each day with practically whatever you want!
you'll need:
a shoe organizer with 24 pockets (i got mine at target)
the countdown downloads…
24 clothespins
spray paint (we used krylon's blue ocean breeze)
white cardstock (to back your numbers in)
kraft cardstock* * * * * * * * * *1.  hang your shoe organize
2.  spray your clothespins (or leave them…whatever you choose)
3.  punch out your numbers with the famous 3″ circle punch
4.  we backed ours with a 4 1/4″ scallop
5.  cut your strips 3.5″ x 7.5″ out of the kraft paper
6.  adhere your number
(we centered it from the bottom of the clothespin to the bottom of the paper)
7.  clothespin it to the front of the pocket
8.  stand back and admire your work!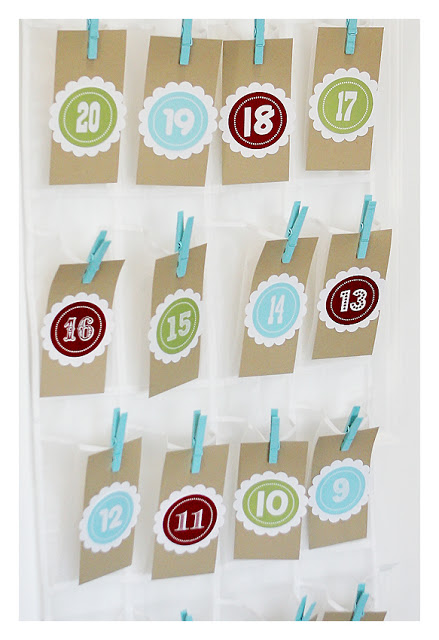 as the days go by and santa's visit gets closer,
you remove the number and clothespin it inside the pocket.