Hello eighteen25 readers! I'm Colleen, the DIY'er behind
Lemon Thistle
(home to parties, DIY home decor and printables) and I'm so thrilled to be sharing this fun place setting idea as part of the Spooktacular September! I'm such a party fan and have grown to really love dinner parties. As much fun as a party with snacks and treats is- there's something so good about sitting around a table eating real food with friends and having great conversation. 
Then
 bringing out the party games. I'm always looking for new ways to spruce up a simple table setting that isn't crazy extravagant but still packs a punch. These tiny bugs in jars are the perfect thing to add a touch of spooky to your dinner party or even just your dinner this Halloween!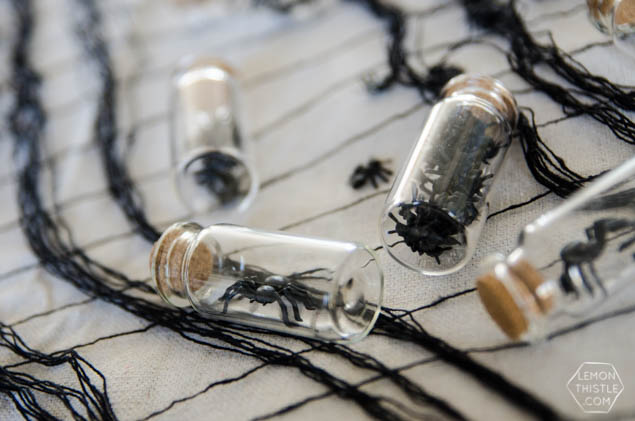 This place setting comes together in a flash and costs only a few dollars. I love that it sticks to classic black and white and leaves some of the brighter more kiddish colours behind.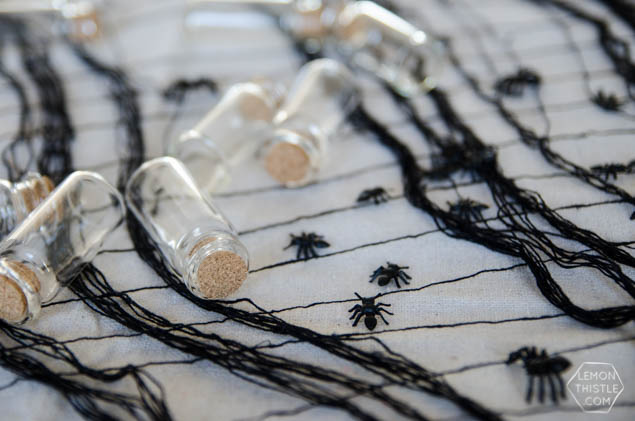 Here's what you'll need to make your own:
Tiny Apothecary Jars (available in the crafting section of most dollar stores)
Tiny Bugs (again, available in the Halloween section of dollar stores- I chose spiders and ants)
Standard printer paper & coffee to weather it
Brush pen for lettering (my favourite is the Tombow)
If you'd like to match the rest of the table… black satin napkins, a drop cloth as table cloth and sheer spooky 'curtains' from the dollar store halloween section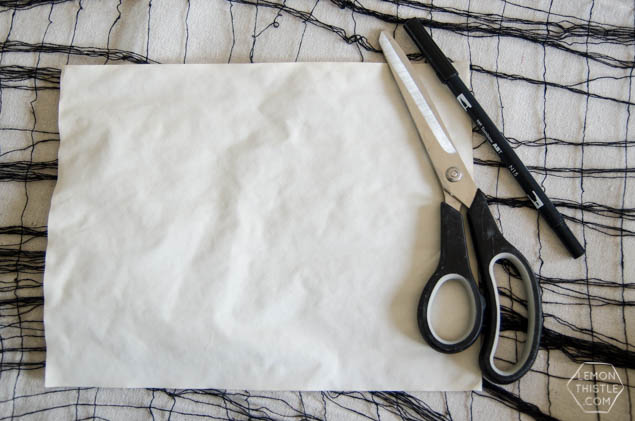 The instructions are oh, so simple (just the way I like 'em!). Before you start assembling, wipe coffee all over your sheet of white paper and set aside to dry. Place your bugs in the jars- mix it up with spiders and ants and how many you put in each jar.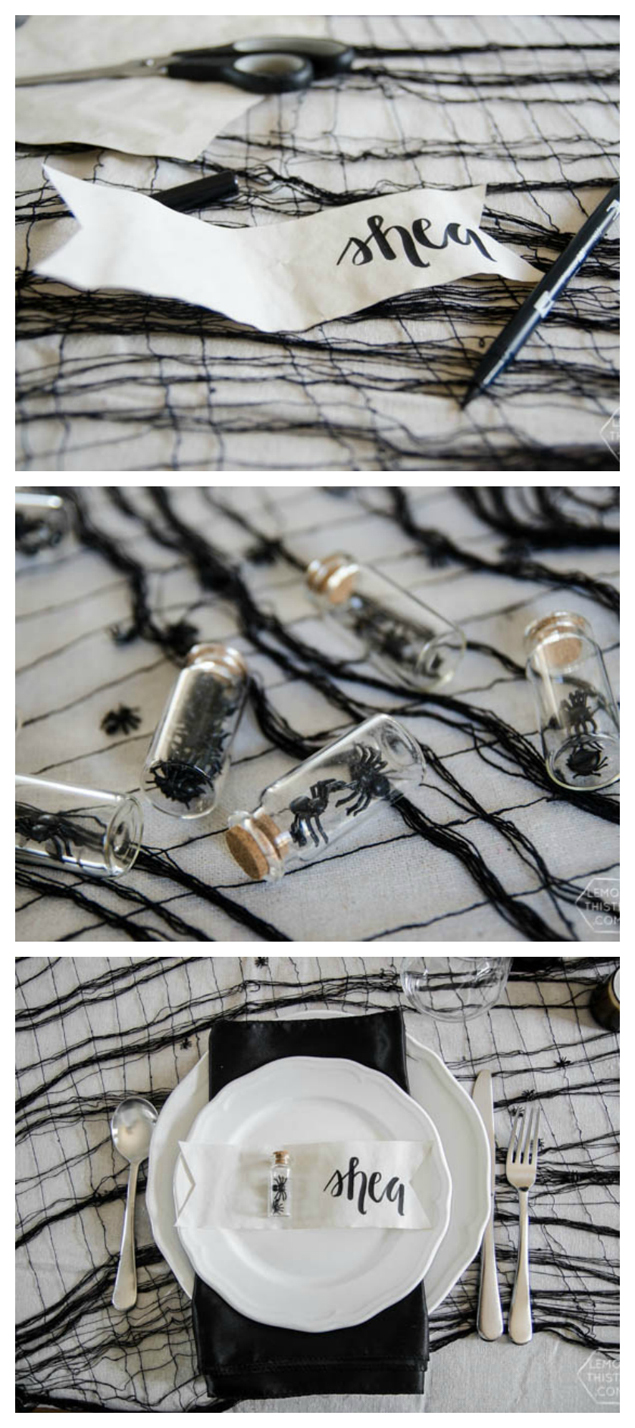 When your paper is dry, cut it into strips with banners and letter your guests names. Use your fingers to roll the paper to give it some wave before placing them on each plate with a jar o' bugs! That's it, that's all. I added some candles down the table and even though it's SO simple, I love the spooky vibe it gives. Your friends will never know you pulled it together at the dollar store with only minutes.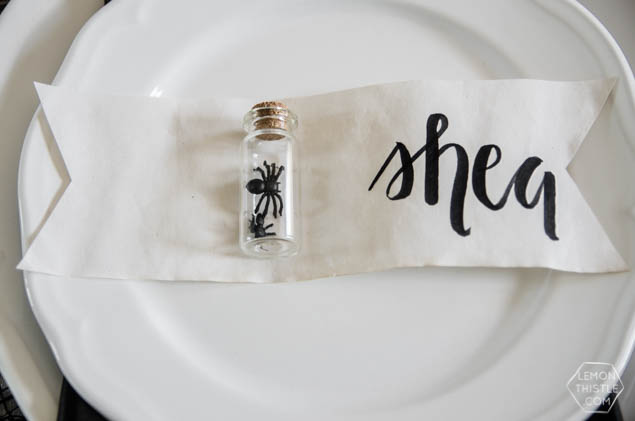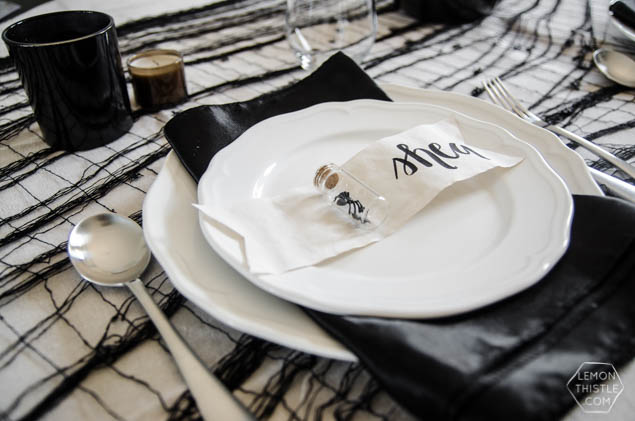 About Colleen: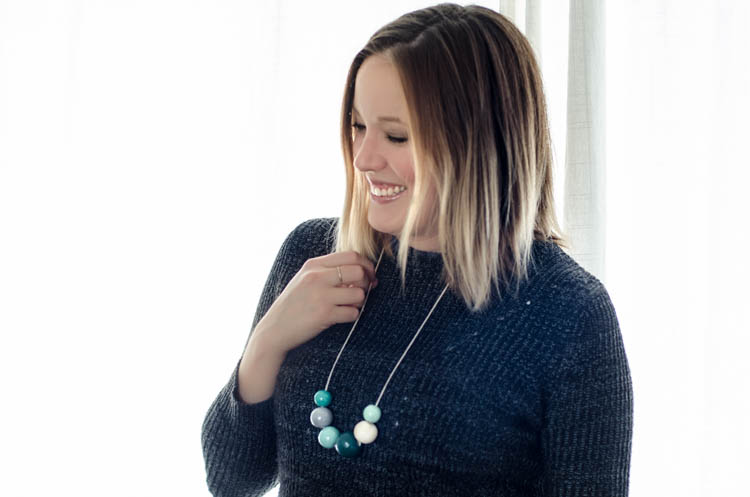 Colleen is a wife, Mama to 2 year old twins, and the DIY and lifestyle blogger behind Lemon Thistle where she shares printable art and hands on tutorials for DIY home decor, parties and gifts. Colleen believes you can have a beautiful life, home, and party without spending a lot. 
Here are some more Halloween posts you may enjoy from Lemon Thistle.
Boo! Geometric Ghost Printable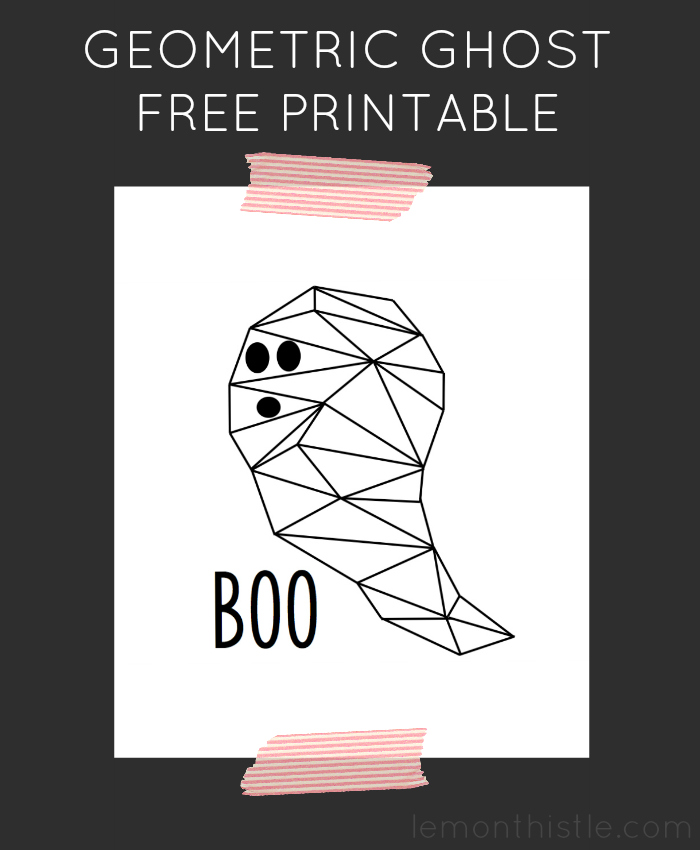 Halloween Costume Bingo Printable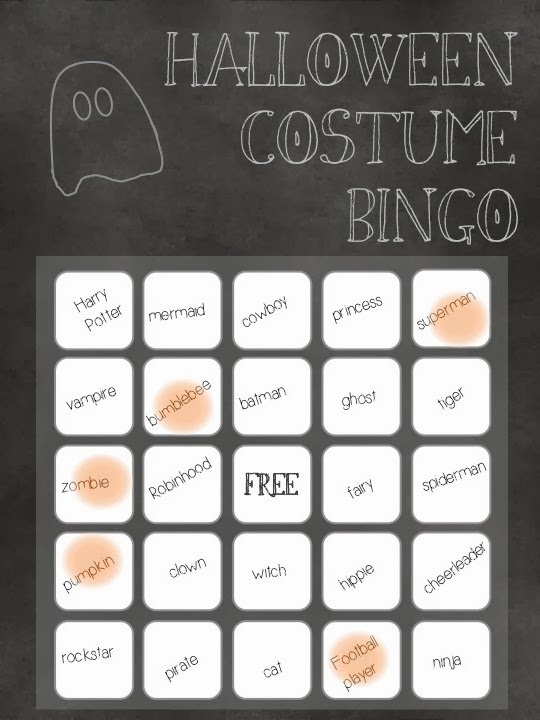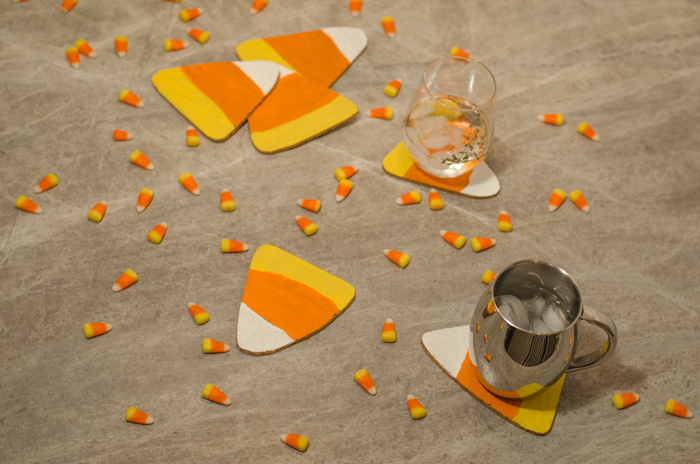 Visit Colleen on her BLOG | FACEBOOK | INSTAGRAM | PINTEREST | TWITTER