I'm sure you've heard that Silhouette has come out with the new CAMEO!!
If you haven't heard, The Silhouette CAMEO™ is an electronic cutting tool for personal use. Like a home printer, it plugs into your PC or Mac® with a simple USB cable. However, instead of printing it uses a small blade to cut paper, cardstock, vinyl, fabric and more up to 12″ wide and 10 feet long. The machine also boasts a quiet motor and the ability to register and cut printed materials.
our post today has a lot to do with this new tool…
first – a fun halloween tutorial
second – an awesome promotion code for the new silhouette CAMEO
third – a giveaway for the new silhouette CAMEO!!
pretty exciting, right?!?!
let's get started…
BONE APPETIT TRAY TUTORIAL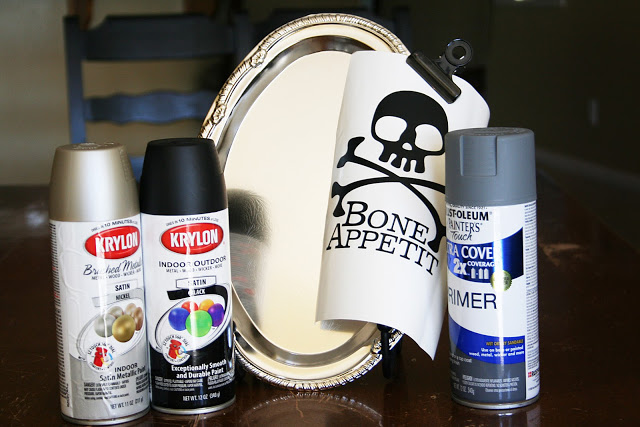 what you'll need:
metal tray (from the dollar tree)
primer
black + nickel colored spray paint
black vinyl + transfer paper from silhouette
skull and crossbones shape from the silhouette online store
what you'll do:

one… open the skull and crossbones shape in the silhouette studio. type the words Bone Appetit using the font Broadcast then move them under the image. the entire design should be about 5×6 inches.
two… cut your design out with the silhouette using the black vinyl.

three… place the vinyl onto your transfer paper.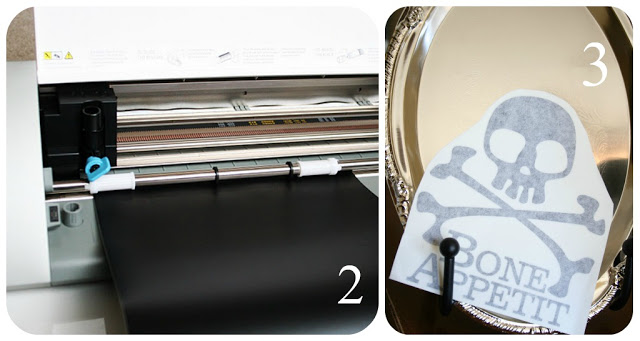 four… spray the primer onto the tray. let dry. spray on the nickel, let dry and then do some light coats of the black.
five… once the tray is completely dry, center your vinyl and rub it onto the tray using the silhouette scraper.
six… display in your kitchen or top the tray with halloween goodies and deliver to someone special.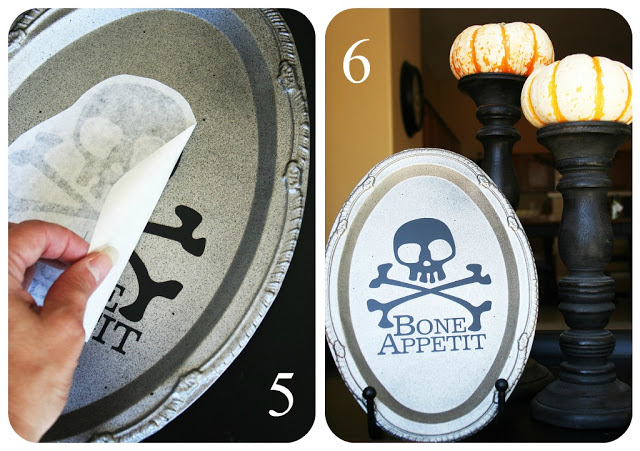 SILHOUETTE PROMOTION
Get a brand new
Silhouette CAMEO
(the 12″ personal electronic cutting tool)
and your choice of a starter kit (Fabric Ink, Vinyl, Heat Transfer or Rhinestone)
for only $299!!!
From now until October 31st.
(just enter code eighteen25)
You'll want to hurry, because there is a limited number of these promotion bundles… they will sell out!
SILHOUETTE CAMEO GIVEAWAY
(it's pretty)
This fabulous giveaway is for the new
Silhouette CAMEO
+ the winner's choice of starter kit
(Fabric Ink, Vinyl, Heat Transfer or Rhinestone)
We just ask that you…
(of course, leave us a comment letting us know)
the winner will be announced on sunday, october 30th

GOOD LUCK!!