are you going somewhere else this thanksgiving? do you need an inexpensive hostess gift? or maybe you'd like to give your child's teacher a yummy (and somewhat healthy) "thank" you gift.
how about caramel apples?
you provide the apples and we'll provide the simplest, yummiest caramel recipe (done in your crockpot). those apples will be dipping in some serious goodness in no time.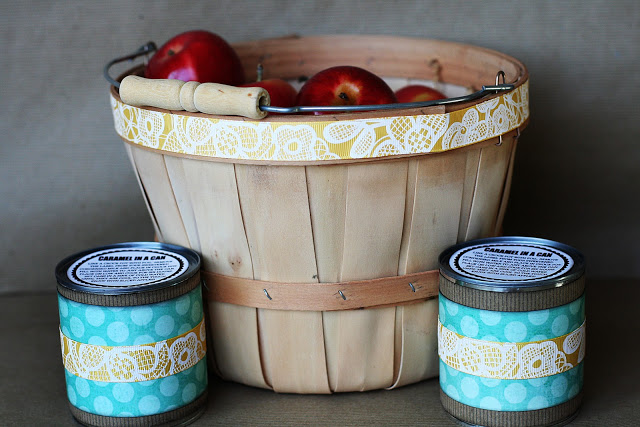 supplies:
2 cans of sweetened condensed milk
apples (i got some cute little jazz apples from trader joe's)
basket (got mine at michaels for 40% off)
kraft paper
patterned paper
bag of crinkle paper
ribbon (i used the american crafts ribbon from michaels)
instruction tags (download HERE)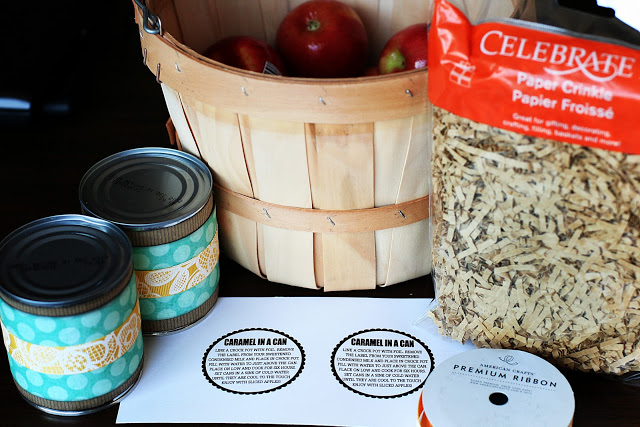 carefully peel the labels off your cans and trace onto your kraft paper. then cut your patterned papers the same length, the width is about 2 1/2″.
lightly ink the edges if you want.
adhere the papers using glue dots or other adhesive.
then add the ribbon around your can and around your basket.
you can use a 2 1/2″ circle punch or just cut out your tags, then adhere to the top of your can.
fill your basket with the crinkle paper and place the apples on top.
caramel in a can
remove the paper label off your can of sweetened condensed milk.
line your crockpot with foil (to prevent a rust ring).
place your can (unopened) in the crockpot.
fill with water till just above the top of the can.
cover with crockpot lid.
cook on low for 6 hours (or overnight).
use tongs to place can in a cool water bath until comfortable to touch.
open can and enjoy!